More and more workloads are being moved to the cloud. Every cloud provider offers several possibilities for this. However, there are also very specific and heavy workloads, such as a SAP ERP system. Which cloud is best for those workloads? From our conversations and research, Google Cloud emerged as the winner for SAP ERP point solutions.
For this article, we compared three different public clouds with each other: Amazon Web Services, Microsoft Azure and Google Cloud. All three have so-called certified SAP instances, which means that the instance is supported by SAP, and you also get support from SAP if you run into problems. As soon as you have a failure on hardware or instances that are not supported by SAP, you won't get support, because they can't rule out that the problems are related to the hardware. So it is crucial that when you move SAP workloads to the cloud that they run on certified hardware.
For our research, we contacted Hans Gootjes, IT Architect at Ctac, one of the prominent SAP partners in the Netherlands. He works with SAP S/4HANA daily and helps customers with their choice for a new ERP solution. Hosting is just one of the many choices. Gootjes indicates that he is particularly charmed by Google Cloud, because of the high pace of innovation and the flexibility and freedom of choice Google Cloud offers compared to other cloud providers.
"I'm charmed by Google Cloud, because of its high pace of innovation and its flexibility and freedom of choice"
Gootjes also concludes that the primary goal of the cloud, to offer more flexibility and scalability does not always apply to SAP workloads. For example, Azure focuses more on providing a complete end-to-end solution than providing the very best environment for SAP S/4HANA workloads. There's a good business case for that; if you can combine Office 365, Dynamics and SAP S/4HANA in Azure, you have a complete end-to-end solution, and it all runs in one public cloud.
Companies that are just looking for a way to migrate to the cloud this can be an easy choice. Many companies have done business with Microsoft over the years for their licenses. These licenses are coming to an end, and new decisions have to be made, with Microsoft now being fully committed to Azure, they will offer the complete package to bring everything to Azure. The step is then quickly taken to take the offer and move everything into Azure. Our research shows that while it may be the easy road, it doesn't automatically mean that it's the best choice. Other cloud vendors score better on price, performance and freedom of choice.
The freedom of choice at Google
Let's take a closer look at that freedom of choice. When creating a virtual machine, you have to choose from fixed configurations on every public cloud. The number of CPU cores and the amount of working memory are defined here. For an SAP workload, you can choose from 256GB, 386GB, 512GB, 768GB or 1TB of RAM (or much more). The configurations go up in increasingly larger steps. This means that sometimes you have to pay for resources you don't really need. If your database is 260GB, the next step is 386GB or sometimes even 512GB. So then you pay for more than 100GB extra, plus a dozen or so extra CPU cores that you don't need. Some overcapacity is normal, but more than 100GB is overkill. CPU cores and RAM are both expensive components in the public cloud, so saving on them is desirable.
Google Cloud is the only public cloud provider that offers flexible configurations. The cloud provider offers the possibility to manually assign the number of CPU cores (per 4 CPU cores, 32, 36, 40, 44, 48, etc) and RAM (8 GB for every CPU core). So instead of choosing for 256 of 386GB of RAM, you can also choose 288GB, 320GB or 352GB.
Gootjes explains that saving on a few CPU cores and a dozen GBs of RAM in such a large SAP environment makes little difference, but when you start talking about dozens of CPU cores and hundreds of GBs of RAM, it becomes a different story.
Gootjes also emphasizes that it's easier to scale up and down with Google than with competitors. If a company grows or sells a division and the SAP database volume changes, the configuration can easily be adjusted. Gootjes states that with Google you have more possibilities without long-term (restrictive) contracts at a more attractive rate.
Price and contract analysis
The statements of Gootjes were reason enough to investigate further on price and contract details. We were curious whether there is a big difference between the cost of running an SAP S4/HANA workload within AWS, Google Cloud and Azure.
In our comparison, we took a standard configuration with 32 computing cores, 256GB of working memory, and a 1TB SSD hard drive with high IOPS in a European region. Based on that configuration, the following rates apply:
Amazon Web Services: $2,329.83 per month (no discount)
Google Cloud: $1,778.60 per month (including a 20 percent discount as the workload will run 24/7)
Microsoft Azure: $2,558.04 per month (no discount)
By default, Google gives a 20 percent discount on workloads running 24/7, but even without that discount, Google Cloud is the cheapest.
We also noticed that Amazon and Google are using the Intel chipset Cascade Lake SP which dates back to 2019, while Azure still works with a Haswell EX E7 architecture from 2015. This not only makes Azure more expensive, but you also get much less performance.
Additional discounts with long-term contracts
It is possible to reduce costs at all three cloud providers by signing up for a long-term contract. You do need to be sure the workload in question will be running for one or three years. The downside of such an agreement is that, apart from the fact that you're tied to it, you can only scale up and no longer scale down. The minimum price and configuration are fixed.
If we look at the one-year contracts, the prices of the three public cloud providers come closer together.
Amazon Web Services: $1,658.96 per month
Google Cloud: $1,404.32 per month
Microsoft Azure: $1,633, 88 per month
With a three-year contract, there is a bigger difference:
Amazon Web Services: $1,345.79 per month
Google Cloud: $1,030.74 per month
Microsoft Azure: $946.36 a month.
In terms of price/performance, Google Cloud wins with all contracts. Azure may be cheaper with a three-year contract, but the question is whether you want to commit yourself to a chipset for the next three years that is already five years old and offers much lower performance. The 85 dollars price difference per month is not that much.
Flexible configuration
The previously mentioned flexibility that Google offers with customizing your configuration changed when we were writing this article. With the older generation N1-instances, you could compose SAP VMs per 2 CPU cores and per GB of RAM. With the new N2-instances, this has been changed to per 4 CPU cores and per 8GB RAM per CPU core. We can conclude that they made the flexible configurations a bit less flexible. However, when your configuration needs are between the currently fixed configurations, Google Cloud can still offer an even better price for your SAP workloads.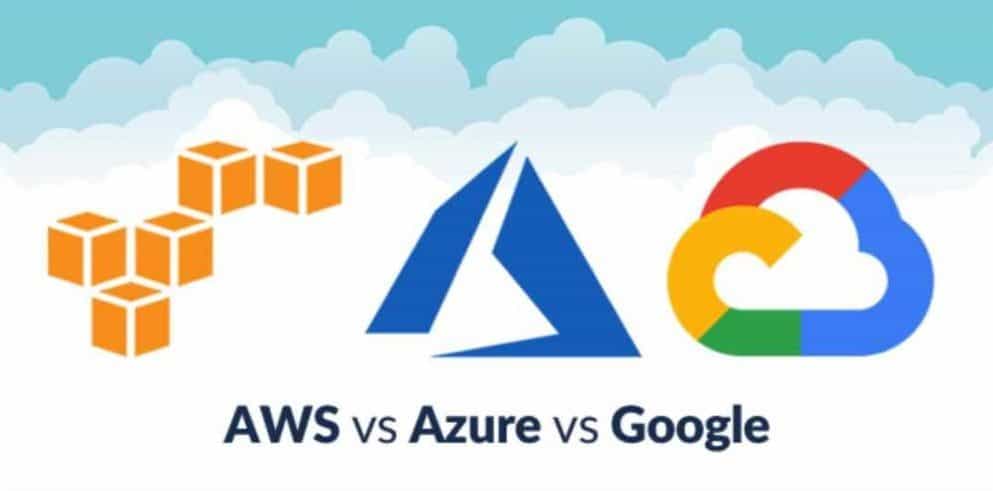 Which cloud should you choose?
In the end, we come back to the first question, which cloud should you choose? The vendors of many business applications don't make this choice any easier. We see more and more collaborations between software vendors and cloud providers, with vendors clearly expressing their preferences. Salesforce and VMware choose AWS, SAP chooses Microsoft Azure, and NetApp and Capgemini prefer Google Cloud.
Ultimately, you shouldn't allow yourself to be led by their opinions, because that says nothing about the quality, performance or flexibility of the cloud provider. SAP is an example of that. S/4HANA simply runs better on AWS and Google Cloud than on Azure. Nevertheless, SAP opted for Azure, which runs the workloads on five-year-old hardware. VMware chooses AWS, but VMware customers also use Azure and Google Cloud en masse.
As an organization, you have to inventory which applications and infrastructure you need, which additional services you want to use for data analysis or your Modern Workspace. Then you need to look at which cloud works the best for you, and a multi-cloud strategy should never be out of the question either. Many large organizations indicate that they operate in multiple clouds. This is also easy to do because many business applications and cloud tools have an API so that you can connect them and make them work together.
Finally, we asked Gootjes whether an SAP ERP system works better in one cloud than the other. Gootjes let us know that SAP solutions can run anywhere and there is no difference in that. However, you can link certain data tools of a cloud provider to the SAP Data Hub. If all of that runs in the same cloud, you can benefit from that. Some cloud tools are already much more advanced in data analysis, machine learning and AI than what SAP can offer today. There are real benefits to be gained from that.
"Google Cloud is very suitable for SAP S/4HANA as a point-solution. However, Google's offering would be more robust, with more business applications in the portfolio"
Gootjes states that Google Cloud is very suitable for SAP S/4HANA as a point-solution. He also said that the offering could become much more robust if Google would add more business applications to its portfolio. Google could do that by developing new solutions, but it's easier and faster by acquiring some business applications. He also thinks that Google should be more vocal about its G Suite. They have a business suite of applications that work very well, but they need to convince companies a bit more. With Thomas Kurian now leading Google Cloud, there is already more focus on enterprise organizations and applications. Whether that will lead to a broader portfolio remains to be seen.