At Salesforce, they choose an alternative route to inform their employees, customers and partners. Salesforce is launching its own streaming service with Salesforce+. Not by serving you the latest thrillers and drama series, but by offering content that can transform and innovate your business. At the moment, it's mainly focused on the well-known Salesforce pillars, sales, service, marketing, commerce and IT, but it will become much broader.
We find this strategy remarkable because it deviates from the norm and deviates from what all other companies do. Before corona, Salesforce held the world's biggest business conference every year, under the name Dreamforce. At Dreamforce, reportedly 170,000 people came to learn about new technology and ways to do things like sales, service and marketing better. Many customers came to talk about what was successful for them. Such a large conference is currently impossible due to corona.
Most other companies now choose to organise their events virtually. Often in a very slimmed-down form with far fewer sessions. Customers and partners can then log in to a live stream and still hear about the developments. What new features or products are coming up, hear a few customer stories, and usually, the CEO does a keynote. Salesforce is doing the same this year. They have an extensive program spread over three days where you can follow all kinds of sessions that may be valuable to you.
This year, Salesforce chose to pay a lot of attention to Slack, the most recent major acquisition of Salesforce, and Tableau, the major acquisition of last year. In addition, Salesforce is packing a punch in their keynote, with names like Will Smith, Jane Fonda, Ola Källenios, Catherine MacGregor and Jennifer Tejada.
Check out the Dreamforce page for more information.
Virtual events are no substitute for a real event
We have been following these virtual events for 1.5 years now, and for most companies, it works reasonably well. The people who actually work with a vendor's solution on a daily basis are willing to invest a few hours on these virtual event days to catch the keynote and perhaps a few sessions as well. We write 'reasonably well' for a reason because a virtual event does not work as well as a real physical event. The number of virtual registrations is often higher than for a physical event. The number of participants that actually log in differs per event. Still, the drop-out rate is actually always many times higher.
If people go to a physical event and once they are in the room, they do not leave easily. If something is discussed that they find less interesting at that moment, they just wait. At a virtual event, the possibility and perhaps temptation to close a browser window is much greater.
Keeping people's attention is virtually difficult
And therein lies the problem. A keynote or presentation lasts at least an hour or sometimes even longer. Often, these kinds of presentations are split up into many small blocks. Not every block is equally interesting to everyone. For example, if a customer story comes up, it has to be the right industry or example for the person watching.
Salesforce, like many other companies, is also struggling with this. Last year, Salesforce decided to keep Dreamforce very small. A virtual replacement for an event that normally attracts so many people is virtually impossible. This year, Salesforce chose to organise a virtual Dreamforce for its highly involved customers and partners. They can spend three days immersed in where Salesforce is heading and what is new in the company's many products.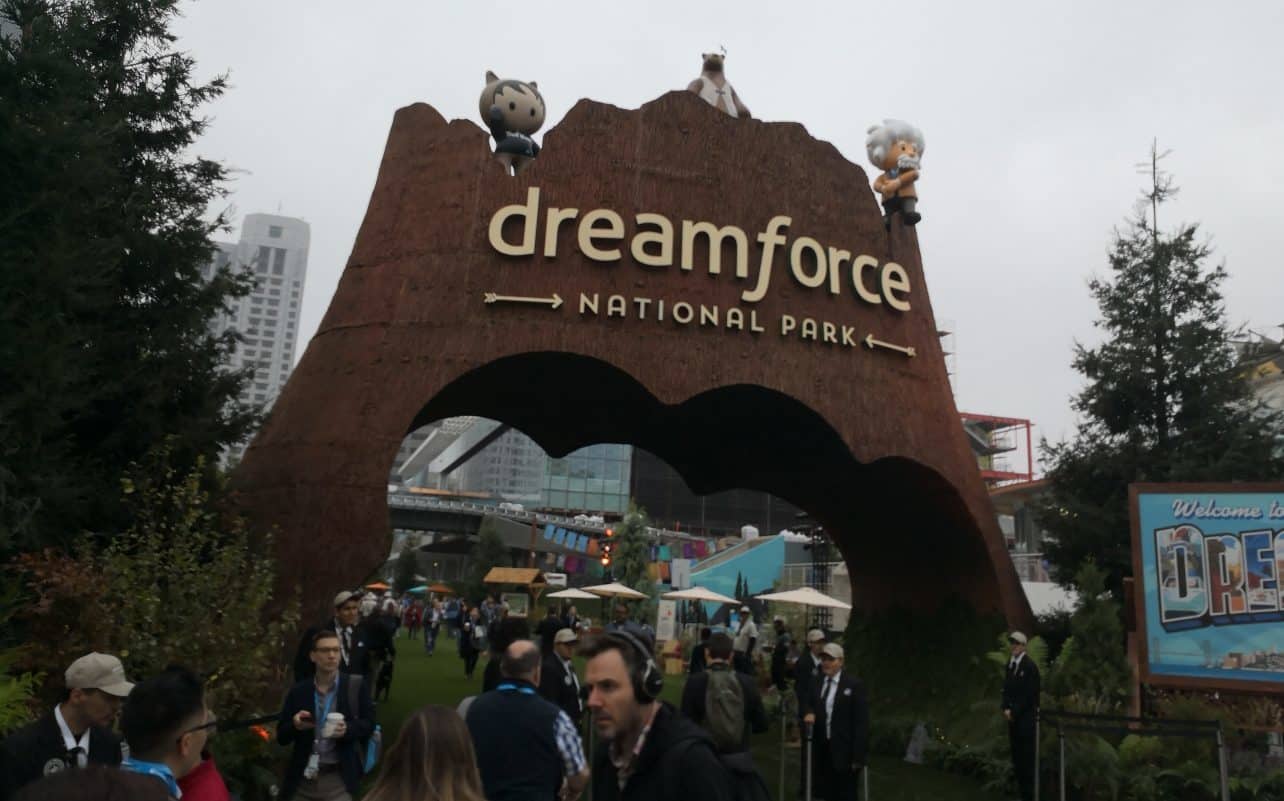 Dreamforce is different from other corporate events
What makes Dreamforce different from other events is that the new developments at Salesforce and the product features are only part of the event. Many companies facing an innovation journey, for example, to improve their customer service or sales processes, came to Dreamforce to learn the best way to do so. At Dreamforce in 2019, there were more than 2,700 sessions that people could participate in. They could hear other customers talk about how they have done things, what they have benefited from, which features are beneficial, or which are not.
Companies that have processes that have worked the same way for years cannot simply be changed. It takes a plan. You need to convince employees and colleagues. Have a good picture and the knowledge of new innovative possibilities that can help the company move forward. That was a great value of Dreamforce.
The Netflix alternative for business users; Salesforce+
With Salesforce+, the company is going to attempt to offer that alternative Dreamforce experience virtually as well. The three-day virtual Dreamforce event is mainly focused on Salesforce's strategy, new products, features, customer stories and some broad-based knowledge sessions. Salesforce managed to cram 123 sessions into three days, which is certainly not bad, but it does not come close to the more than 2700 sessions held two years ago.
The previously described experience of those smaller rooms, where one can learn from peers, is difficult to offer in a three-day virtual event. You probably shouldn't want to do that either because it doesn't work. People find it difficult to consume many virtual knowledge sessions in a short amount of time.
Salesforce has therefore thought about how they can offer this in a different and better way. It went back to the consumer market. How do we consume information and media in our private lives? These days, we do that mainly on-demand. Salesforce is therefore launching Salesforce+, an on-demand video platform where people can watch sessions by Salesforce experts, customers and partners throughout the year. Here they can learn how other companies have followed the same innovation path they are on now. On paper, this seems to add enormous value to Salesforce. After all, people no longer have to wait until Dreamforce to learn and gain information on how to innovate their business processes. They can now do this all year round.
Salesforce+ could therefore be a great success. In the end, the success of such an on-demand platform comes down to the content it offers, how often new content is added, and how user-friendly the platform is. But perhaps more importantly, whether an on-demand business video platform works. We think it's not a bad idea, but the reality is sometimes more difficult. Let's wait and see.