SAP has been beating the drum for some time now with its "RISE with SAP". We were particularly curious to see whether that message is getting through to customers and what SAP now exactly means with RISE. The goal of RISE is that you can grow your organization by using SAP solutions, where S/4HANA is the best of suite platform. But can the company deliver on that promise?
We spent a week at SAP Sapphire in Orlando, where we immersed ourselves in the world of SAP, doing multiple interviews with SAP executives, talking to customers, talking to partners and doing the research to find out where SAP is moving with RISE with SAP.
SAP has a broad product portfolio, from cloud ERP (S/4HANA), HCM and CRM to supply chain management and procurement. However, the fact is that ERP is still the most important SAP product, which also holds the most potential. To strengthen S/4HANA, SAP has built or purchased various solutions around it. The RISE with SAP story focuses entirely on S/4HANA supplemented with additional tools.
Everything is RISE with SAP: is that useful?
During Sapphire, we couldn't ignore that SAP is moving towards a platform strategy, creating a "best of suite" offering around S/4HANA. In doing so, SAP is moving in the same direction as Microsoft, Salesforce and ServiceNow. It doesn't seem to want to communicate this yet, or it simply doesn't dare. Instead, they keep shouting "RISE with SAP". That doesn't help customers get a clear picture. Reading between the lines, it is clear that people at SAP also have trouble with this slogan. We heard comments from various corners that say that SAP should call it by its name: "Cloud ERP as a service", or if you want to position it more broadly, "Cloud ERP platform as a service". "RISE with SAP" comes across to us as a somewhat bloated meaningless slogan, which SAP should not continue to use for too long. It doesn't add anything and ultimately creates more confusion than clarity.
Best of Suite approach
If we zoom in deeper on that "best of suite" approach. Then we see that SAP is putting the S/4HANA ERP solution at the center. To strengthen the suite offering, SAP has purchased two solutions that add value. These are a Business Process Intelligence solution and a solution for no-code development.
The Process Intelligence solution is provided by SAP Signavio, a company that SAP acquired in early 2021. With Signavio, you can do process mining, among other things, to get visibility and make your business processes transparent, but also to automate them and make them more efficient. For companies that have a lot of business processes, this can be very useful. Process mining can save a lot of money, but it also helps to meet governance and compliance requirements better because you have better insight into your processes, making everything more transparent.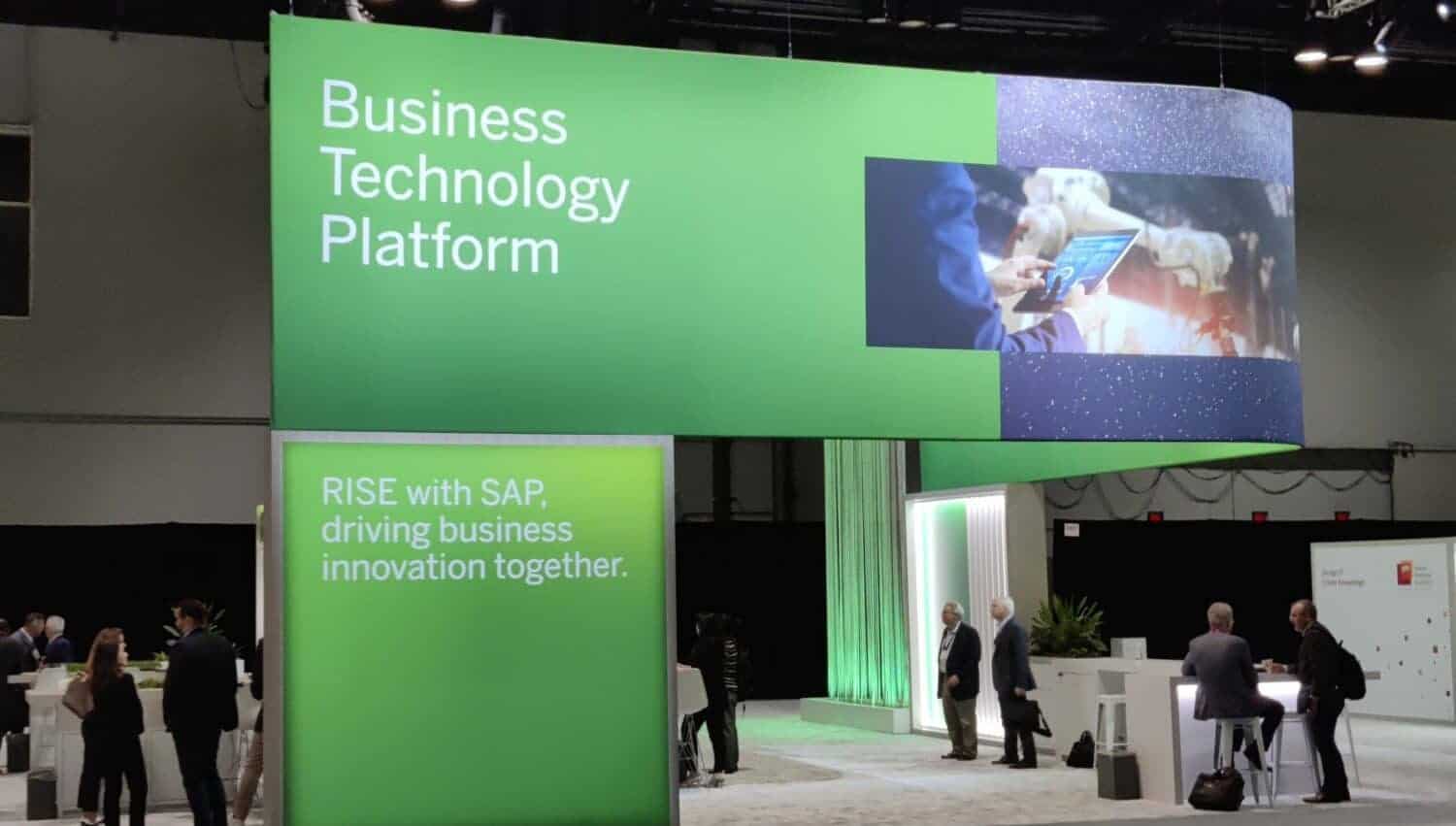 We mentioned it earlier, a form of no-code development; this falls under the SAP Business Technology Platform at SAP. For this purpose, SAP has acquired the company AppGyver. AppGyver allows the creation of simple applications via a drag-and-drop interface. For example, forms for quickly modifying or adding data. Or to display data from an ERP system in a slightly different way. SAP has already presented the first integrations of AppGyver in S/4HANA.
For companies that want to go a step further, SAP also has a low-code solution, this is the SAP Business Application Studio. The Business Application Studio allows you to build SAP applications and extensions that use the SAP Cloud Application Programming Model. In other words, you can use it to build extensions on top of existing SAP applications.
Of course, based on available documentation, you can also build integrations with SAP in any programming language of your choice. The fact is, however, that low-code and no-code increase the speed of application development and firmly lower the threshold for building something. In that respect, investing in no-code and low-code is a good strategy.
SAP Store broadens best of suite offering
To make this best of suite even more attractive, SAP is now paying more attention to its ISV partners (independent software vendors). They develop applications on top of S/4HANA, for example. They add valuable functionality, which can be in the form of features, but also complete solutions that use the reliable HANA database and back-end. Examples are the integration with Icertis for contract management, which delivers a complete contract management solution. Or what about PriceFX, they provide a feature to price your product more accurately.
However, this focus on ISVs has been developed in the last three years. In the meantime, SAP has signed up some 1,800 partners for the SAP Store, but at the same time, there is still a long way to go. SAP wants 8 out of 10 applications to come from partners rather than SAP itself. To make the SAP Store more attractive, it has decided to adjust the revenue distribution. Previously SAP wanted 50 percent of the revenue generated in the SAP Store, now SAP takes 15 percent for the Integration Tier and 25 percent for the Platform Tier. In theory, anyone can become an ISV partner of SAP, but the company still applies an extensive approval process.
To improve the offering, SAP has now divided some 80 people into industry teams, whose task is to enhance the offering in the SAP Store for their specific industry. SAP has a lot of specific industry knowledge in-house because it has been in business for many years. The company should therefore be able to make the overall package more attractive for specific industries quickly. Whether it will succeed in doing so remains to be seen.
SAP should take a broader view
If you look at what is happening in enterprise IT, you see that one trend is precisely to do a lot of collaborating. Your worst enemy can become your best friend. All solutions must be able to work well together. At SAP, however, we still see some traditional thinking that gets in the way of this. The company has invested heavily in the SAP Store offering to enable better collaboration with, for example, Microsoft Teams and other Microsoft products. An integration with Slack, on the other hand, is out of the question, as Salesforce currently owns it. During an interview at Sapphire, we noted the following quote: "Slack is not an option, due to Salesforce acquisition".
From this perspective, SAP will not encourage integrations with Salesforce or Tableau in the SAP Store. Salesforce is seen as a major competitor. That's a traditional mindset that SAP needs to eradicate because it doesn't benefit the customer. Suppose a customer has decided to choose Slack as an internal communication and collaboration tool. In that case, it should be able to work together with SAP just as well as Microsoft Teams can.
We also see this mindset when looking at opportunities to roll out SAP S/4HANA. You can roll out SAP S/4HANA cloud to your own data centre, AWS, Azure, Google Cloud or Alibaba. However, if your organization has chosen Oracle Cloud or IBM Cloud, SAP will block your deployment. This is absolutely not allowed and will never be an option, so we were told. We understand that the Oracle Cloud is at the bottom of the list if you're SAP, but as long as you support S/4HANA on-premise, you better tell customers that any location is possible, including the Oracle Cloud.
SAP gets most S/4HANA business from SAP ECC customers
SAP currently has over 19,000 S/4HANA customers, of which over 1,600 have been added through the RISE with SAP program since the beginning of 2021. Those customers also have access to Signavio, Appgyver and other tools. SAP already manages around 56,000 workloads in the cloud with an uptime of 99.98%. SAP has established a good track record as an "as a service" provider.
It also became clear that SAP is signing up most S/4HANA customers through ECC migrations. These customers are running an old version of SAP ECC and have to migrate before 2027. Official support for SAP ECC expires in 2027, although customers can extend it for years for an additional fee. At least until 2030, possibly even 2035.
SAP ECC is SAP's legacy on-premises ERP product. With SAP ECC, the trend was to build modifications in the source code to make the ERP system better fit the customer's needs. A huge disadvantage of this practice is that you cannot upgrade to newer versions easily because you will lose those customizations. The market has solved this with the so-called fit-to-standard principle. Companies must let their business processes run via standard procedures that the ERP system supports. Additional customization also remains possible through extensions and modular software that can be built on top of the ERP system and that hooks up to the APIs of an ERP system. S/4HANA has been developed according to this principle. You have the S/4HANA ERP system, and you have separate applications that interact with it or modular blocks that become accessible within the ERP package. This is possible by using the available APIs and SDKs.
Integrating with SAP
So the key to success for SAP's strategy with this best of suite platform approach lies in its ability to extend, link and integrate S/4HANA with other applications and solutions. To do this well, you need APIs, an application programming interface, which is a way for applications to communicate with each other in the background. With APIs, third-party applications can communicate with the SAP platform and exchange data. Of course, after permission and authentication have taken place first.
At the time of writing, S/4HANA has 585 APIs, and the SAP Business platform has over 450. So there are plenty of opportunities to link with SAP software. SAP customers have told us many times that it is complex to integrate with SAP because the data model and the APIs are pretty complicated. This was a big hurdle for potential ISVs. Our discussions with SAP made it clear that they also received this signal and developed the SAP BTP, the SAP Business Technology Platform. This includes the low-code and no-code solutions but also an iPaaS solution, SAP BTP Integration Suite. This has made it much easier to integrate your own software with SAP.
In addition, SAP has introduced a so-called One Domain Model. The One Domain Model allows you to use APIs to communicate with SAP uniformly, where data can be exchanged with different SAP applications using the same model. You no longer need to have a separate API set for each application. The integration between SAP applications is also a lot easier.
For companies that especially want a lot of access to data in SAP, but do not need to modify it so much, there is now the possibility to use the SAP Data Warehouse Cloud. In the SAP Data Warehouse Cloud you can bring together data from SAP solutions and data from third parties. So that you can then make it available for data science models, think machine learning and AI or analytics solutions to create better insights.
Will SAP S/4HANA be a good best-of-suite platform?
SAP's strategy is clear if you can read between the lines or just got to this article. If you've been walking around on SAP Sapphire, then, unfortunately, it's a lot less clear. As far as we are concerned, SAP should clearly outline which direction it is moving in and stop using slogans that cause confusion.
SAP is more or less reinventing itself. For years it has been pushing S/4HANA, now more as-a-service with all kinds of additional services, so it is starting to become a large platform with all kinds of applications around it and on top of it. As a result, it's beginning to look more and more like a best-of-suite approach. However, some things could be better or are still challenging for SAP.
SAP Store
To start with, the offer in the SAP Store. That still leaves something to be desired, the adoption of the applications falls short. We hope that the 80 people who are now working on adding industry-specific applications or persuading partners to add them will be very successful. This is where SAP really lags behind the competition.
Furthermore, SAP would do well to invest heavily in low-code and no-code capabilities so that customers will make a greater contribution to building modular extensions. For this, SAP will also need to rig up more training courses and events to educate customers in no-code and low-code development.
Finally, SAP must abandon traditional competitive thinking and embrace anything and everything. If you want to play a central role as a platform, you cannot ignore top-rated solutions because a competitor owns them.
Integrate more SAP solutions
If SAP wants to offer the largest and most complete best-of-suite platform, it will need to add more SAP solutions. Also, SAP Ariba, SAP Concur, SAP SuccessFactors, and SAP CRM should all become part of that suite. With a complete best-of-suite platform, customers can do a broad SAP platform integration.
You also see this at Salesforce and Microsoft; many products are included by default within the subscription. Of course, there are still options to further scale up specific solutions at extra cost, but the primary offering should be broader and more solid.
Clear product range
The trend today in IT is also simplicity. A product can be very advanced, but the interface the user is presented with must be simple. As far as we are concerned, this also applies to the product portfolio. It must be clear, and customers must be able to quickly see what they are getting. As far as we are concerned, SAP could still be a bit clearer about the SAP Business Technology Platform and the SAP Business Process Intelligence package. What does it includes, and what can customers do with it?
If SAP can do all that, then Europe's largest tech company can compete even more effectively with its mostly American competitors.