Workday is the next major software company to offer a complete suite through a cloud platform. Customers can customize the cloud platform through low-code. At Workday, the suite consists of two core products; Human Capital Management and Financial Management. In our conversation with Jens Löhmar, Workday's European CTO, it became clear that it's all about specialization and the right context. He is not really impressed by the competition.
During Workday Rising Europe, we were immersed in the world of Workday. The next cloud-native suite platform that customers can extend through low-code. It is a trend that many large software companies are following. They want to convince enterprise organizations by offering the flexibility to adapt and extend the platform to their needs with low-code. One can get the impression that these companies are building their own kind of "lock-in", because once you have adapted such a platform, you will not leave it again so quickly. Löhmar assures, however, that for years Workday have been successful in adapting the configuration to the needs of their customers.
So the big question we had was, how is Workday going to convince its customers with its platform? The enterprise customers are probably also building on platforms like SAP, ServiceNow or Salesforce.
Löhmar is seeing a more domain driven development in the market where companies are looking to increase the value of their investments by deepening the experience within the different business domains.
As part of their ERP Modernisation, many of the companies have already invested in domain-focused, best in class platforms. In Sales it is often Salesforce – in HR, Workday has made a name for itself as being one of the top players. When building custom-specific functionality, IT departments don't want to build applications from scratch. They want to leverage what is already there in terms of data, security, and business processes. In order to build complementary apps quickly and efficiently, it often makes sense to build in the domain-specific context.
According to Löhmar, it's all about specialisation and putting data in the right context. You can offer a big platform, but the platform has to be compelling in terms of functionality and specialisation. The knowledge and specialisations within Workday ensure that it can go far in perfecting its core products. The same goes in terms of putting the data in the right context. Because of the specialisations, they often manage to convince enterprise customers, Löhmar said. At Workday, they focus on finance and people, or to put it into products; Financial Management and Human Capital Management.
When do you choose Workday Financial Management?
We also spoke for this article with Hette Mollema, the Vice President Benelux, who also fulfills the role of country leader for the Netherlands. With him, we also discussed the role of Workday in the market, because certainly in the area of finance there are many boutique players in many countries that are somewhat smaller but have a strong local focus.
In the Benelux, for example, you have AFAS, Exact and Twinfield. According to Mollema, these are fine solutions for many companies, but the moment you grow as an organization and maybe become active in 5, 10 or 15 countries. Then you start running into limitations of these kinds of solutions. That's when Workday comes around the corner, because that's where the company excels.
In today's job market, Workday Human Capital Management can make the difference
When you look at HCM in relation to the current job market, Workday has a solid advantage. There is a massive shortage of employees. Finding and retaining people is a real challenge for many organizations. Therefore, managing your employees and providing a challenging workplace can really make a difference.
Workday has caught on to this. Basically, they offer an easy way to manage your employees. They also offer employees the ability to manage their own employee records through self-service portals. Whether it's an expense report, requesting a day off or looking up HR policies. Everything is fast, open and accessible.
These self-service portals can be provided through the web, smartphone apps or integrations into Slack and Teams. the key is to keep it accessible, fast and simple. The threshold for employees to communicate with HR or a manager should be as low as possible. Many things are automated, so tasks are done automatically or a manager can approve things with a single click.
In addition, Workday has made a number of acquisitions and developed solutions to make employees more engaged with the company, but at the same time provide managers in the company with information to make better decisions.
Responding to your employees' skills
Workday allows you to build a Talent Management Program within your organization that is based on the skillset of employees. This ensures that, on the one hand, employees can use skills they may not have been hired for in the first place, while making their work more challenging and enjoyable. At the same time, other employees can in turn learn from colleagues who have skillsets they do not have. The skills-based way of working is something relatively new, but something that is quickly taking the world by storm. Simply because it better suits people's needs and gives employees the ability to advance their career.
Giving employees a voice and managers data
One of the acquisitions Workday has made recently is Peakon, which product now bears the name Workday Peakon Employee Voice. This is a standalone solution that can hook into Workday HCM, but can also be used independently. It is tool that allows employees to make comments about their work. Whether it's the amount of work, the number of meetings, the laptop they work on, the workplaces in the office, the temperature in the cafeteria, or interactions with colleagues.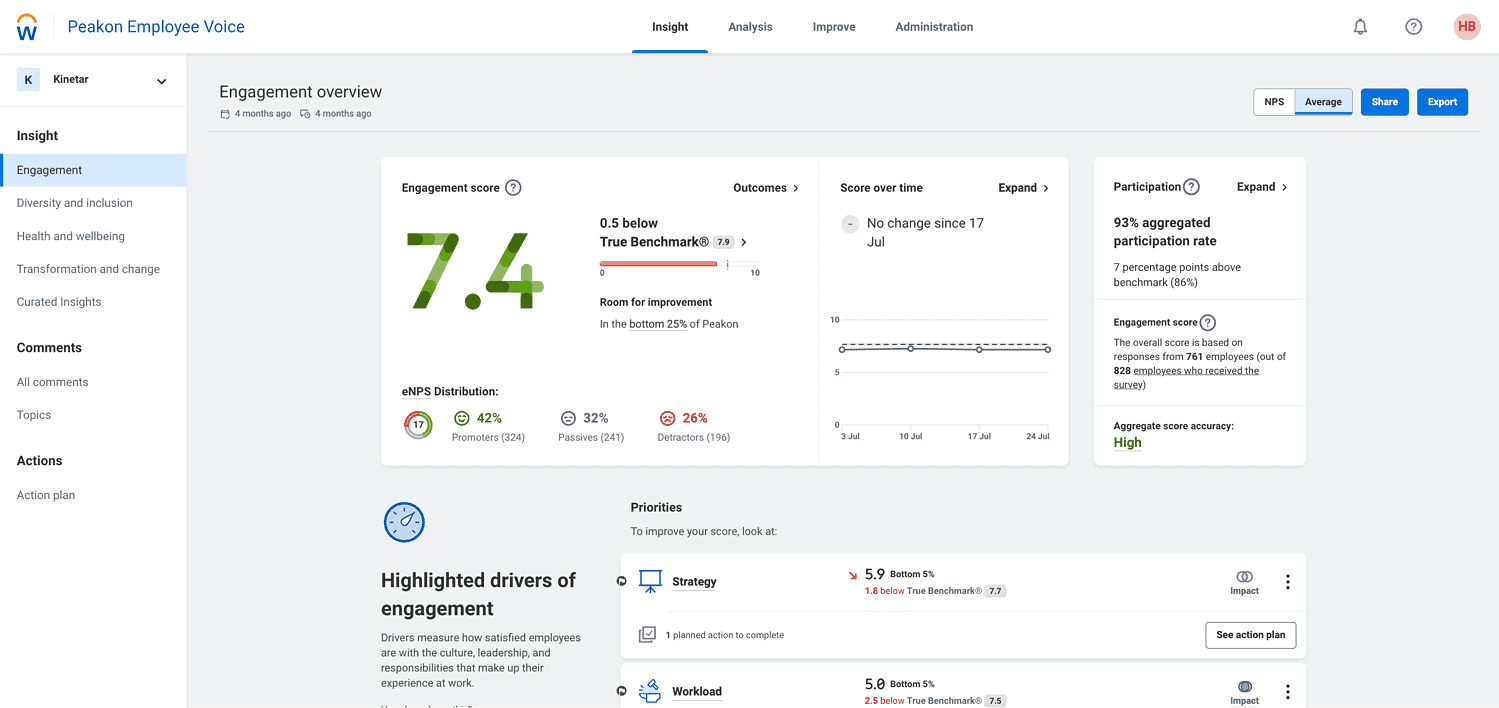 Everything they experience, they can share via Workday Peakon Employee Voice, publicly or anonymously. It makes employees much more involved in the organization. At the same time, it offers a glimpse into the health of the employees and opportunities to, for example, do something about diversity in your organization. All the data Workday Peakon Employee Voice collects is available to managers. When they receive reports that their team is having too many meetings and therefore not getting their work done, a manager can choose to block days on which meetings are not allowed. It gives employees a way to report and managers the power to act on problems in an early stage. It can be as simple as office chairs that are really uncomfortable or laptops that don't perform well. More importantly, also behavior that you don't want to see on the work floor gets reported. Think of bullying, sexual harassment, or jokes that just go beyond the boundaries of what's accepted.
This prevents employees from becoming dissatisfied, or even suffering burnout or stress complaints due to an unhealthy workplace. It also contributes tremendously to employee retention and having a well-functioning and productive team.
Workday's momentum is on HCM
We asked Löhmar if there is a difference between financial management and human capital management in terms of focus or strategy. He states that both core products are hugely important to Workday, but the momentum for HCM has just been bigger in the past. Especially in Europe, where we are much more engaged in optimizing and making HR processes accessible, responding to talent and giving employees a clear voice in the organization.
Löhmar also stated several times that the focus is on finance, HR and planning, so we don't have to expect completely different solutions from Workday. They want to raise the bar on what they are good at and have knowledge in. So the focus is on the core products and possible additions to them.
For example, Workday realized several years ago that there was a great need for a planning solution. Be it financial scheduling, employee scheduling, skill-based teaming, sales scheduling, or operational scheduling. These types of schedules are extremely time-consuming and fit perfectly with Workday core products. They then considered building something themselves, but that would take too much time so the company made an acquisition, which now allows them to offer Workday Adaptive Planning. It integrated its planning solution with the core Workday solutions to make it a powerful combination.
Workday now offers solutions from the cloud
Workday has a number of colocation data centers in the United States and Europe. The company also sees the development of hyperscalers and the benefits they can offer. Workday has been offering the option for a while now to purchase its services from Amazon Web Services (AWS) instead of its own data centers.
Löhmar revealed that this is going to become the standard. Customers will soon be able to choose between AWS or Google Cloud. Data centers will remain an optional choice for now, but it is clear that Workday eventually wants to stop running its own colocation data centers. Löhmar acknowledged that there are many players who can do this better, cheaper and at a larger scale.
Workday Extend
Workday has the ability to extend the platform through low-code since 2020. The company released an API and SDK based on Javascript that allows customers and system integrators to build applications and extensions on top of the Workday platform. They call this Workday Extend. This is not without success, with 730 applications already in production at 350 customers. Customers are adopting the low-code possibilities very quickly.
We also talked to Löhmar about the possibilities for ISV's. To get started with the Workday platform as an ISV, you have to be approved by Workday first. They don't just accept everyone, and they require a certain level of knowledge of Workday Core Service, application development, as well as expertise in a specific solution or industry.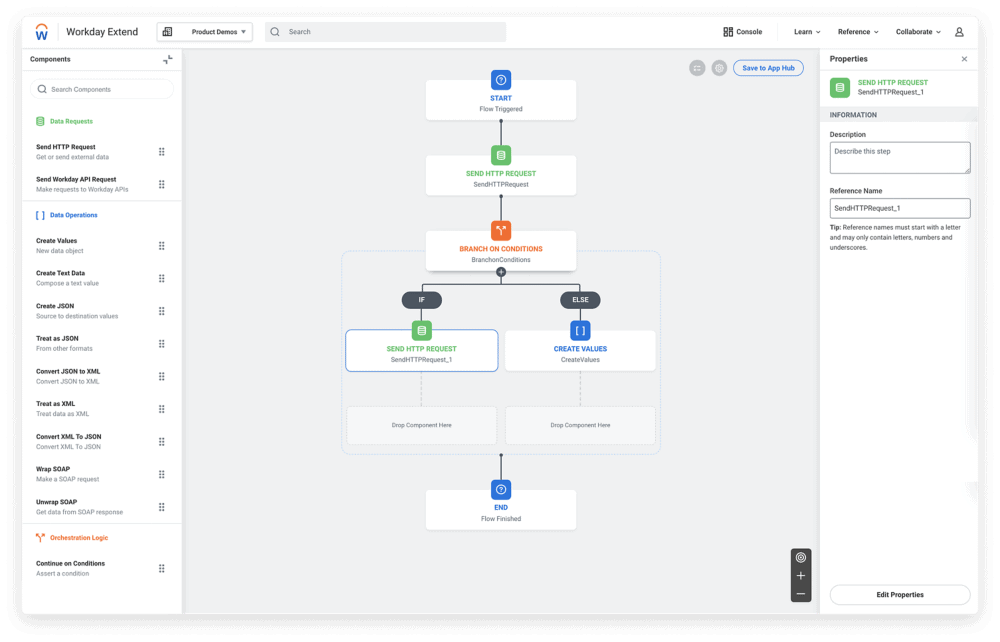 We also asked about the procedures with ISVs around product updates. If major changes are made to the Workday platform, what does that mean for ISVs and applications from Workday Extend.
Löhmar was quite firm about this, according to him, Workday products are developed and controlled in such a way that those extensions will always work. They make sure the APIs are always backwards-compatible. As long as ISV's and customers develop according to the documentation, nothing can go wrong.
That's a pretty firm statement; we're curious to see if Workday can live up to that in the long run. We know that other suite platforms have set up very heavy control processes for this. After all, you don't want to experience a non-functional HCM platform, because of a bad extension of an ISV after a software update.
Where does Workday stand now?
Workday is a large organization that focuses on people and finance. They have 50 percent of the Fortune 500 as customers. Workday's customers are generally all capital-rich or in a significant growth phase. Because of the focus that Workday has and the pace at which it specializes and evolves, it has a very strong position. A position that makes it difficult for competitors like SAP and ServiceNow to compete with.