Multiple apps for collaboration and video calls have appeared extensively in the media lately, but what's a bit snowy is what the actual functionality is. Often the news is only about privacy or exploding user numbers. We compared five frequently used video conferencing apps and see which app is a good choice for which business situation.
This article was originally published in 24 April 2020, but was updated on 15 January 2021.
These apps all have the standard features for video conferencing, online meetings and are therefore in the spotlight these days. There are some differences in terms of interface, ease of use, functionality and price. We will list these characteristics below.
Microsoft Teams
Skype for Business is still a popular app for videoconferencing. However, Skype is rapidly being phased out for the benefit of Microsoft Teams, the collaboration app that is included in Microsoft 365 subscriptions. Teams could be a good choice for larger businesses.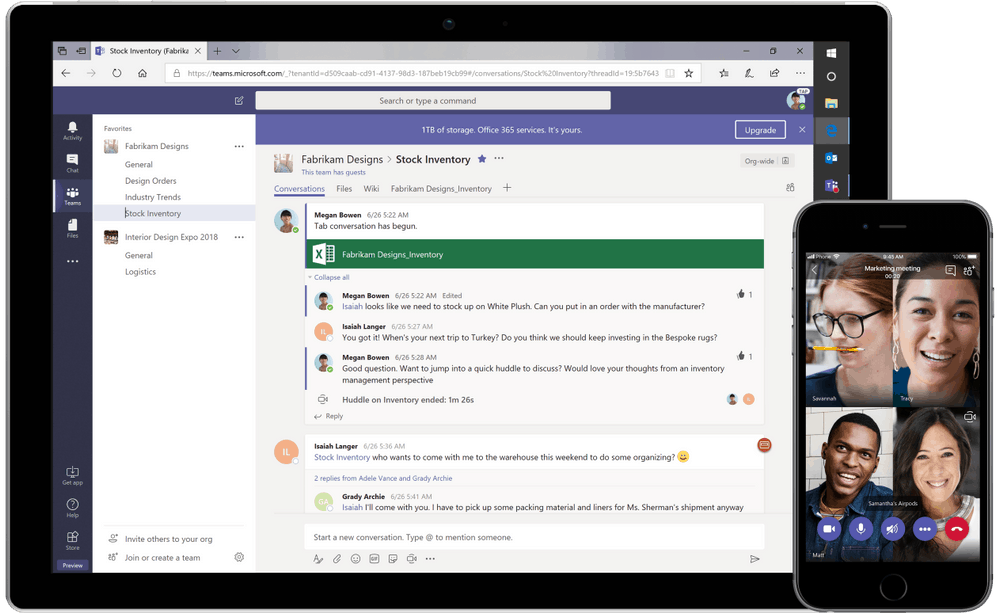 Interface and ease of use
The interface of Teams is quite clear, once you know where everything is. As is the case with more products from the Office/Microsoft 365 family, it takes some time to get familiar with where all buttons and options are. Sometimes it takes a few clicks to get to a particular option. For example, the settings menu is located below the drop-down of the user's profile. No problem once you know it, but we could imagine that some users only find out after they have been searching for a settings icon for a while. That's often the case with Teams, but in our opinion, that's just a minor drawback, which gets less annoying over time. Moreover, this lack of clarity is no problem during an actual video meeting.
Features
Teams is not only a video conferencing tool but also a chat tool, with complete collaboration functionality. Here, however, we focus on the video conferencing side of the story, which is similar to many other apps – think e.g. of the standard buttons for microphone and camera. However, a number of features stand out: for example, users can choose, during the call, which video feed is displayed, and that feed can then be fixed on the screen. This can be done for multiple feeds, so in a video meeting, for example, both the administrator and a speaker can be displayed. Furthermore, there is a function that ensures that you are in the picture when you raise your arm, which can be useful for drawing attention if there is a problem with the connection that needs to be resolved.
What further distinguishes Teams are the integrations for Office 365 (soon to be Microsoft 365). This means that appointments in the calendar of Outlook, for example, are synchronized so that a user is displayed as "busy" during an appointment. It is also easy to share e-mail messages and attachments via Teams. As far as we are concerned, these integrations are one of the biggest advantages of Teams for Microsoft users. It can be a decisive factor when making a choice.
Microsoft continues to work hard on the development of Teams. The company has recently improved the noise suppression quality, added a Tasks app, allowed users to log in with multiple accounts and added a data saver to the Android app.
The prices of Microsoft 365 are 4.20 euros per user per month for Essentials, 10.50 for Premium and 16.90 for Business.
Google Meet
If you have a Google Account, you have access to Google Chat and Google Meet. These names have only recently been given; until a year ago, the service was called Hangouts. Meet and Chat are both a standard part of G Suite, Google's office suite. This brings integrations with it, just like Microsoft Teams with Office. With an available subscription to G Suite, it is therefore advisable to choose Google Meet (and Chat).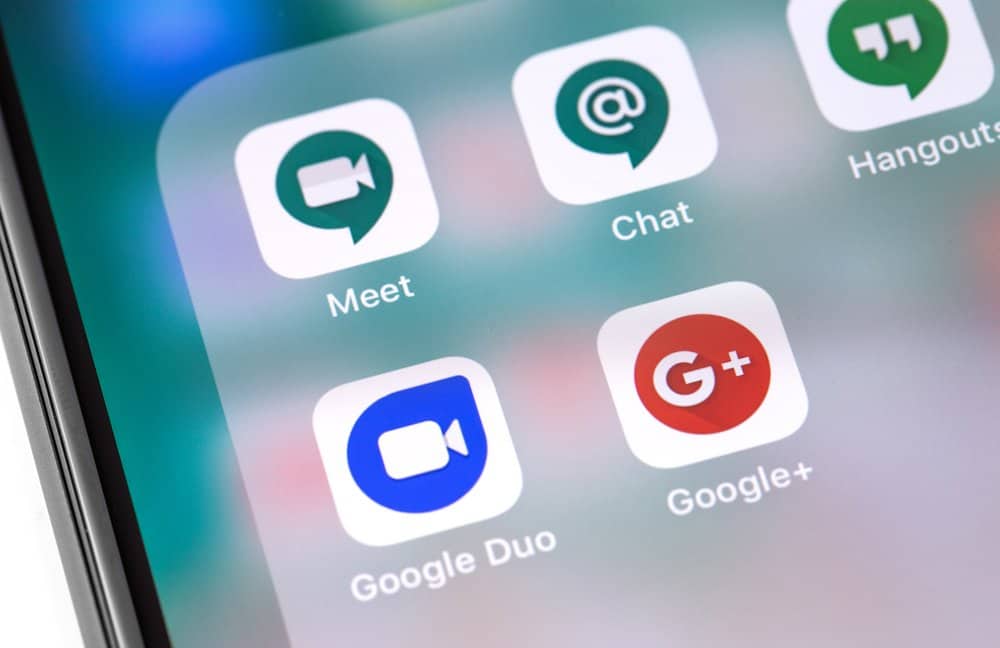 Interface & ease of use
Meet's interface is clear and simple. You can plan, start and join meetings on the right side of the screen, and there is an unmissable button to adjust general, video and audio settings. That's actually all you see on the start screen of Meet itself. All other Meet functions are in different places in G Suite, like planning calls, which is in Google Calendar. The simple interface makes Meet a bit easier to use than Microsoft Teams, but the choice between Teams or Meet (and Chat) really depends on which office suite you use within your company.
Features
In video calls themselves, the functions are quite basic; turning the camera and microphone on and off is done via the standard buttons. There is also the option to share your screen, or just one window of e.g. a certain application. At the bottom right is a menu with more options, such as displaying in full screen and customizing the layout to your liking. Very interesting is turning on captions, where a direct transcription appears of the speaker who is speaking at that moment. In principle, you could follow what is said without sound, but the transcription is not flawless. The addition is still in transition from gimmick to real feature.
Users can participate in calls via an e-mail, a shared link or a calendar invitation, and there is the possibility to dial in. Furthermore, there is the possibility to stream video to up to 100,000 viewers within one domain. It is also possible to record calls and save them directly to Google Drive.
G Suite is currently available for 4.68 euros per user per month for Basic, 9.36 euros for Business and 23 euros for Enterprise. The first two amounts have been lowered temporarily due to the corona crisis, so there is a good chance that they will be raised when the situation returns to normal.
Google has also introduced a free version of Meet. Although a Google account is required, you no longer have to be a GSuite customer to use Google Meet. However, the free version is limited to a maximum of 60 minutes per call.
Cisco Webex
Cisco's Webex was designed in the form of two apps as well. These are Webex Meetings and Webex Teams. Webex Teams does have a video conferencing option, but mainly focuses on collaboration functionality, similar to Microsoft Teams. Webex Meetings is specifically designed for videoconferencing and online events. We will focus on that functionality in this review.
It's also worth mentioning that Webex is usable with a desktop app or a web app. The web app has the same functionality as the desktop version, except for two important features: the web version does not support end-to-end encryption, and no legacy Voice-over-IP (VoiP). As for the rest, the two versions are virtually the same.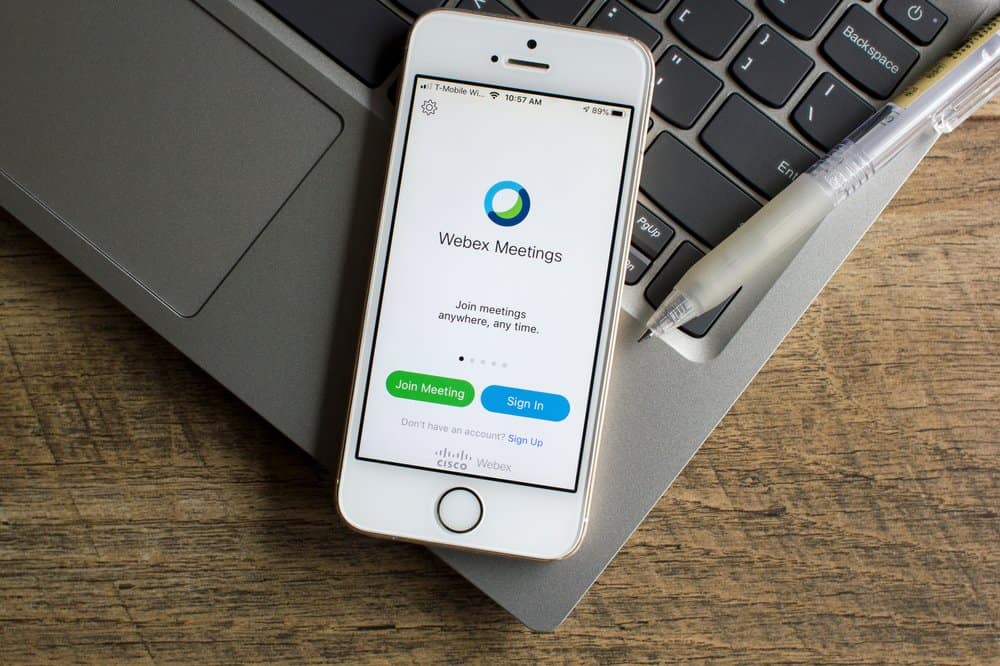 Interface & ease of use
Using of Webex Meetings is pretty intuitive. The interface is similar to other services during a call, but before you start a call, you can see a clear dashboard. You can choose Start Meeting, Plan Meeting or Join Meeting on that dashboard; those buttons speak for themselves. On the right side, you can see scheduled meetings, if any, and recently viewed files. When planning a meeting, standard functions such as time, date and duration of the meeting can be set, and the necessary persons can be invited. Furthermore, agenda items can be added, as well as a password for the meeting. Also, as with other services, the desired audio devices can be selected, but these settings are a bit easier to find in Webex than in e.g. Microsoft Teams.
Features
Administrators can record the meeting, both audio and video. Participants in the meeting can then download that recording with a link. Furthermore, participants can be muted. All participants can use a chat during the meeting, and hosts can share their desktop, a specific app, or files from their computer, including video files, with the other people in the call. What's very useful is that there is a notification for administrators to see if sharing is enabled or not. This makes it much less likely that he/she will leave the feature on after the call has ended. It is also possible to use a virtual whiteboard for sharing notes.
Cisco released a major update to WebEx in December, improving noise reduction and enabling automatic transcription. Cisco is also working on real-time translation.
Webex is available in a free version, a Starter version for 12.85 euros per host per month, a Plus version for 17.30 euros per host per month, and a Business version for 25.65 euros per host per month.
BlueJeans
BlueJeans is probably the 'simplest' app on our list, but not in a negative way. There is no free version, and the app only focuses on video conferencing, with no features that other collaboration apps often have. The BlueJeans app can be used in-browser or simply installed as a desktop app. The desktop app is the only one that really has all the features; however, there is an app available for iOS and Android.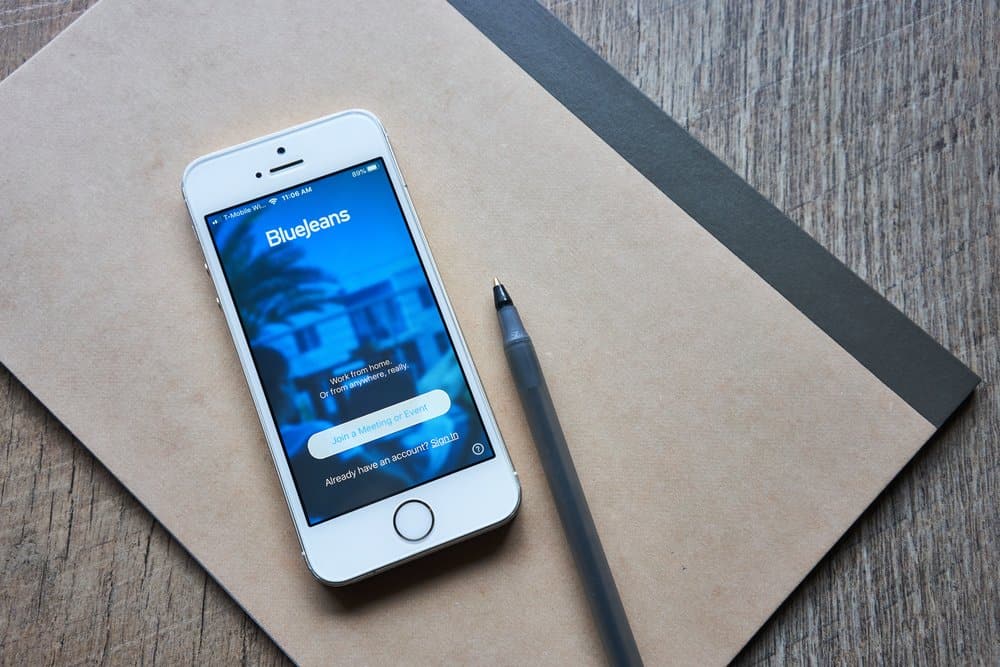 Interface and ease of use
The interface of BlueJeans is very clear. The kick-off functions such as planning, joining and starting a meeting can also be seen directly on the start screen. During a call, important buttons such as recording a meeting or sharing your screen are located at the top of the screen.
There are several views from which users can choose. For example, there is a 'people view' where the speaker gets the largest screen, but where everyone can still be viewed. There is also the option to show only the current speaker, as well as an option to show every participant the same size. Up to 25 video feeds can be displayed simultaneously during a call. It is also noteworthy that directional audio from Dolby can be used if audio hardware from Dolby is available in a meeting room. This means that the audio comes from a certain direction in your headset, so you can hear who is speaking in the conference room. This is of limited added value in the current corona crisis, but it can be a handy feature when everything eventually goes back to normal.
It is also noticeable that there are many options for when something goes wrong in a call; there is even an entire Command Center, where statistics about a call can be found, where you can see what went wrong and with whom. This makes requesting help from IT specialists less frustrating, as they know where to look for problems.
Features
Each participant has a video and microphone icon, which the administrator of a meeting can use to mute or reactivate everyone individually. There is also the option to do this for everyone at the same time. In addition, a whiteboard and note function is available, and meetings can be streamed directly through Facebook Live, which can come in handy for webinars or events. There is also an option to lock meetings, as to not be disturbed by third parties. For the same reason, notifications of new participants can be turned off, so that alerts don't disturb meetings.
There is also an option to monitor a desktop remotely, but e.g. admin-apps in Windows have been removed from this feature for security reasons. This means that often, this feature will be of little use.
The price of BlueJeans is 9.99 dollars for Standard, per host per month, and 13.99 for Pro, per host per month. For the Enterprise version, a quote has to be requested, adapted to the specific organization.
Zoom
Last (but not least?), there's Zoom. No-one could have missed that Zoom has had numerous privacy problems. However, those problems haven't escaped Zoom's attention either and in 2020, the company has been working hard to solve them. In addition to fixing many bugs, Zoom also acquired the company Keybase to improve its security. In October, Zoom received got support for end-to-end encryption. Moreover, two-factor authentication is now possible.
Tip: How video platform Zoom got its security in check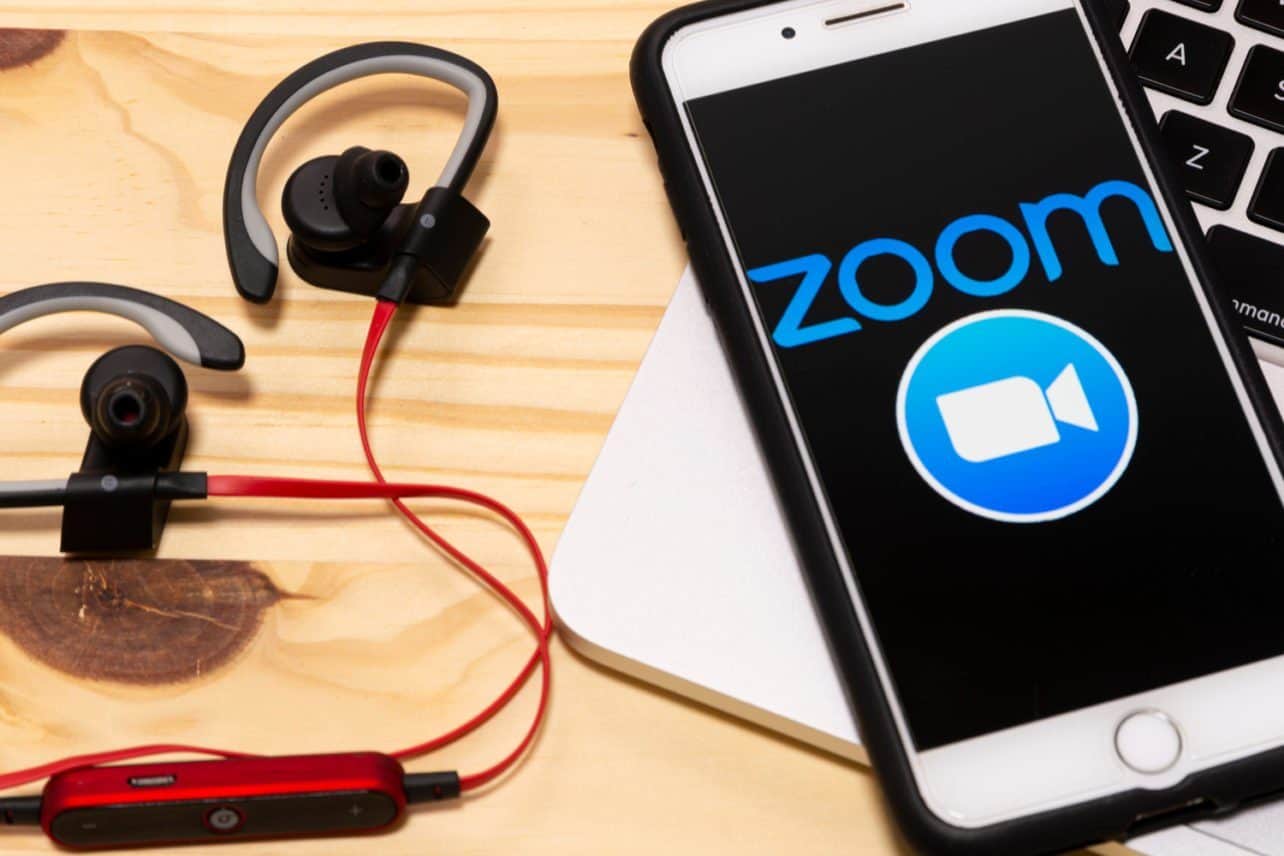 Interface and ease of use
Participating in a call takes a few seconds if you have already installed the app and two extra clicks if you choose the web app instead. Participants can connect and chat with each other before the host arrives. The administrator can also turn off a participant's microphone or camera at any time. The sound can be turned off and on using buttons on the screen, or from account preferences.
Hosts also have security buttons on their toolbar during active calls. This button gives hosts quick access to several functions such as locking the meeting, creating a waiting room for new additional participants, allowing participants to share their screens, the chat, and so on.
Another useful aspect of the interface is that the administrator can see information about the connectivity of everyone in the call. In this way, a host can easily recognize where a possible problem with the connection is. As a participant, you can configure your screen to see relevant information and a chatbox. There is also the option to set Zoom to full-screen mode automatically.
Features
Zoom can be used via a web app or a desktop version as well. Users receive a Personal Meeting ID with which a call can start at any time. This way you can start a meeting without a lot of planning, but when it comes to security, a unique meeting ID is a better option (especially now, because that personal ID is no longer displayed in the app, so people can't take screenshots). Calls can also be password protected.
Zoom calls can link to calendars, including Google Calendar, iCal and Microsoft Outlook. Scheduled calls automatically end up in your schedule. Furthermore, participants can participate by phone, for which administrators can choose which dial-in numbers should be displayed for which countries. With a Pro account, there is the possibility to require participants to register for a call. A short survey is completed before they take part, which is very useful for webinars or online events.
Zoom has a free version, a Pro version for 14 euros per host per month and a Business version for 18.99 euros, for at least 10 users, with more features than the Pro version. There is also an Enterprise version, for the same price as Business. This version requires a minimum of 100 users, and it has, in turn, more features than the Business version.
Conclusion
For companies using G Suite or Office 365, Google Meet/Chat and Microsoft Teams, respectively, are clearly the best choice. The functionality is not limited to video conferencing only, and there are no additional costs. On the other side of the playing field, you will find BlueJeans and Zoom, where Zoom has the most extensive feature set. Approximately in the middle of the spectrum, we find Webex, which is not part of an office suite. It is, however, a good choice if your business is already using Cisco solutions. Moreover, expansion to Webex Teams is possible when more collaboration functions are needed.