With the opening up of more and more parts of society, hybrid working becomes a reality. Video collaboration platforms play a crucial role in this. Since the beginning of last year, Zoom has taken enormous steps to make their platform as attractive as possible. During Zoomtopia, Zoom's annual event, it is clear that the company seems to be ready. We go through the main announcements in this article.
What will the hybrid workplace of the future look like? This issue will undoubtedly be on the minds of decision makers of many organizations. In discussions on this topic, it's often about percentages. What percentage works at home, do we still want to set up an office at 100 percent peak capacity? These are examples of some of the questions that need to be answered. Even though these are important questions, it is also important to set up meetings differently. Regardless of the percentage of people working from home or in the office, one thing is going to fundamentally change: most if not all meetings in a hybrid working environment will have remote participants. There will be very few meetings where everyone is either in the office or remote.
The observation that meetings and gatherings should always take into account at least one person who is not at the location of the others is a fundamental one. That is, the observation has quite a few implications for what you can and should invest in. In addition to the design of office buildings and home offices, this is where the video conferencing platform clearly comes into play. It is therefore no surprise that much of what Zoom has to say during Zoomtopia is focused on this issue. There are also announcements around relatively new markets for Zoom, though.
Realtime translation and smarter gallery features
When it comes to actual video conferencing, two announcements stand out as far as we are concerned. First is the addition of real-time transcription and translation. Earlier this year we also saw this as a new feature for Webex (in Dutch), but Zoom also introduces this now. Earlier this year Zoom acquired Kites. Today's announcement means Zoom integrated that company's technology into the Zoom platform.
Live transcriptions and translations can contribute to better meetings in at least two ways. First of all, it is of course pleasant for people who have little or no command of a particular language. They can then still understand what a presentation or discussion is about. Conversely, people who do not feel comfortable taking part in a meeting in a foreign language can now do so in their own language. Only transcribing what is being said in increases the engagement of people in meetings too. After all, you now also see text at the bottom of the screen and no longer have to make do with the spoken word alone.
While Webex already supported more than 100 languages at the launch of their translation feature, Zoom appears to be taking a somewhat slower route for now. The initial goal is 12 languages for the translation component and 30 for transcription. The translations will also get better over time, thanks to ML and NLP algorithms analyzing in the background.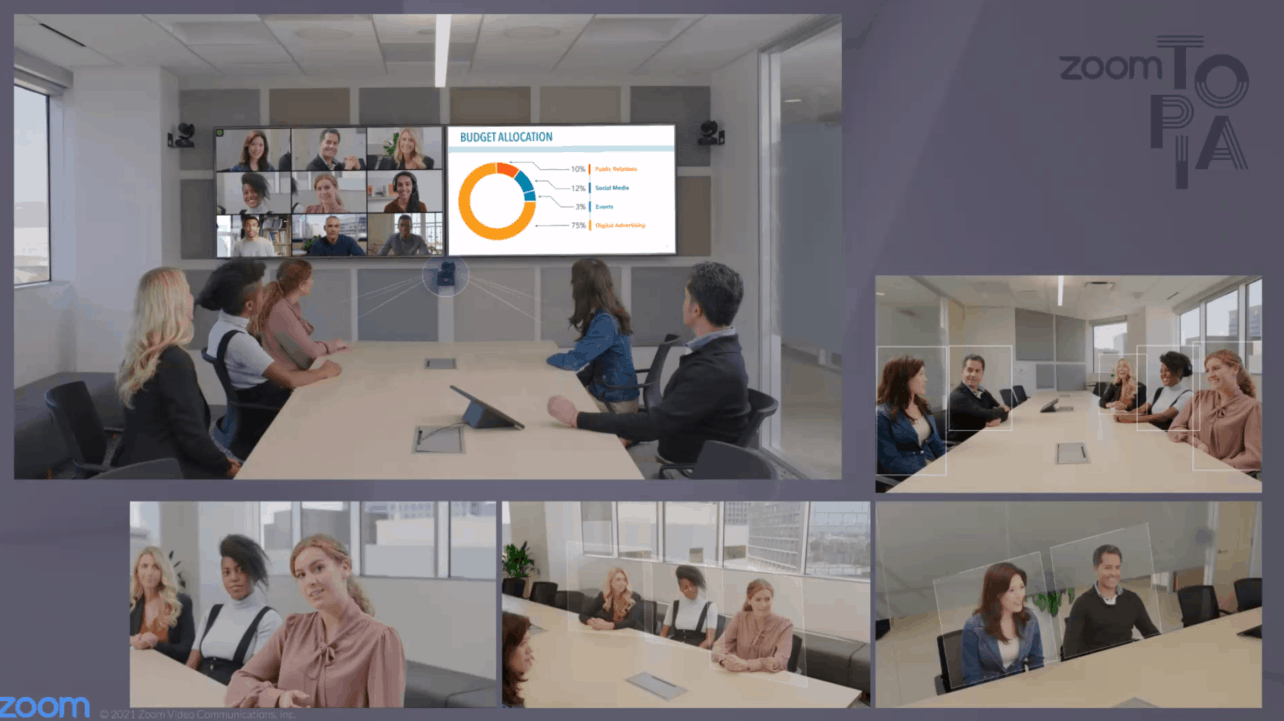 Zoom Rooms Smart Gallery is another interesting announcement as far as we're concerned. This is not so much about a smarter way of organizing your screen with participants. It's better to think of this as a virtual director. Each participant at the table in the office has their own stream. These streams are shown separately to someone participating remotely. This levels the playing field between the participants. This is a Zoom Rooms feature and thus available on supported hardware from Neat and Poly. However, Zoom has also made this available for environments and hardware that are not natively supported. For example, there is support for Mac and Windows systems and unsupported stand-alone devices. In that case, Zoom itself does the heavy lifting.
Zoom Rooms Smart Gallery is currently available in beta and should become generally available later this year.
Whiteboard and Hot Desking
Looking at other noteworthy updates, we see that the whiteboard functionality is greatly expanded. In particular, it is about giving Zoom Whiteboard a bit more of a physical experience. That is, it should feel more like you actually have one in the room and draw or write on it. So there's an integration with Oculus, for a VR whiteboard. You can write on your own desk, on a different surface, or virtually walk over to it to start writing on it.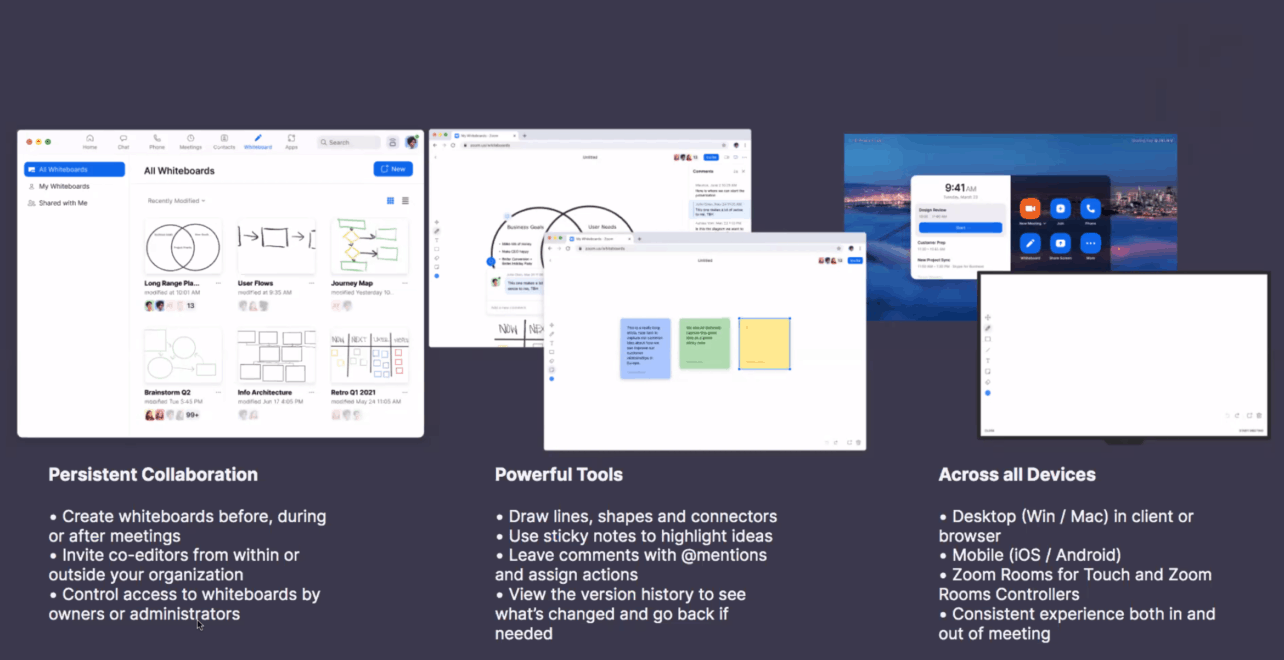 Finally, there's Hot Desking. In a hybrid working environment, there will be fewer and fewer fixed workstations. So it is handy if you can book your spot in time. With Hot Desking this is possible via an interactive map of the available workstations. The system also prepares your personal Zoom settings for the Zoom Rooms or Zoom Phone devices that are available. Hot Desking will be available in beta later this year.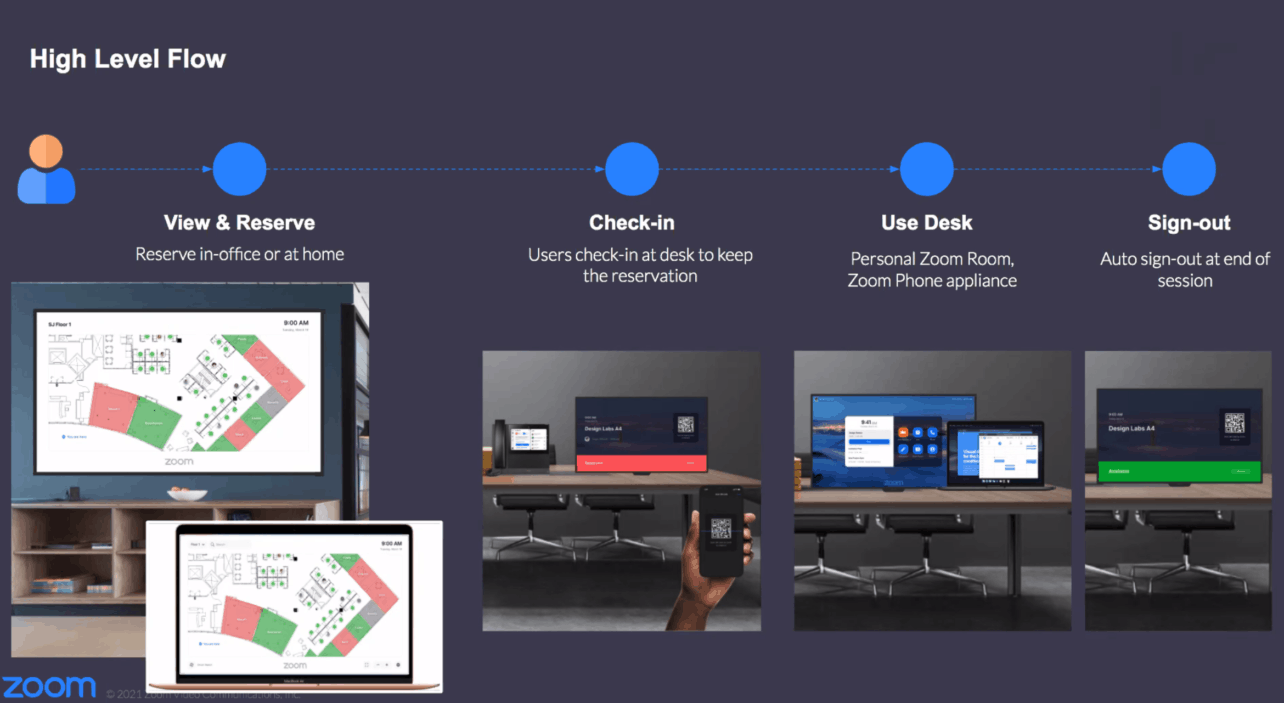 Zoom Video Engagement Center
The recent acquisition of Five9 indicated Zoom's ambitions in the contact center market. During Zoomtopia, the company is giving this ambition some more legs. With Video Contact Center (or Video Engagement Center, we see both terms being used interchangeably) it has come up with a way to add video to interactions between organizations and customers. In itself, this makes perfect sense. Sometimes it is nice to have video at your disposal in addition to audio. Video usually creates just that little bit more trust and empathy, and allows a company's customer service team to help in new ways.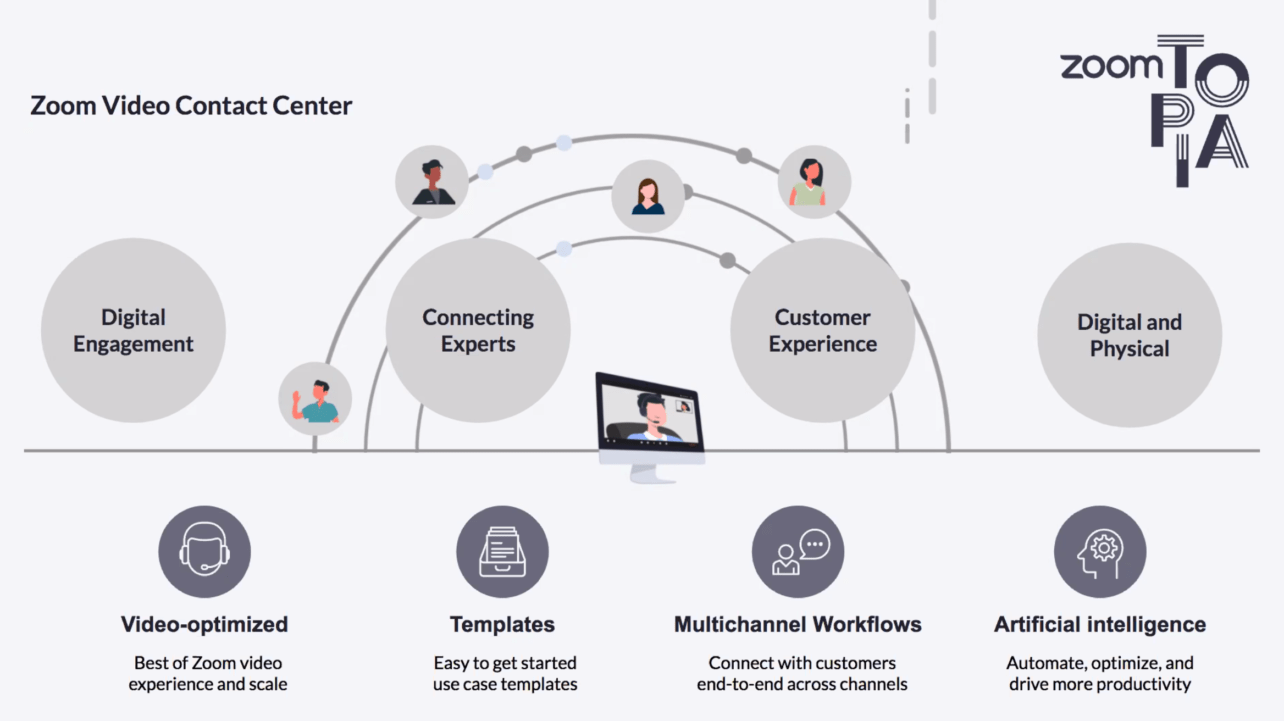 Zoom Video Engagement Center, by the way, is about more than just adding video to the toolbox of employees and customers interacting with each other. Since not every market segment has the same needs and requirements at this point, Zoom wants to work with blueprints for each segment. This way, organizations can get value from their investment faster.
Video Engagement Center will be available as a beta this coming winter. It should become generally available over the course of next year.
Focus on workflows as well
It's not just about optimizing the experience of hybrid teams during calls. When it comes to workflows, Zoom also has a lot of announcements during Zoomtopia. One of the most interesting ones is that Zoom Apps will be available for the entire platform. A few months ago Zoom Apps became generally available in Zoom Meetings. Later this year, it will also be available for Zoom Webinars and Zoom Mobile, among others.
The idea of Zoom Apps is to provide an integration between Zoom and third party software. This without having to switch between apps. Without perhaps realizing it, we spend a lot of time switching between apps every day. If you can just do all that from the same environment, it should significantly improve workflows.
Who thought voicemail was a rather dated phenomenon will be surprised at Zoom's next announcement, because the company is bringing this functionality to its platform, more specifically to the Zoom Phone hardware. It will be possible to leave so-called Zoom Phone Video Voicemails. This way you can say what you have to say, with images. Without having to be in the same time zone, for example. Zoom Phone is doing well anyway, as we heard during Zoomtopia. It is now available in 47 countries and Zoom has already sold more than 2 million seats.
A final workflow-related update we want to mention here is the Zoom Widget. This should ensure that team members are better informed about their own but also each other's status regarding meetings. You can quickly see your agenda, but also see who is already in a meeting. If you are going to be late, you can also send a message that you will be a little late. In this way everyone stays better informed of each other and the workflow should eventually improve.
Don't forget security
Zoom has had a somewhat rough 2020 when it comes to privacy and security, to use an understatement. However, the company has managed to get through that. Nowadays, security therefore plays an important role at the company. It never misses a moment to emphasize that security and privacy are "cornerstones" of the Zoom platform. Last year clearly left its mark.
Leaving history aside for the moment, Zoom made an interesting announcement during Zoomtopia regarding security. The company announced that it is working on a Bring Your Own Key offer. This means that, as an organization, you can provision your own encryption keys and also manage them yourself. The beta for this should start later this year.
Another notable announcement regarding security is that Zoom will be adding E2EE (end-to-end encryption) to Zoom Phone. With this it will also be possible to secure 1-on-1 conversations via the Zoom client using E2EE.
Zoom goes big
Most people probably know Zoom from virtual meetings. The announcements above show that there is still a lot of innovation and development to be done here. Still, Zoom wants to think bigger. Earlier this year we wrote about the introduction of Zoom Events, a continuation of OnZoom. With this you can, as the name suggests, organize virtual events.
Zoom Events in itself is not new. However, Zoomtopia itself is the first example of a new type of event you can run on Zoom Events, namely a conference: Zoom Events Conference. As an organization, you can organize a real multi-track and multi-day conference starting this fall. All the usual components are available here: a lobby, sponsor area, chat window, networking environment, questionnaires, recordings of keynotes and so on. Based on our experiences over the past year and a half at many virtual conferences, we would not be surprised if Zoom becomes very successful with this offering within a short period of time. That is to say, if Zoom's familiar user experience can be scaled up to conference proportions, in our opinion Zoom will immediately be ahead of the majority of existing platforms. These are often not very good.
Ready for the (hybrid) future?
All in all, the announcements at Zoomtopia this year are clear signs that Zoom is expanding its view on the market. Besides Zoom Events Conference, the focus on the contact center also stands out. This shows that the company is far from done and still has a lot of ambition for the future. Yet it also doesn't forget to keep developing the base of its offering, Zoom Meetings and everything around it.
The further development of where it all started for Zoom is of course also simply necessary to remain relevant in that part of the market. The competition isn't sitting still either and in the case of Microsoft with Teams and Google with Meet, for example, they have the advantage of being able to add it to existing licenses 'for free'. Webex has a solid reputation when it comes to security and is often an obvious option for governments and other organizations with solid frameworks in that area. In addition, Cisco has made considerable investments in the last year to regain market share. Zooming may be the verb that almost everyone uses these days, but it's not certain to stay that way.
When it comes to expanding the offerings toward conferencing software and the contact center, the main question will be how quickly Zoom gets its foot in the door. Especially the contact center market is a fundamentally different animal from what Zoom has been used to so far. There you have to deal with fairly specialized players like Avaya, Genesys, Talkdesk and RingCentral. Those are obviously also busy updating their offerings. Consider, for example, Avaya OneCloud, that vendor's relatively new CCaaS offering. It will be interesting to see what impact Zoom can make there. The acquisition of Five9 – one of the more popular contact center platforms – is a clear indication of its ambitions. Zoom is going full steam ahead. With this acquisition, it is at least ready for battle.