How do you get a platform like Webex, which fell behind to the competition, back up to date? Cisco may not be there yet, but in the past 12 months it has taken very large steps in the right direction. We discuss the developments of the past year with Jeetu Patel, the SVP at Cisco responsible for (among other things) Webex.
Webex can be called one of the "inventors" of video/web conferencing. The company was founded back in 1995. Cisco bought it in 2007. Yet Webex was not the big name last year, at least not as we perceive it. When everyone suddenly had to work from home and virtual meetings became ubiquitous, many chose Zoom. This is not surprising, as the platform had actually been losing out to the other parties in the market. A few years ago we wrote an article about that (unfortunately, the article we link to here is in Dutch, but a translator tool should give you the gist of it).
Webex failed to achieve the growth rates of a Zoom last year. Apparently, the platform was not necessarily very attractive to customers who were looking for a platform to use when the coronavirus hit. Many of them ended up with Zoom, or went for Teams, especially if they already had an Office 365 subscription. From Cisco, of course, there were also regular reports of records being broken. Think of the total number of minutes in a month, or the number of users in a month. As far as we can remember, we haven't seen much in the way of growth in new customers, although there must have been some.
Zooming, not webexing, became a verb
Basically, Webex had (and still has) a bit of an image problem, we think. It is no longer the hip young company that, for example, Zoom is. This less attractive image is, of course, mainly based on how the platform looks, how it performs and how it comes across. And that, at least until last year, was not very good. In any case, our experience was that the platform looked dated and was often not very nice to use. Basic things like audio and video quality were much better at Zoom especially.
In general, there was a lack of innovation from Cisco for Webex. So it was actually not surprising, albeit a bit embarrassing for Cisco we imagine, that Prime Minister of the Netherlands Mark Rutte regularly mentioned he had been 'zooming' last year when talking about the virtual meetings he had with other heads of state. This while both the central government and the EU use Webex.
The fact that both the central government and the EU have chosen Webex is not a coincidence. One of the spearheads of Webex is security and things like data residency. Whereas Zoom had to do quite a bit of work last year to get everything secure, Webex has been paying much more attention to this for years. In addition, Cisco also has local data centers in which Webex runs. That is an important condition for governments.
In itself it is not unusual for newer platforms to do better in the market than a (much) older platform. In fact, that is quite common. Still, Webex could have done better, even with the presence of more popular players like Zoom, if it had innovated a bit more and kept the platform up to date. This will undoubtedly have to do in part with the focus at Cisco. Such a large organization cannot focus exclusively on Webex, it needs to focus on other areas as well.
At Cisco they have obviously noticed something had to be done as well. At least, that's how we interpret a statement made by Cisco CEO Chuck Robins during Cisco Live 2021 last March. There he talked about "regaining" market share with Webex. The big question, of course, is how the company plans to do this. We recently spoke about that with Jeetu Patel, who came over to Cisco from Box last year to lead the business unit that includes Webex. A lot has changed in 10-12 months, that's for sure.
No lack of ambition
We've heard Patel speak very frequently recently about the direction Webex wants to take. What has stuck with us is the marketing slogan that Webex wants to make virtual meetings 10x better than they are physically. That's quite an objective, which we have serious reservations about. When we tell Patel that we don't really believe that much, he immediately puts his point into perspective: "It's also about making meetings ten times better for the people who do get together physically."
Patel's nuance indicates that Webex is not concerned with pitting virtual meetings against physical meetings. The starting point is that there is only one type of meeting, one in which there will always be a mix of virtual and physical. To strengthen this claim, Patel says that 98 percent of all meetings in the future involve someone joining remotely, i.e. virtually. That's what they keep in mind at Webex in everything they develop.
At first glance, the statement that there are only "mixed" meetings anymore isn't that much of a stretch. We all know that, don't we? Yet it has a bigger impact than you might think. "It's a lot harder to adapt to hybrid working than you might think," says Patel. In any case, it doesn't compare to what happened last year. Then everyone had to start working from home at a moment's notice. That's not how it's going to stay.
For hybrid working you have to go quite far beyond selecting the collaboration platform of choice. You have to design everything else basically from scratch too. You didn't have to do that during the corona crisis, so many organizations didn't. Think of the optimal design of conference rooms, but also something like measuring productivity. And don't forget the mental aspect of remote working. You have to be much more pro-active about it as an organization.
Cisco walks the walk
So the discussion around hybrid working and who is going to be the leader in it is a different one than who was doing good in 2020, if we interpret Patel correctly. We definitely agree with that concept. Having a video conferencing solution alone doesn't make you ready for hybrid working, that's for sure.
In any case, Cisco and Webex had a substantial task to get the platform up to date again. Patel admits that too, by the way. That's why Webex has received about 800 new features in the past 10-12 months. Real-time translation in the Webex Assistant is one that really stands out, but there are also improvements in the areas of noise cancellation/reduction and the smart use of cameras during meetings, to give just a few examples. Patel demonstrates the improved noise cancellation during our conversation. This works very well and also very targeted. His voice is slightly distorted, but overall it works very well.
In addition to all the new features that Cisco has developed for Webex, the company has also made a number of acquisitions. That shouldn't come as a surprise, because that's how Cisco generally works. We have heard that the company makes three acquisitions a week. For Webex, Cisco has made at least five acquisitions in the past year, Patel says. One of them is Slido. This allows you to get more interaction from and with participants in (virtual) meetings. Think of a live poll, a quiz or a word cloud.
Uniquely positioned
When it comes to hybrid working, Patel sees a clear lead for Cisco to make it happen. The main reason, he says, is that Cisco can deliver more than just the Webex platform. After all, a good meeting doesn't actually start with the platform for collaboration and video conferencing you use. It all starts with infrastructure. And that's an important area of expertise for Cisco. So they can supply this too. By the way, we shouldn't take connectivity and infrastructure for granted, Patel states. Not everyone can participate in meetings remotely. Patel mentions that about 3 billion people in the world do not yet have access to a network with which they can participate in those meetings. So that's another important part to solve before hybrid working is a reality or at least possible everywhere.
In addition to infrastructure, Cisco can also provide the equipment to take full advantage of the Webex platform. This includes cameras, headsets and screens of all shapes and sizes. No other player can offer such a broad portfolio. That makes Cisco "one of the most credible players" in the field of hybrid working, Patel argues.
You might conclude from the above that Cisco's main concern is to push their entire stack into organizations. Even though the company would never say "no" to that, Cisco realizes that such an approach is not very likely to be succesful in general. If only because you also need to be able to have meetings with customers and other relations who use a different platform. "We want to offer a completely open environment with Webex," Patel therefore indicates when asked how closed they want to keep the platform. That means that a recent acquisition such as Slido will simply continue to integrate with competing platforms. Webex hardware can also be used with Zoom, for example.
What is the result of all the efforts?
With the recent big steps taken, topped off by a rebrand, a new logo and largely new apps (including a dark mode), Webex has become a very potent player once again from a technical perspective. We also find the user experience now significantly better than a year ago. Everything works smoother, audio and video are better, and overall it just looks a lot more modern and better. However, actually getting into the call still takes a relatively long time if you want to participate in a meeting as a guest. That is something Cisco should take a look at as far as we are concerned.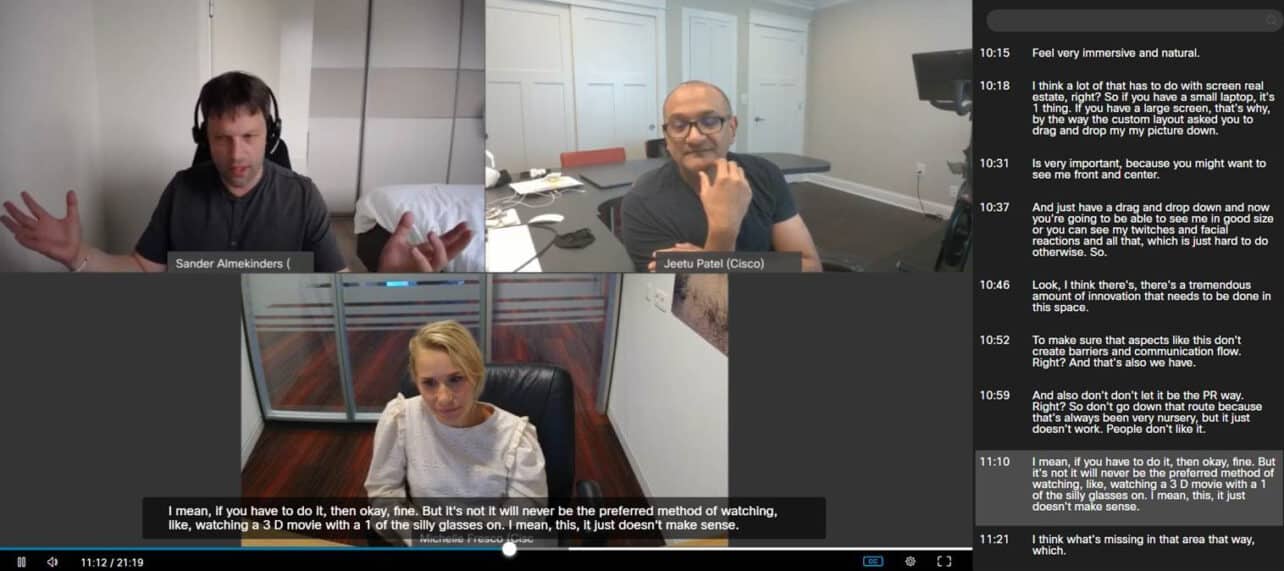 The big question we have is whether Patel is already seeing an effect on Webex's results from all these investments and innovations. We don't get a very clear answer in the form of a growth rate or anything like that. Given the changes that are still going on, that makes sense. What he does want to say is that since his arrival from the much smaller Box, where he was CPO, he has been impressed by how quickly innovation takes place and how well customers respond to this innovation. So with existing customers, the innovations seem to be going down well. That is a good sign.
We are unfortunately unable to get anything out of Patel about the growth in new customers. We get the idea that this is still a bit too early, anyway. According to him, hybrid work is really something fundamentally new. That means it will take some time to market it properly. "We are helping to put a new category in the market," he summarizes the "problem" they are facing. In other words, a little more time is needed before regaining market share (to echo the words of CEO Chuck Robbins earlier in this article) will actually happen. At least that's how we interpret it.
When can we call it a success?
Despite the fact that there were and still are some challenges, Patel is confident that Cisco with Webex is and will certainly become a solid player in the new world of hybrid working. At the end of the day, it's all about the fundamental values that Webex wants to pursue. Flexible, inclusive, supportive, secure, well-managed, with an unified app and a solid integration framework. These are all prerequisites for success. Webex, he says, has all that, so success is sure to follow.
Of course, the other players in this market are not sitting still either, and we now see Zoom, for example, regularly making acquisitions that make that platform more robust. They will not catch up with Cisco in terms of depth and breadth of the portfolio anytime soon, though. For Cisco, it will mainly be a question of whether their vision of hybrid working actually comes true and whether enough has been done to bring Webex up to the same level as Zoom in terms of image.
Objectively speaking, there is now little or no reason to write off Webex in advance in terms of features. The big question is whether it is enough. How many organizations that chose a competitor last year are going to switch to Webex? Will we be webexing more next year, or will we still be zooming? Webex now at least has a credible shot to ensure it is going to be the former, rather than the latter.