Zoom announces Mail and Calendar. Users can integrate their mail and calendar services with the conferencing platform or use services from Zoom itself.
The new features were announced at the annual Zoomtopia event. In a presentation prior to the event, Zoom says it wants to make work easier for staff. That can be done by bringing more everyday functionality into the platform with Mail and Calendar. Employees will have to switch less between applications.
This should be useful, for example, for scheduling a new appointment during a meeting. Normally they would have to go to another calendar application, but with Calendar it can be done from within the Zoom platform. And Mail in turn makes it more convenient to forward emails to chat channels, to continue the discussion.
According to Zoom, such features can help save time. An employee can use up to hundreds of apps and Web sites a week, which means they can spend several hours a week switching between apps. Mail and Calendar should reduce that switching somewhat.
Clients and Services
Users can take the new mail and calendar features in two ways. First, there are Zoom Mail and Calendar Clients. With these, Zoom supports popular mail and calendar services, which can be integrated directly into the conferencing platform. This allows them to go directly into their used services to continue communication and scheduling.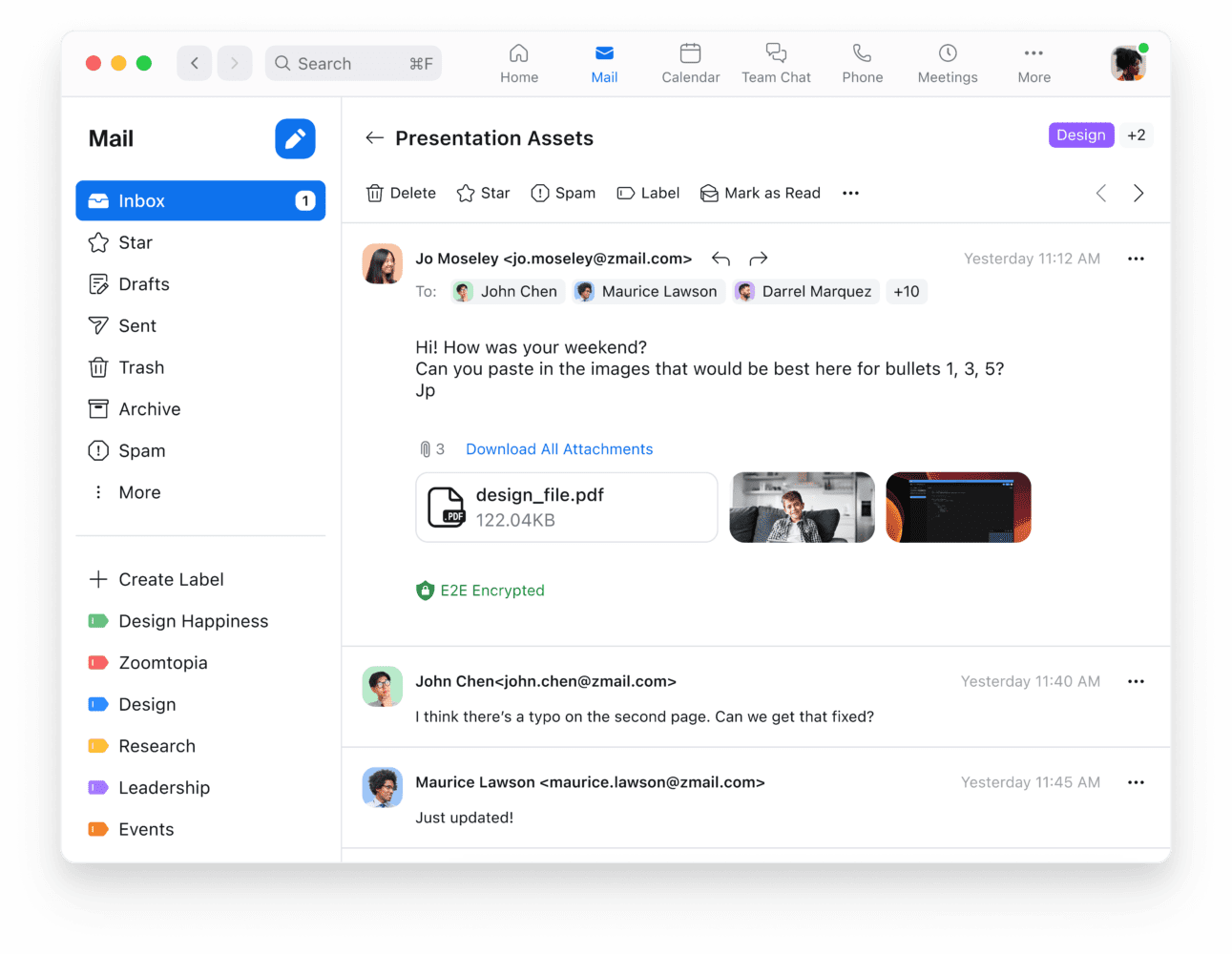 Another option Zoom offers with Zoom Mail and Calendar Services. This allows organizations to set up a Zoom-hosted mail and calendar service in the platform. "For businesses who may not have dedicated IT services but are focused on privacy and security, Zoom also rolled out Zoom-hosted email and calendar service options, also directly integrated with the Zoom platform."
This second option includes end-to-end encryption for emails. Depending on the subscription type, there is 15 GB or 100 GB of storage. There is also a calendar environment where users can access recordings, notes and attachments in addition to scheduling.
The Clients option and the Services option are available as a beta.
Coworking spaces for better collaboration
In addition to Mail and Calendar, Zoom is coming out with another set of updates during Zoomtopia. Primarily, these focus the conferencing platform on hybrid working better in business support. A good example of this is Zoom Spots, which Zoom describes as video-enabled virtual coworking spaces. These spaces are designed to allow employees to spontaneously hop in and out throughout the day. This without scheduling meetings. According to Zoom, a suitable option for hybrid teams, who would be able to stay in touch more easily thanks to Spots.
Zoom Spots is scheduled to be available early 2023.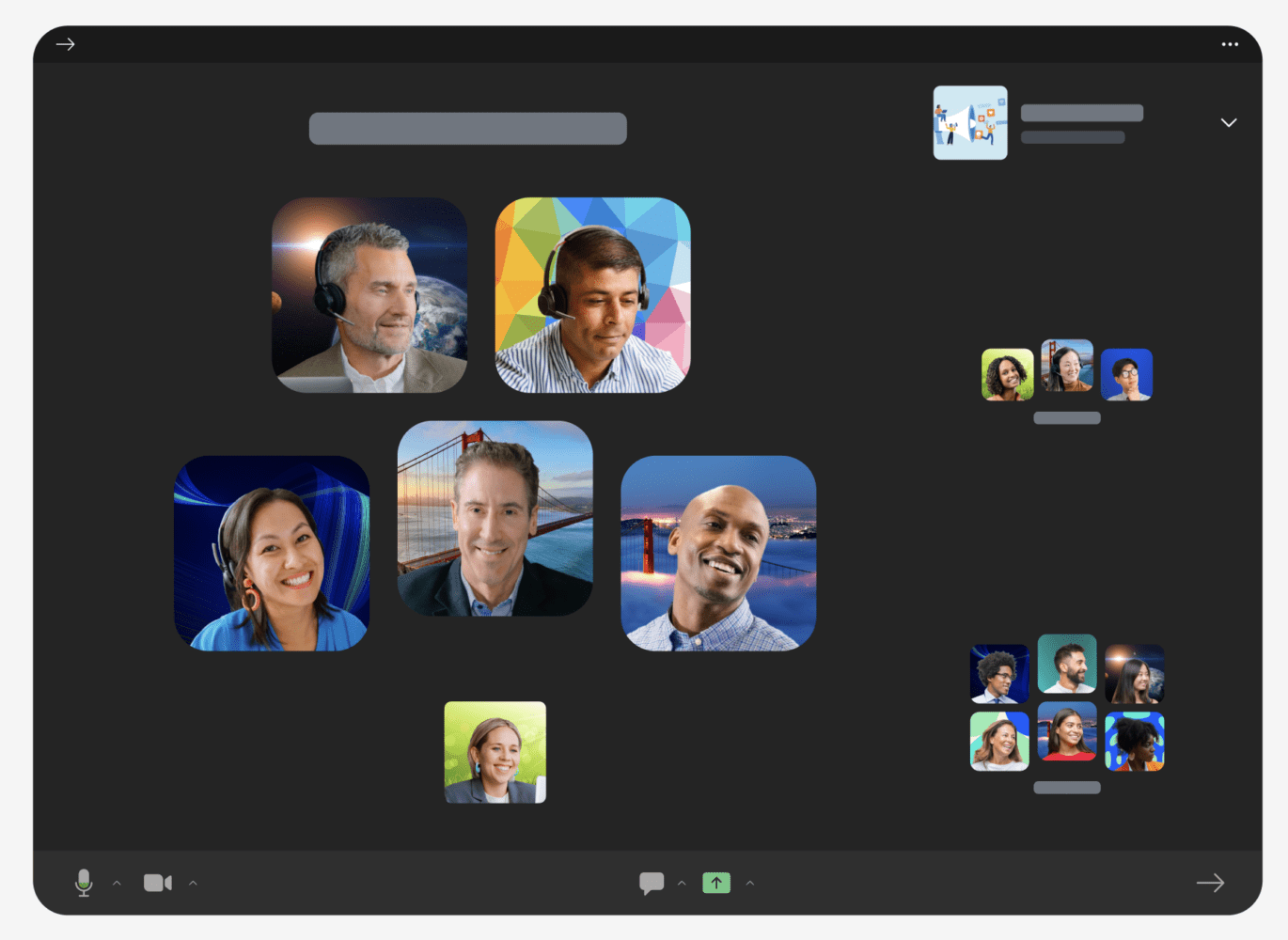 Another way to boost enterprise collaboration should come from an extension of Zoom One. This all-in-one collaboration platform will have new integrations between Team Chat and In-Meeting Chat. This should allow users to seamlessly switch between communication channels. This to continue collaboration even after Zoom meetings.
Artificial intelligence and developers
In early 2023, Zoom also plans to launch Virtual Agent. This chatbot uses natural language processing and machine learning to resolve user queries quickly and in a targeted manner across different channels. The chatbot can be used separately or integrated with Zoom Contact Center.
Furthermore, Zoom is coming out with some new features for developers, who regularly work with the collaboration platform. They can count on improved API and SDK access and more extensive management capabilities. Zoom Apps will also be made available in Team Chat and Zoom Rooms, and developers will soon have the ability to integrate paid features into their Zoom Apps.
"Our team has built and launched more than 1,500 features and enhancements on the Zoom platform this year, advancing the way people connect with each other, their organization, and their customers—ultimately, opening the doors wide for creativity and collaboration," said Zoom CEO Eric Yuan.