If you use a laptop in demanding environments, you will soon end up with rugged models. If, in addition, a highly modular character is also desired, Panasonic claims you cannot ignore the TOUGHBOOK. Or in particular the TOUGHBOOK 40, which meets the rugged and modular requirements of the military. We visit the TOUGHBOOK European Configuration & Service Centre in Cardiff to learn more about the model and its production.
During our visit, the TOUGHBOOK 40 laptop takes center stage, as it is Panasonic's new model. There are also plenty of other products within the line, but for the sake of convenience, we will discuss the TOUGHBOOK 40 in particular in this article. We'll also get an inside look at the processes at the site, which are somewhat similar for the other products within the line.
From configuration to repair
The work in Cardiff is primarily the final steps in the process of delivering business devices. And also a bit after, for when additional services and repairs are needed for the hardware. Basically, one receives devices in Cardiff that are about three-quarters finished. Research and development, testing in very demanding conditions and basic construction all usually take place in Asian locations.
However, orders that come into Panasonic must also be customized for the customer. That, in particular, involves finishing the laptop. An order often consists of unique requirements around ports, keyboards and integrated gadgets for a device. In addition, there may be requirements for providing additional solutions and accessories that must be included in the laptop's package.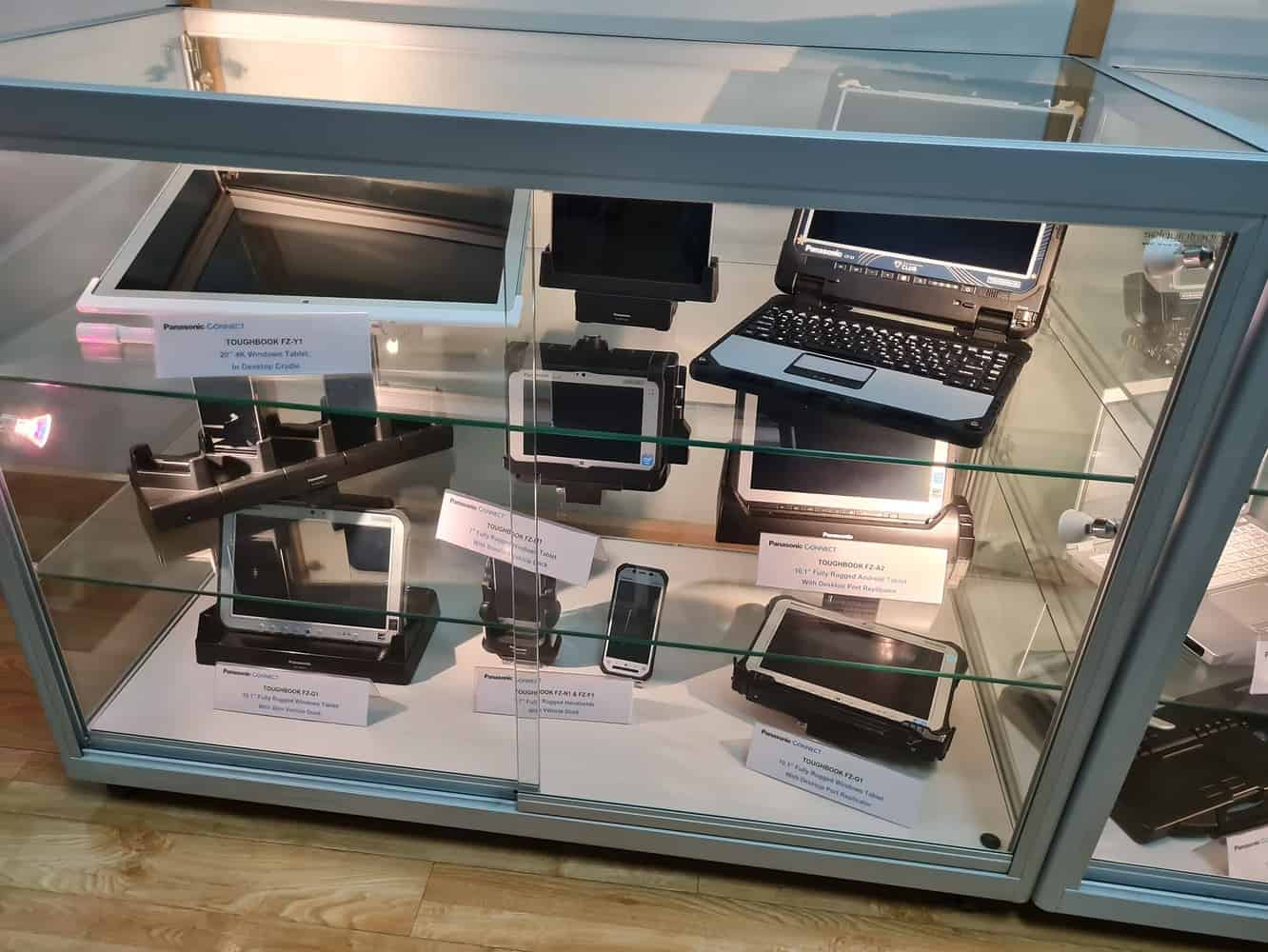 Another large part of the TOUGHBOOK European Configuration & Service Center is set up for what Panasonic slides under Service & Repair. This is done through the "Sushi bar," a Panasonic way of referring to what the space looks like. Technicians sit around a central point where they perform their diagnostic tests and quality checks. One determines what to do with returned defective products. Of course, before sending it to this Sushi bar, there is also the option of getting in touch with a help desk first, for first-line support.
Furthermore, the Cardiff location also has equipment for conducting tests. These are often additional tests, for example to test temperature conditions and shock.
Robust always central
With the release of the TOUGHBOOK 40 in 2022 and the target market targeted by the laptop, many orders are currently going through the location. The model is designed entirely for defense purposes, something that you also see a lot in the TOUGHBOOK European Configuration & Service Centre through wall illustrations. At the same time, the rugged laptop is also suitable for police and utility purposes, says Jon Tucker, General Manager Engineering, Product & Mobility Solutions. Indeed, it is Panasonic's strongest notebook with "the flexibility to meet mission-critical operations and daily challenges."
The claim of being Panasonic's strongest notebook is confirmed by its IP66 rating. The previous TOUGHBOOK 55 laptop, which we think is the closest because of its 14-inch size, still boasted IP54. Other Panasonic products have IP65 but these are tablets and 2-in-1s smaller than 14 inches. Finally, there is a small 4.7-inch handheld computer that has IP68. Such smaller products can achieve high IP standards more easily than larger sizes.
So for its size, the TOUGHBOOK 40 is very strong. In fact, Ingress Protection is set up so that manufacturers can demonstrate product quality according to standards. The higher the numbers, the better the protection against dust and liquid. The first number focuses on dust tightness and is minimum 0 and maximum 6. The second number deals with liquid and ranges from 0 to 9. Thus, IP66 of the TOUGHBOOK 40 means that it is maximally dustproof, while "water spraying from all directions in powerful jets against the housing should have no harmful effects."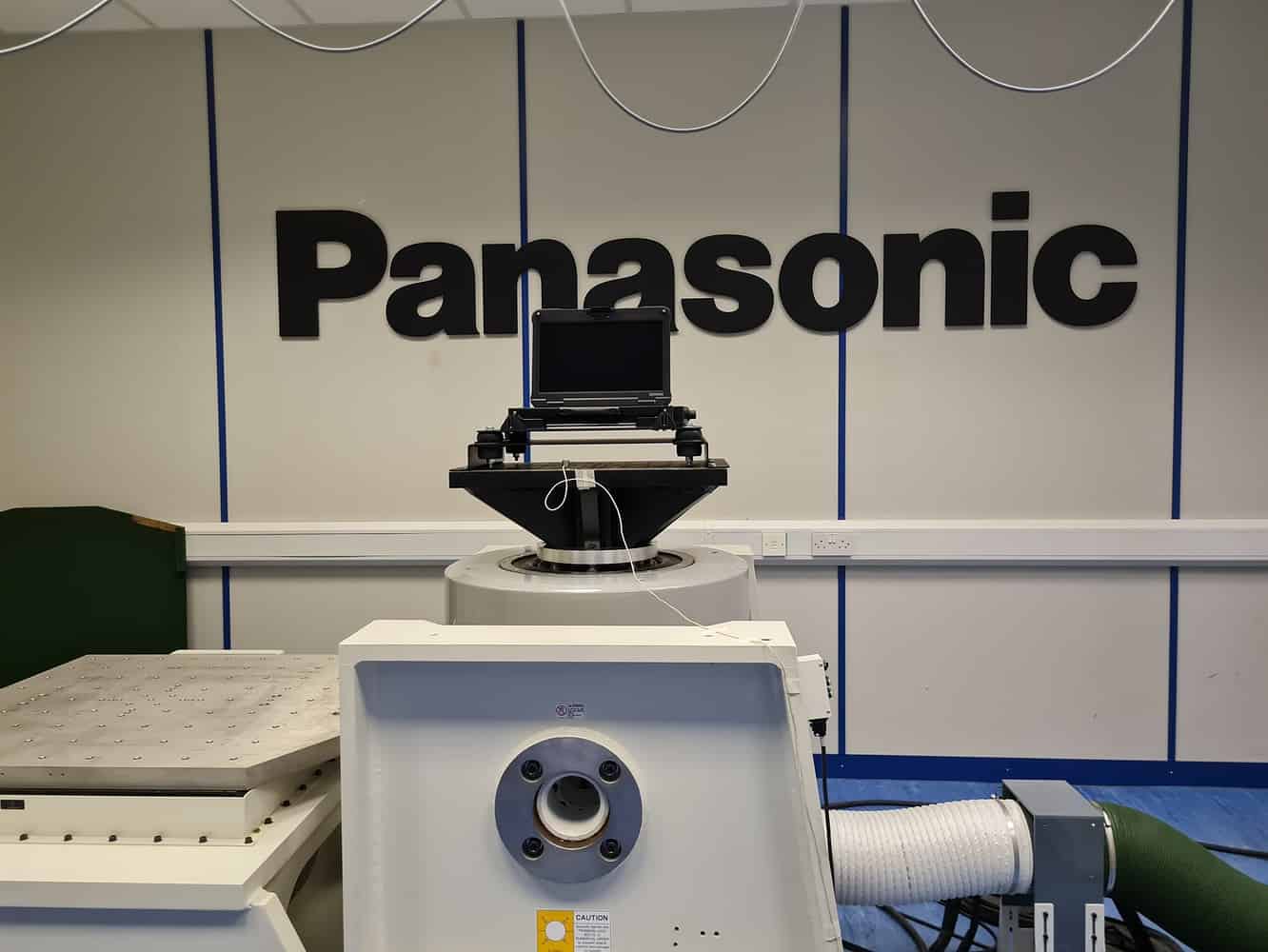 What is further noteworthy is that the TOUGHBOOK 40 has also passed independent testing to MIL-STD-810H specifications. These tests were developed by the U.S. Department of Defense. MIL-STD-810H is one of the newest specifications for proving that a device meets military standards. A laptop that passes the tests thus has a high degree of ruggedness in challenging situations. This includes drop and shock resistance, as well as functioning in varying temperatures and humid environments.
Panasonic itself states that the TOUGHBOOK can function at -29 degrees to 63 degrees. During the tour, we also see a small test environment in which the laptop endures such challenging temperatures. We also see that the laptop survives the claim of a 180-centimeter drop. Panasonic shows during the tour in this regard that the laptop is truly rugged.
Tough demands from Defense
Tucker says expectations around this form of security, plus additional security steps in the Army, Air Force and Navy, are top priorities. Those requirements must be met in part with Microsoft and Intel technology. For example, Windows 11 protects the system from rootkit and booting attacks. User identities must again be protected via biometric recognition (facial recognition with Windows Hello and fingerprint scanner). In addition, the latest Intel CPU and BIOS firmware should reduce the risk of device and firmware attacks, for example.
In Defense, Tucker says there is also still a need for customizable IT tools. They are not at the forefront of innovation in every area, he believes, but they don't have to be as long as a high level of security, robustness and modularity is achieved. That modularity is again reflected in the expansion ports of the TOUGHBOOK 40.
For example, one of the Defense Department's requirements may be to always have power available. A standard configuration thus has a minimum 6300mAh battery, which lasts about 18 hours, according to the MobileMark 2014 benchmark. However, there is also a slot for a second battery, allowing the PC to last 36 hours. Thus, if several full batteries are carried in a military situation and there are few charging points, it is possible to continue using the laptop for several days in remote areas. Moreover, the replaceable nature of the battery can also extend the life of a laptop, as laptops without modularity often need to be replaced simply because the battery runs out.
Finally, Panasonic equipped the TOUGHBOOK 40 with seven expansion ports. The image and description below will give you an idea of their capabilities.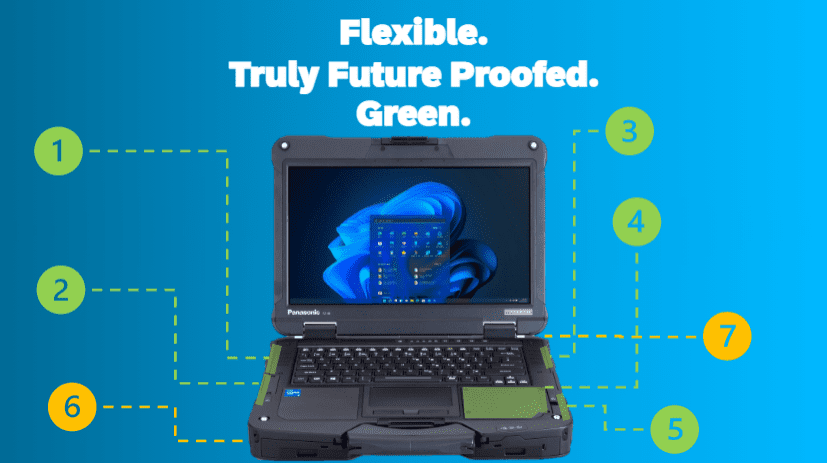 All in all, at the TOUGHBOOK European Configuration & Service Centre location, Panasonic has everything on track to meet Defense requirements. The TOUGHBOOK 40 will be one of the most interesting models for this sector in the coming years, simply because it meets IP66 and MIL-STD-810H standards and modular requirements. The basics are there and unique configurations can respond to challenging situations.
Also read: Panasonic launches strong business tablet for ID control