The ServiceNow platform is growing each year and the company's focus is becoming ever wider. During Knowledge 2020, ServiceNow's digital event, we noticed how much attention was paid to the IntegrationHub and Flow Designer.
The market for integration platforms is growing rapidly. More and more companies are opting for multi-cloud and multi-vendor solutions instead of one system of record. This gives companies an optimal application experience, but at the same time also different data silos. To prevent this from happening, all these solutions need to work together and integrate so that data can be exchanged, this should ensure the best user experience in the various applications and more intelligence by bringing all the data together. ServiceNow responds to this with the IntegrationHub and Flow Designer. In this way, it immediately becomes a player in the so-called iPaaS market.
ServiceNow platform makes work of iPaaS
ServiceNow specialises in automating and making IT Service Management, IT Operations Management and IT Business Management more efficient. How it does this is by creating workflows that automate the manual repetitive tasks that are often done by employees. With the latest versions of the IntegrationHub and Flow Designer, ServiceNow wants to position itself as a fully-fledged integration platform, or iPaaS solution. Companies like Boomi and MuleSoft should be warned.
With its IntegrationHub and Flow Designer, the company no longer wants to limit itself to integrating ServiceNow solutions and creations with third parties, but to compete with large iPaaS parties by connecting separate third party applications via the Now Platform. Based on ServiceNow's no-code and low-code idea, the intention is that every business user can build integrations (spokes) between different solutions so that they can optimise their tasks.
Citizen developers for ServiceNow
Based on demos, we understand the way ServiceNow thinks. It's relatively easy to build a workflow with the Flow Designer that links certain services together. With some simple training and demos, you can teach business users, the so-called citizen developers, how to build a workflow. However, the IT department will have to prepare certain things, such as access to APIs of certain services. This is still manageable and applies just as much to other iPaaS solutions.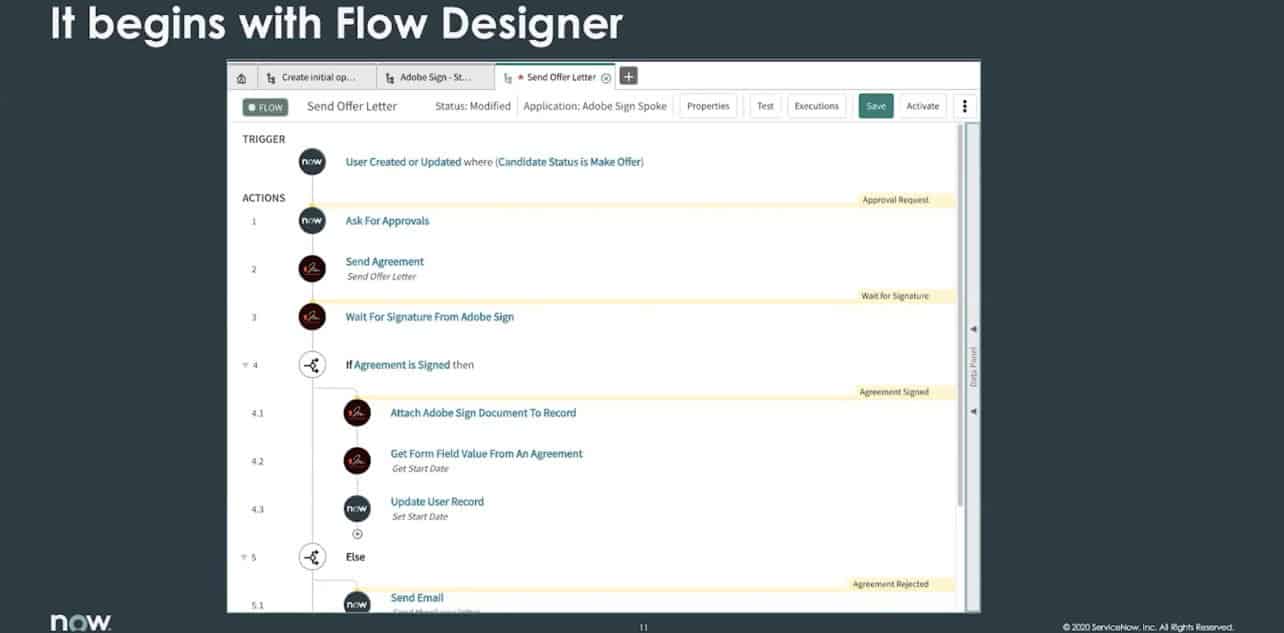 The IntegrationHub comes with many known integrations already included and spokes are available in the store. A spoke, for example, is an integration with Salesforce, SAP or Workday. As a citizen developer, you do not have to describe the API yourself, but you can link directly to the API and see the available fields.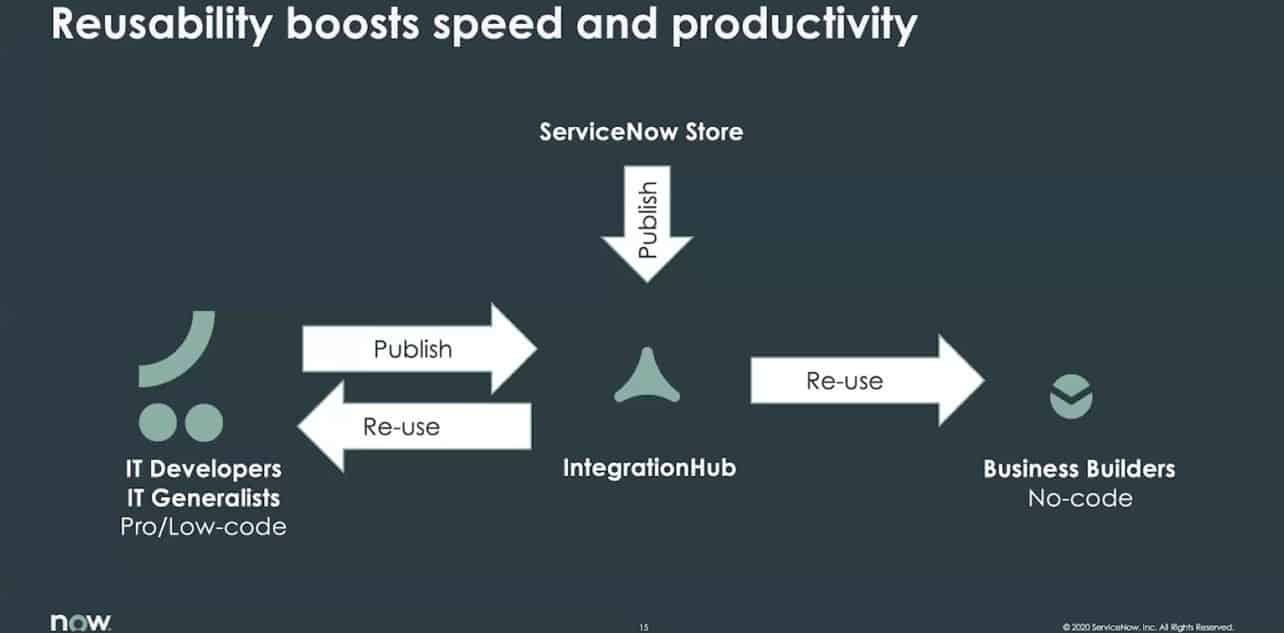 If there is no spoke available for certain services, you will have to create one. It is a bit more challenging and will not be feasible for every citizen developer, although with the right training it is certainly possible. However, it is a good thing that there is the possibility to build spokes yourself (integrations). ServiceNow also urges its customers to add their spokes to the store when they are finished building them so that other customers can benefit from them as well.
No-code or low-code
If your company is going to build integrations with the ServiceNow platform, it can be done using a low code and a no-code method. It depends on whether the IntegrationHub already has a spoke for the services with which you want to integrate. If there is a spoke available, you can use the Flow Designer in a no-code way, with some drag-and-drop actions, to build a complete workflow that does the integration. However, if it turns out that there is no spoke yet, you have to define it yourself. You then end up with low code, where you have to write a few lines of Javascript to capture and define the value within the IntegrationHub. It is not very difficult, but for a citizen developer it might be just a step too far. As mentioned before it is also possible with some training.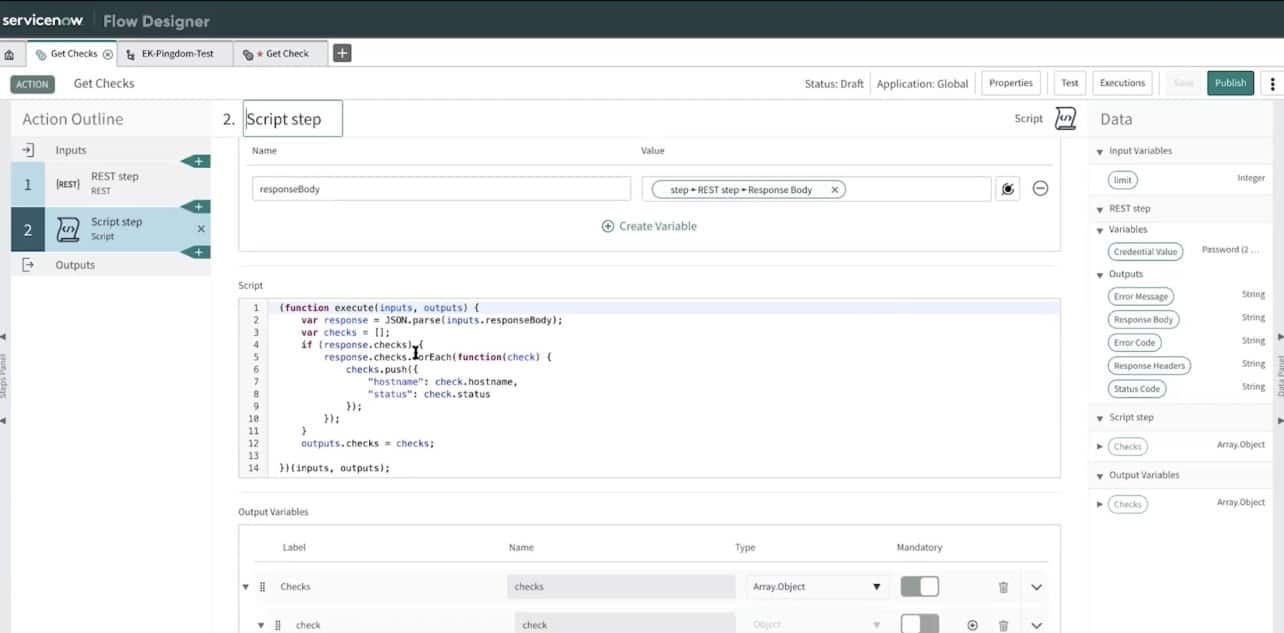 We believe that by using machine learning, ServiceNow can take a few more steps to make this even easier in the next version. Ultimately, many integrations should be able to be built automatically by scanning the documentation or by using a technical specification of the API.
Focusing on further integrations
At the moment, ServiceNow has dozens of integrations that it delivers out-of-the-box by itself, as well as some third-party spokes. In total there are 75 spokes, far too few to compete with iPaaS platforms that have thousands of integrations. During Knowledge 2020, however, there was a clear focus on the IntegrationHub. More attention now seems to be focused on this, and the development of new spokes will undoubtedly accelerate as well.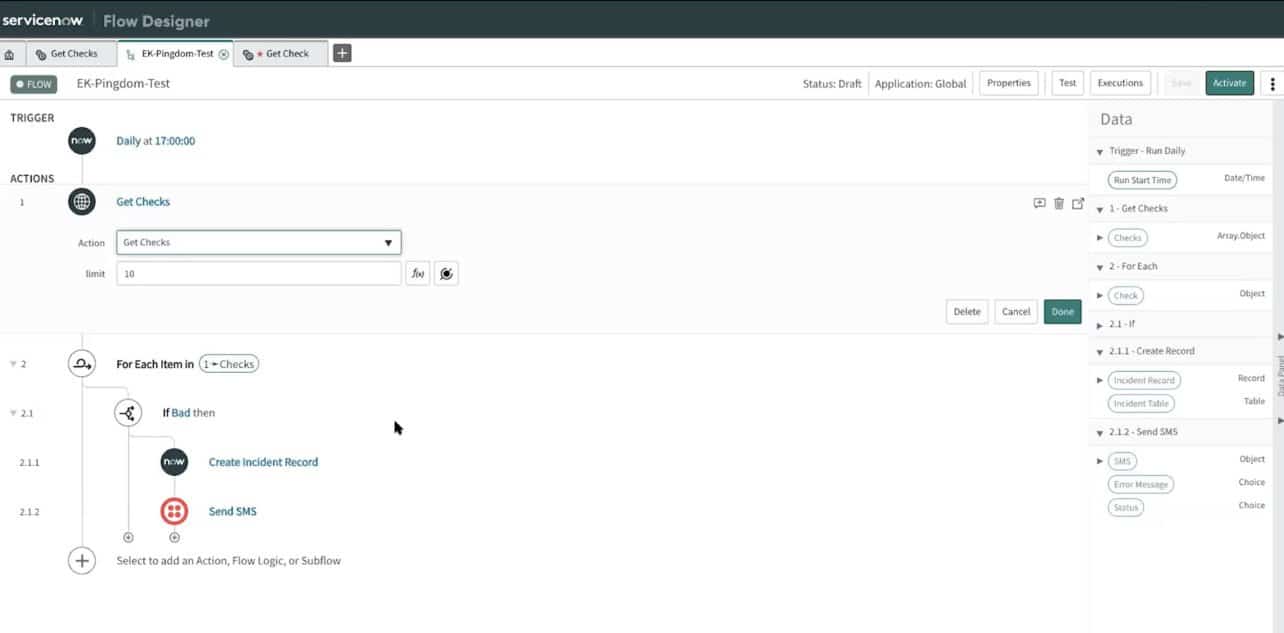 The fact that customers can also create their own spokes with the Flow Designer can also contribute to more integrations. However, there will also be customers who consider this to be ServiceNow's responsibility. Ultimately, ServiceNow would do well to use machine learning to scan the APIs and API documentation of many well-known services itself, so that the spokes can be added automatically. It is a method that Mendix, for example, also uses to integrate with third parties. In this way, the company can seriously lower the threshold and become more widely available to citizen developers.
Most important advantage is one platform and lower costs
If you're a business looking for an integration platform, at this moment, a Boomi or a Mulesoft will convince more than a ServiceNow. If ServiceNow wants to change that, it still has a lot of work to do. Companies that are already ServiceNow customers, for perhaps very different reasons, may benefit from the IntegrationHub and Flow Designer. After all, it saves a lot of costs if the companies use ServiceNow instead of a third-party solution. Businesses that have yet to start building integrations can do this very well on the Now Platform.
If the number of integrations is still manageable, the ServiceNow platform will do just fine. We expect that your company will then grow along with the IntegrationHub within the platform. ServiceNow has now prepared itself for the iPaaS market, now it will have to invest in order to continue the growth in the coming years.
The generic workflow platform
As mentioned earlier, the market for integration platforms is growing enormously. We think it would be wise for ServiceNow to focus on this. Their so-called "platform or platforms" can play a significant role. Mainly because ServiceNow already provides many (internal) workflows for many companies. If you can also add the integrations between all the different services, it remains clear. However, the iPaaS market is very competitive. We think that the basis of the IntegrationHub is now in place. ServiceNow now has to focus and invest in the IntegrationHub and Flow Designer, so that the number of spokes (integrations) will increase significantly. Eventually, it will have to compete with players in the market that have specialised in this and are already a bit further ahead. That simply requires more integrations. Because of the high demand, there is now also the momentum for it. In the coming years, it will be important for ServiceNow to realise its position as a 'the platform of platforms'.
Tip: What's in Store for ServiceNow with McDermott at the Helm?