With MuleSoft Composer for Salesforce, the CRM company wants to convey that anyone can automate a business process. With MuleSoft Composer, Salesforce brings the ability to automate to the normal business user (citizen developer) without technical knowledge.
We spoke with Shaun Clowes, SVP Product Management and Design at Salesforce, about the introduction of MuleSoft Composer for Salesforce. For readers who know Salesforce well, this is a new kind of solution in the software giant's no-code/low-code strategy. The goal is to give Salesforce's end users a tool to automate. Of course, it does come with an additional control layer for IT.
Clowes argues that less than one-third of business applications in an organization are integrated into central business processes. It means that if a customer wants to change something, it often can't be done through a self-service portal. The customer will need to call or e-mail the organization to make the changes for them. With MuleSoft Composer for Salesforce, it should become possible to make improvements and automate those business processes.
MuleSoft vs Mulesoft Composer
MuleSoft is known as one of the larger integration platforms, alongside Dell Boomi, for example. An integration platform usually focuses on developers. The developers send data to the platform through the appropriate API calls, after which the platform processes the data and forwards it to another API.
This works fine, but as mentioned, it is really only suitable for developers. With MuleSoft Composer for Salesforce, the goal is the same to a certain extent. The difference is the whole technical part is replaced by a point-and-click, drag-and-drop system that any business user can use. MuleSoft handles the technical part in the background.
An advantage of this is that any business user can easily create a flow in which records are updated. For example, a self-service portal can suddenly modify data in systems that it did not have access to before. The customer doesn't have to call or e-mail anymore, and it can make the changes by itself.
The disadvantage of Composer vs the normal MuleSoft offering: making applications available to integrate with MuleSoft Composer via pre-built connectors is much more complex and will therefore be slower. The MuleSoft point-and-click system is a blessing for the user, but MuleSoft itself has to completely dissect all APIs and data models in order to implement them in the point-and-click system. That takes a lot more time than supporting standard API's for developers. It will ultimately come down to a collaboration between MuleSoft and the developers of the application that needs to be integrated.
How simple is MuleSoft Composer for Salesforce exactly?
Whereas with normal MuleSoft integrations you have the complete APIs at your disposal with all the features, variations and data points, with Composer it's all been greatly simplified.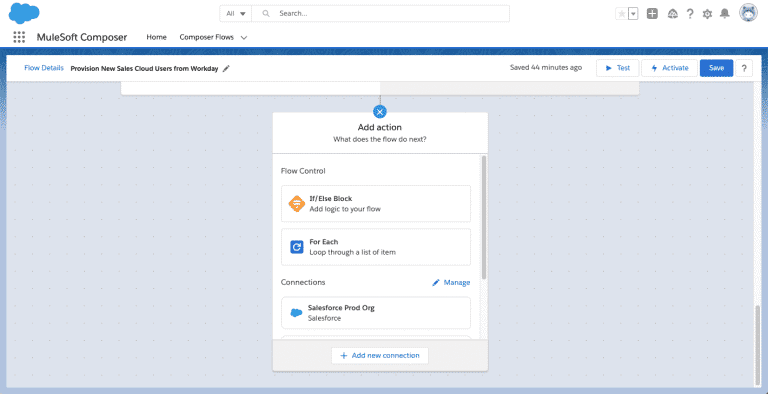 As an example, Clowes cites the integration with NetSuite. NetSuite is a cloud-based ERP system from Oracle. The data model of NetSuite or any ERP system is enormously complex. For ERP purposes, things need to be optimized and widely available. Often that results in a complex data model. If you do a normal API integration, you spend the necessary time dissecting the data model and updating the right records.
With Composer, you don't have to think about any of that. You work with a point-and-click system, in which you can compose a flow by just clicking. An example: use form X with the name and address details, retrieve the company details from NetSuite, and when submitting the form, update the customer details in NetSuite. The user doesn't need to worry about which APIs are needed to perform all these actions. It is all taken care of by Composer. The integrations between Composer and NetSuite, for example, are a lot more advanced than with normal integration platforms. As a result, for the business user making the connection, it is very straightforward.
IT still plays a role
With MuleSoft Composer for Salesforce, the IT department is not completely sidelined. The department still has a role in the process, such as establishing the connection between MuleSoft Composer and NetSuite. IT can also configure who can work with such a connection to build these kinds of simple process automations. IT can also apply an improvement process so that new flows only becomes available after the IT department has done a complete check.
Automating the line of business
The goal of MuleSoft Composer for Salesforce is to help automate the line of business. In any large organization, business teams run into the situation that certain information is not directly available. It requires another business team to create an export or forward the data because it's in their systems, or they can only access it.
With Composer they can automate integrations and solve these hurdles. Also, towards the end customer, it can offer a connected experience with the self-service portal so that the customer is less dependent on direct contact with the organization.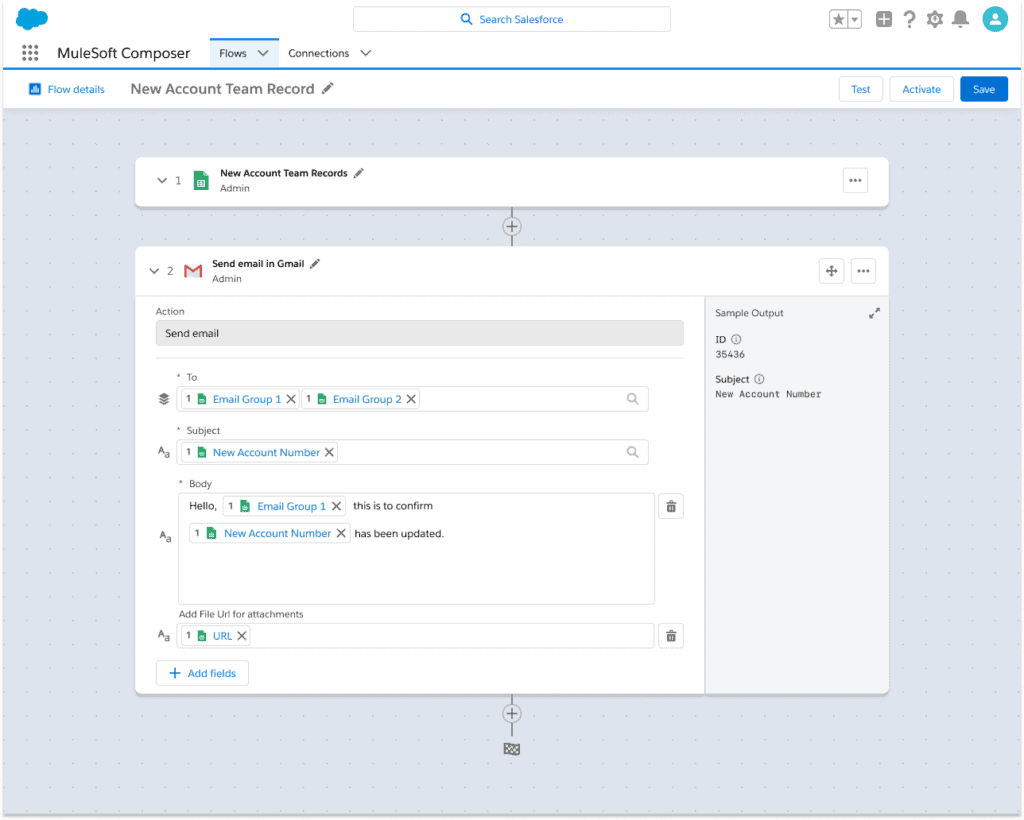 Making Salesforce Customer 360 even more complete
Salesforce's goal with Customer 360 is to centralize all customer data and display it in one portal. When employees interact with the customer, all the information is immediately available, and they don't have to log into multiple systems. Customer 360 is designed to do this, but the question, of course, is where all the data resides. If data is in NetSuite, it can now be retrieved even more easily by creating flows that integrate with Customer 360.
MuleSoft Composer vs Design Center vs Anypoint Studio
The number of solutions that Salesforce and MuleSoft offer to automate processes does slowly start to add up. However, there are differences. MuleSoft Composer is a no-code tool, and Flow Designer in Design Center is a low-code tool. Finally, the low-code solution Anypoint Studio is suitable for developers to build complex integrations and workflows. Or, as Clowes describes it, "With MuleSoft Composer, you can create a short flow that connects to one or two systems. For more complex integrations with more systems and more advanced configurations and data maps, Flow Designer is more appropriate. Finally, for the very complex enterprise applications, where custom code is needed, or the processes need to be closely tuned, there is still MuleSoft's AnyPoint Platform."
In any case, automating processes can be done at all levels of the organization. For MuleSoft Composer for Salesforce, the number of integrations is currently limited. The goal is to increase availability quickly, though. There is no integration kit available for external companies yet, but if companies want to integrate with MuleSoft Composer, they may contact Salesforce. They are certainly open to it.
Tip: Digital consumer turns the world of business on its head