Organizations are increasingly connecting IT and OT. Factories, data centers, buildings and the energy sector are some examples where the convergence of those components is visible. To support this convergence, Paessler with PRTG is betting on a single monitoring solution that monitors all parts of IT and OT as much as possible.
Paessler comes originally from the IT world, for which it wants PRTG to be primarily a tool to consolidate monitoring. As far as Paessler is concerned, there are too many separate solutions for monitoring IT components, such as printing and servers. Vendors of that hardware often have their own monitoring software. If you embrace all those separate tools, you risk a huge segregation of the monitoring landscape. Then it can become difficult to find failures and make connections, according to Paessler.
Now the exact same thing is happening on the OT side, according to Paessler. There, too, there are different monitoring solutions covering small parts of OT. That has to change, Paessler believes. Indeed, with IT and OT becoming ever more closely linked because the components can't really work without each other, the two must also come together on the monitoring side. With recent innovations, PRTG can now provide good support there.
Status of each endpoint
In a modern production machine, for example, there are multiple sensors to collect data. Information collected in such machines is often about temperature, pressure or parts products. This data is then sent to the cloud or a SCADA system, where it can be analyzed. All kinds of IT components are needed to make that connection possible. Ideally, Paessler suggests, you bring all the components into a monitoring tool that provides insight into everything. In it, you can see if everything is working properly. If it is not, an alarm is sent to the person responsible for the component with which there are problems.
We also talked about this with Johannes Liegert, who, as Product Manager at Paessler, is primarily concerned with the development of OT monitoring within PRTG. In particular, he mentions industrial routers, switches, IPCs (industrial computers), PLCs (Programmable Logic Controllers) and HMIs (Human Machine Interfaces) components that should be consolidated in a monitoring solution.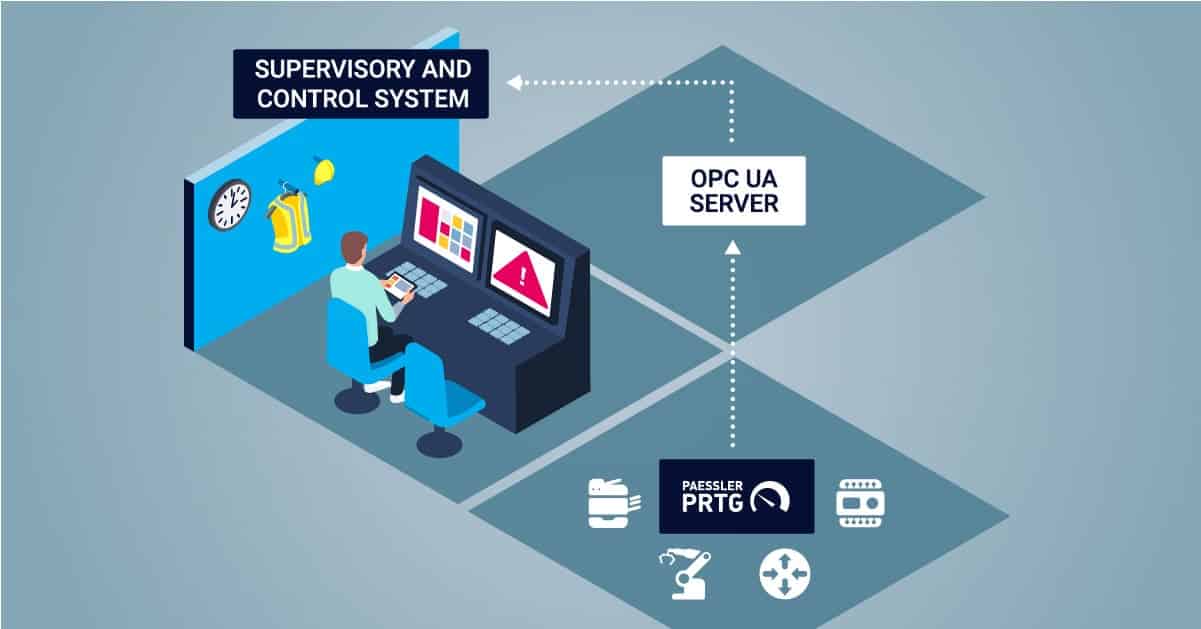 Industrial protocols
To monitor industrial devices, Paessler needs PRTG to apply its approach from IT to OT. On the IT side, it is able to collect data from devices, services and applications and draw conclusions about availability and performance there. These sensors are possible because Paessler has explored communication protocols. Basically, Paessler now supports all relevant devices for IT by supporting SNMP, XML and JSON, for example.
OT solutions, however, use other communication protocols. One prominent protocol in the OT world is OPC Unified Architecture (OPC UA). This protocol allows secure exchange of information from industrial systems in support of industrial automation. Thanks to this protocol, knowledge of a solution's API is not required when reading data. PLCs, the industrial computers often used to perform actions and initiate production, typically rely on OPC UA nowadays.
In addition to OPC UA, MQTT, Modbus and SNMP are also important protocols within OT solutions. Paessler also offers sensors for these protocols. In the rest of this article, however, we will talk more about OPC UA, as a specific product extension has been developed for it.
Customized server
On the topic of OPC UA, Paessler has jumped in by introducing an extension for PRTG, namely the PRTG OPC UA Server. The OPC UA Server makes it possible to integrate alarms and data from the IT monitoring side into an industrial system. "For example, if you have a SCADA system, we show the problems with your routers and the Wi-Fi connection in your SCADA system," Liegert said. In such a case, it complements the SCADA system, which traditionally already controls monitoring for OT equipment. However, the integration provides more context as to why there is a failure and that the problem lies with IT. In addition to SCADA, monitoring data can be integrated with, for example, a distributed control system, PLC or HMI.
According to Liegert, this integration provides significant benefits, since previously in many companies it was difficult to determine exactly on which side the problem lay due to the separate worlds of IT and OT. Moreover, according to Liegert, communication and documentation in case of failures is difficult without an integrated monitoring tool.
Basically, Paessler now offers integration of IT with OT in two ways. In addition to the OPC UA Server, there is also the OPC UA Notification, where PRTG acts as a client that only writes a value which represents an alarm to the industrial control system. This is clearly a one-way integration.
Progress
If you want an integration that goes beyond that, as far as Liegert is concerned, the OPC UA Server is the best option. With this, Paessler sends all alarms and data from the regular PRTG version to the industrial system. Then, if an alarm actually goes off, for example about a switch for a particular production line, the operator quickly knows from the information from the OPC UA Server that it is a network problem. Because of the richer context, he will then not call the maintenance team, but engage with IT. The integration allows them to see and assign alarms back and forth, making communication smoother.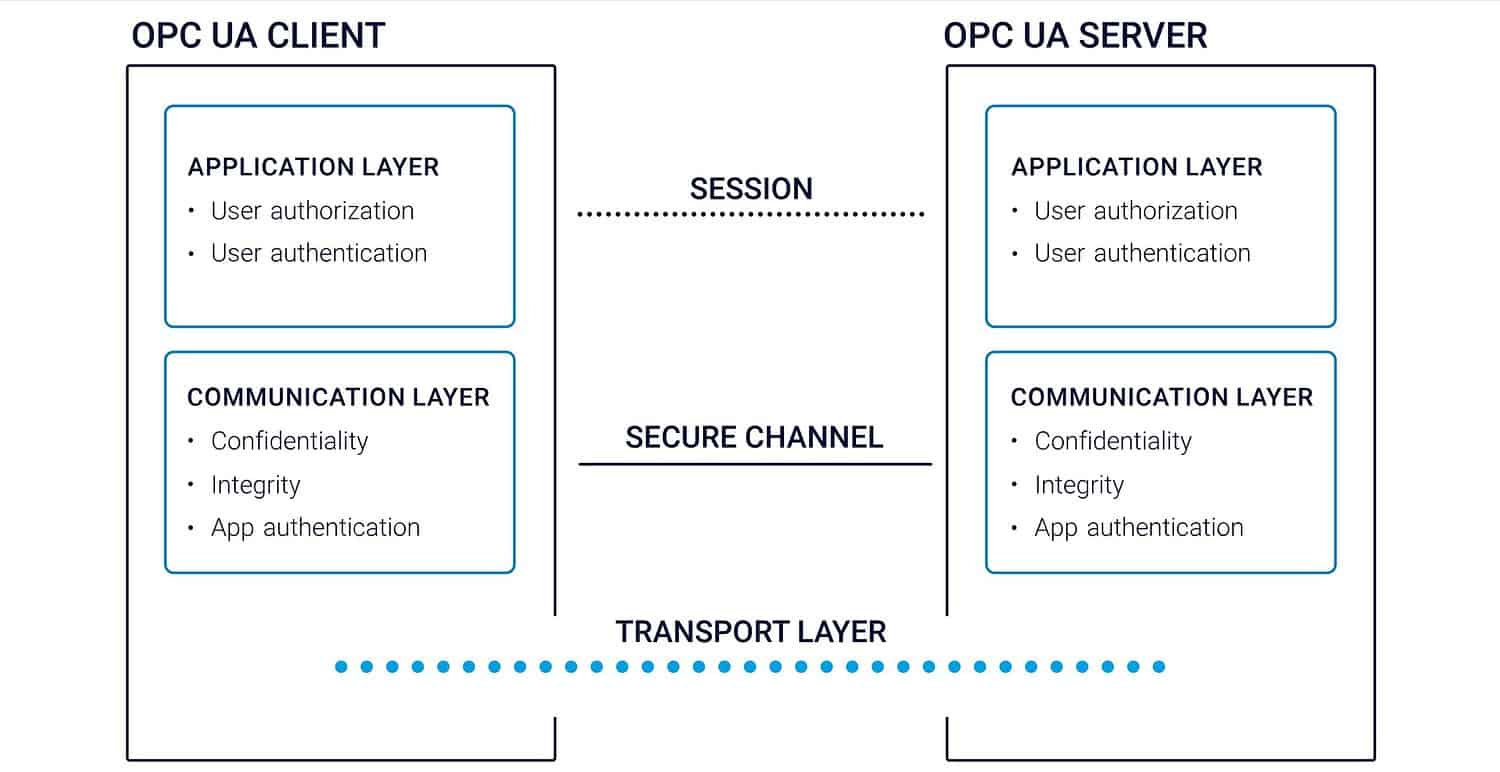 Another big advantage Liegert sees is the ability to create a dashboard in industrial systems showing the status of components that were not previously viewable. A firewall is something a machine operator has little to do with, but if something is wrong with it that causes the remaining production process to stall, it's nice to know the exact cause. Otherwise, the operator will just have to guess what exactly is going on.
In practice
As we cited at the beginning of this article, the convergence of IT and OT is underway in several sectors, including data centers. Paessler shares an example with us about exactly that, showing how PRTG is being applied in collaboration with Siemens. Siemens' Industrial Automation DataCenter is a configured data center for manufacturing locations. The system features high-performance computing, IT/OT networking, backup & recovery and an uninterruptible power supply.
PRTG monitors all components of the Industrial Automation DataCenter in this case. Through visualizations, the status of components can be seen live, so that if something happens the right person can act quickly. More than 300 preconfigured sensors are available for this purpose. If something goes wrong, the person responsible is informed immediately. This can be done via e-mail, push messages, text messages and initiating HTTP requests, for example.
It shows that Paessler is able to appeal to large companies on the OT side as well with PRTG. In any case, we are curious to see how that will develop further.