Huawei is currently investing heavily in 5G, as was recently shown during an event in London where the product announcements for MWC 2019 were already presented. Many hardware solutions, but also associated software, were reviewed. All this under the motto: simpler, faster and cheaper.
During the annual high mass for the mobile industry Mobile World Congress 2019, all mobile suppliers will present their new products and strategies to their target customers and their existing customers. Many manufacturers and suppliers choose to show these products to the press in advance in order to generate more momentum. This was probably also Huawei's idea. At a meeting in London just before the start of MWC 2019, the Chinese tech giant gave an exclusive insight into his fast-growing 5G portfolio, related services and a little enterprise market.
Impressive figures
Expectations were high, especially in view of the fuss that this supplier has experienced in recent months. Fortunately, London was all about the extensive 5G portfolio that is now being brought to market. All this as part of the effort to create a complete, interconnected intelligent world for everyone.
In his presentation, Ryan Ding, CEO of Huawei's Carrier Business Unit, lavishly scattered with impressive figures. The manufacturer states that it has already shipped more than 40,000 5G base stations worldwide. A total of 30 mobile operators have been contracted to deliver 5G base stations. The majority of these operators, 18, are located in Europe. In addition, there are nine in the Middle East and three in the Asia-Pacific (APAC) region. The identity of all these operators has not been disclosed.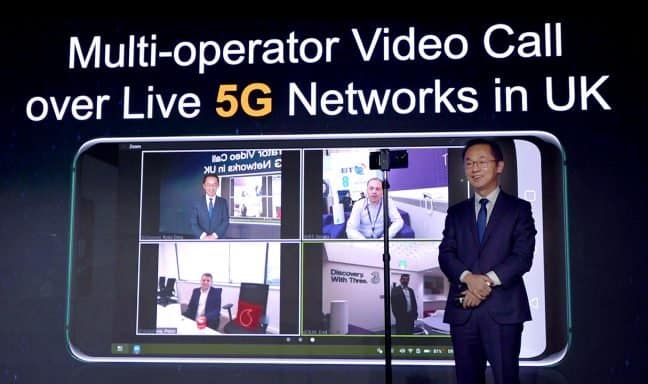 The fact that there are big fish in Europe was demonstrated during a demo by a multi-operator video call about 5G, with which it claims to be the first. To be honest, the quality of this conversation between the location and representatives of the British operators BT, Vodafone UK and Three in terms of video and call quality left something to be desired.
Substantial investments in R&D
Huawei leader Ding also indicated that the manufacturer would be investing significantly more in Research & Development (R&D) in the coming years. In fact, the recent fuss about the safety of mobile network equipment is a good thing for the Chinese manufacturer. It is therefore forced to invest more in research in the area of performance and quality so that it can demonstrate that it delivers good and, above all, reliable goods. In addition, it ensures that it can lead the race for 5G worldwide. No further information about specific future R&D activities was provided during this pre-briefing.
Actually, all the fuss is helping Huawei a lot, according to Ryan Ding. As a result, everyone now knows the name of the company and knows that it supplies 5G mobile network equipment. Free advertising. In any case, Huawei expects that the arrival and roll-out of 5G in the world will bring the company a lot of turnover in the coming years, after a few difficult and lean years.
Simpler, faster and cheaper
The motto that Huawei gives its 5G portfolio is: simpler, faster and cheaper. By simpler, the Chinese manufacturer means that with the help of the equipment and services now presented, it will be easier for operators to roll out 5G. Faster means that operators can roll out 5G networks faster and cheaper means that operators can save a lot of money. Especially in the latter segment, the manufacturer raises high expectations. The aim is to reduce the cost-per-bit connectivity for telecom operators. Huawei wants to further reduce the costs for operators by reducing energy consumption and the manpower required for the installation of base stations and antennas.
Chipsets, antennas, base stations and other equipment
The concrete products presented by the Chinese manufacturer in London included 5G chipsets and modems, a new lightweight base station of only 32 kilos, which is up to 40 percent lighter than an existing LTE base station and small, lighter antennas. Huawei is also introducing the Super Blade Side system, a modular system that easily combines existing 2G, 3G and 4G LTE base stations with 5G. In this way, the system can be used to roll out various services, such as voice, IoT and data services.
Another introduction was a smaller, cheaper and more efficient base station for rural environments. In addition, the icing on the cake was the introduction of 5G-equipped drones for setting up communication services in emergency situations.
Attention also paid to network automation
In addition to all of this hardware, Huawei also paid attention to the more software-based side of managing mobile networks, especially the automation of these networks. According to the Chinese supplier, the automation of mobile networks towards 'self-driving mobile networks' still has a long way to go. It is now possible to automate a considerable number of network management components, from the edge to the core, using artificial intelligence (in this case, machine learning).
That is why the manufacturer presented its 'brain' for automated mobile networks, the MAE engine, in London. This is the management and control engine with which telecom networks can be managed and implemented completely software-based and intelligently. Instead of looking at network elements, this specific engine now ensures, among other things, that the management of telecom networks is based on scenarios.
Influence of machine learning
A Huawei cloud platform linked to this engine helps administrators implement various scenarios based on machine learning. This is done depending on whether they have a specific need for network deployment, maintenance, optimization and service provisioning with an automated process from start to finish. For example, when planning network coverage instead of setting up and configuring a base station separately, a proverbial push of a button can be used to provide coverage for an entire grid of base stations.
Only fully suitable for Huawei applications
Unfortunately, this MAE now only works with Huawei's own hardware and software solutions. According to the supplier, an open API is available that makes it possible for the MAE to work with equipment from other vendors in a small detour. The intention is that, in the future, all products in this direction will work via open standards, but the supplier is not ready yet.
Quite a shame, because this makes the MAE only suitable for operators who already have a network with Huawei solutions and applications. Other operators will then look for equivalent solutions from their own suppliers or from suppliers that work according to open standards.
The manufacturer has also upgraded its BTG5900 base station to support the automation of mobile networks. For example, computer capacity has been increased to 8 TFLOPS, which is another impressive figure – all to support network automation.
A look at the enterprise data center portfolio
Finally, the manufacturer took advantage of the arrival of many journalists and analysts to talk about its enterprise data center portfolio. This year, Huawei's enterprise business will also be present with its own stand at MWC 2019.
In short, the supplier announced the arrival of a new access point for Wifi 6 – the first of its kind to be available. It also introduces an AI-powered data center switch, new all-flash OceanStor Dorado storage solutions that are faster and more powerful through the use of three different chipsets and another portfolio of intelligent network cameras.
We also received an oral teaser about the presentation of the Digital Platform that should unite artificial intelligence, cloud computing, IoT and big data. We wonder very much whether this could be Huawei's vision of a data fabric; something on which data, network and cloud specialists like NetApp make big efforts.
Serious competitor
In short, Huawei leaves aside all current criticisms and makes a very strong commitment to 5G with their products, from base-station to network automation. With this, the company shows the mobile world and its competitors that it is serious and that the Chinese supplier is a formidable opponent when it comes to supplying this equipment.
The promise to make the roll-out and implementation of 5G simpler, faster and cheaper must, therefore, be taken very seriously. For operators, this may already be enough to convince them. Competitors mainly see a formidable opponent who has no intention of letting a slight setback bother them.