Today, Modern data solutions require a storage foundation based on several things. You want cloud readiness, high availability, processing large data volumes, possibilities for fast data analysis and management that is preferably automated as much as possible. HPE wants to address all of these with the 'Intelligent Data Platform'. We talked about it with Solution Architect Remko Westrik and Business Unit Manager Storage Paul Peters.
Many companies today use HPE solutions as they can provide a comprehensive stack for setting up IT infrastructure. Storage plays a significant role in this portfolio, as it forms the foundation for data storage. The future is bright because of the growing amount of data that companies generate and store, and they need solutions to store this data. This is where the HPE Intelligent Data Platform comes into play.
HPE Intelligent Data Platform
With the HPE Intelligent Data Platform, HPE clearly expresses its vision on data storage and obtaining insights from data. The amount of data at companies is increasing every year, and an increasing number of employees are actively working with data. In addition to an infrastructure admin and storage administrator, you now have entire devops teams, data scientists and BI staff working with data. The user groups that work with data keep increasing because more and more business decisions are made based on data analysis.
How to deal with these growing user groups, processing large amounts of data and keeping data available for critical workloads are issues that many companies have to deal with. The HPE Intelligent Data Platform offers a suitable answer for every situation.
Within the Intelligent Data Platform, all products can work together.
The Intelligent Data platform is linked to a wide-ranging portfolio of HPE storage solutions, all of which can be deployed or configured for specific purposes. Within the Intelligent Data Platform, HPE also ensured that all products could work together and migrate data where necessary.
The foundation of the Data Platform is formed by Nimble, Primera, Cloud Volumes and Backup and Scale out file solutions. The intelligence comes from HPE InfoSight.
Portfolio storage systems
Within the Intelligent Data Platform, Nimble is a well-established name. Nimble is easy to manage and optimised for generic workloads. Due to the strong integration with InfoSight, customers achieve high availability. They often use a virtualization platform such as VMware or ERP applications from Oracle and SAP.
HPE Primera is mission critical with 100 percent availability
Yet some companies opt for 100 percent data availability, something that HPE Primera can provide. Primera is a recent innovation within the Intelligent Data Platform. It concerns storage systems to support mission-critical applications and data, also known as tier 0 workloads. These are applications and data that organisations absolutely cannot do without, such as data from ERP applications or mission-critical transaction processing like in the financial sector.
In order to guarantee 100 percent availability with Primera, HPE looked at the technologies it already had at its disposal. Primera consists of a modular architecture, through which a cluster ensures that the nodes within the system work together. HPE InfoSight is also the foundation of Primera. HPE InfoSight uses artificial intelligence (AI) and machine learning to monitor storage, servers and virtual machines and to predict and prevent potential failures. It is a global database that collects metadata from HPE solutions to predict failures and performance optimizations to provide maximum uptime for mission-critical applications.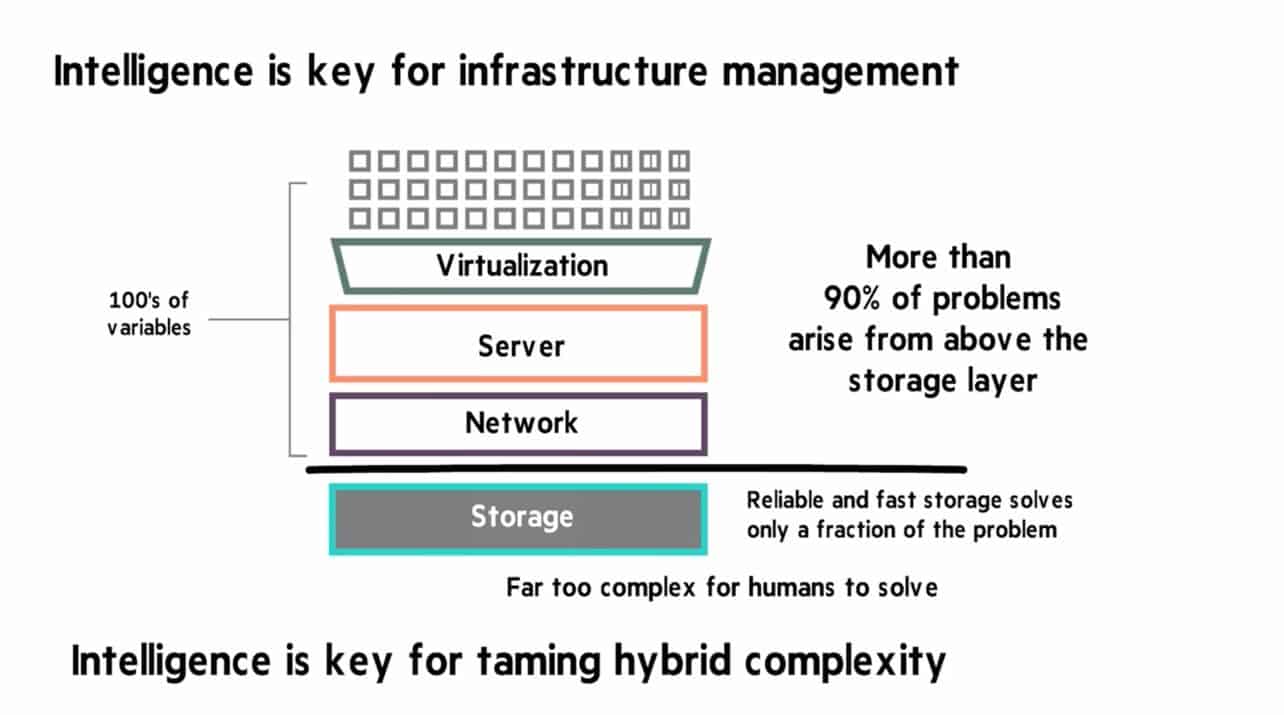 HPE gives a 100 procent availability guarantee for all Primera solutions, provided that the systems comply with the latest firmware upgrades and with the appropriate support contracts. Users of the current 3PAR solutions are offered a simple migration solution to migrate to the new technology.
Storage for the multicloud
Today's hybrid world needs a cloud plug-in. To make the available storage systems suitable for the hybrid world, HPE uses its Cloud Volumes platform. With Cloud Volumes, you use cloud storage that is physically close to the cloud regions of AWS, Microsoft Azure and Google Cloud. You buy the storage from HPE and the compute from one of the cloud platforms. Low latency and good performance are essential factors in a well-functioning multicloud environment.
Westrik mentions that in this way, it is possible to realise data mobility. According to him, storing data at a cloud provider is not that expensive, but the costs increase considerably if you want to retrieve the data from the cloud platform or plan on using the data elsewhere than in the cloud environment. These are the so-called egress fees. Cloud Volumes should remove this threshold.
The platform also offers the possibility to replicate between on-premise, Nimble, Primera and Cloud Volumes. This is useful in different situations. For example, a company may decide that it wants to use two data centers. In that case, an on-premise data center is a logical choice. In addition to this, you can choose to replicate data to Cloud Volumes, so that in case of a problem in your primary data center, you can do disaster recovery in the public cloud by using the data from Cloud Volumes.
Intelligent Data Platform also relies on InfoSight
Nimble, Primera and Cloud Volumes are important components of the Intelligent Data Platform vision, but the intelligence comes from HPE InfoSight, which is now also available on HPE Computing solutions. A modern data era, according to HPE, also requires AI and analytics, as well as support for secondary storage.
InfoSight helps to get a holistic view of the status of the total infrastructure. By collecting data from the applications, hypervisor, compute environment and storage, it provides a comprehensive view of the normal behaviour of the environment. Also, a complete overview of all systems across the entire install base is provided. This allows for a better response to potential problems that occur at a customer. Anyone with similar environments can be observed in detail, and necessary actions can be taken so that customers can continue to work undisturbed.
HPE offers a solution for all scenarios: on-premise, in the cloud and the hybrid cloud.
The AI and analytics of HPE InfoSight is an essential part of HPE's storage and computing portfolio. With data collection and analysis, HPE InfoSight 'looks' beyond the boundaries of other tools. To monitor the status of the systems, subsystems and surrounding IT infrastructure, millions of sensor readings are collected and analysed. Machine learning then provides predictive analyses and recommendations. HPE believes that this self-learning aspect will enable InfoSight to establish the autonomous data center.
An additional supporting component is StoreOnce, which HPE uses to address secondary storage issues. StoreOnce is an appliance that mainly focuses on data that is not consistently consulted by other systems and is therefore optimal for backups. On this HPE StoreOnce appliance, you can store data for a period of one month to several months, during which time the data cannot be adjusted or deleted. It functions as a kind of extra guaranty on top of standard backup and disaster recovery applications, which you can also use for testing with a backup. HPE doesn't strive for a product that competes with Veeam or Veritas; on the contrary, it has in-depth integrations with these products.
Conclusion
With the Intelligent Data Platform, HPE developed a wide-ranging portfolio of solutions and services, with a clear vision to meet today's requirements for (large) data volumes, fast data analysis, heavy workloads and solutions for managing the complexity of multicloud environments. With this, HPE offers a solution for all scenarios: on-premise, in the cloud and the hybrid cloud.