The cloud has defined itself in recent years. Defined with possibilities, opportunities, features, pitfalls and security issues. Meanwhile, there are many best practices, but one stands out head and shoulders above the rest. Most companies want a hybrid cloud, but how do you do it? We spoke with Dell Technologies about the challenge and experiences.
There are always movements in the IT world. From the office to the data centre, from the data centre to the cloud and from in-house applications to SaaS. Or simply one of these examples but the other way round. What remains is that IT is on the move, and if we look at the cloud, hybrid cloud is the best solution for many companies.
Hybrid cloud comes in many forms. If you have your application landscape running in your own data centre on Intel x86 processors, but are already using Office 365 or Zoom, then technically speaking, you have a hybrid cloud strategy. Of course, there is much more, and most companies have a broader hybrid cloud strategy.
We talked to pre-sales director Tom van Peer and Advisory Systems Engineer Kenny Pool about how they experience all those innovation processes of companies. How do you best apply hybrid cloud? Does their company also play a role outside the on-premise business?
Related: Dell Technologies: The cloud is a tool, not necessarily the solution
Is there a best practice for hybrid cloud?
Van Peer states that companies show the same pattern as ten years ago. They want the best IT environment for the minimum required effort. Ten years ago, outsourcing was hot. That way, businesses didn't have to carry the responsibility. In recent years, cloud-only was the modern alternative. By now, it can be said that cloud-only only works for small companies or recently founded companies that have no legacy. So, generally speaking, the cloud is not the all-in-one answer that companies are looking for. The people at Dell Technologies have seen many companies with cloud-only aspirations and even had customers who have tried it. Still, the hybrid cloud ultimately works best for most businesses.
There is no best practice for hybrid cloud
When we ask whether there is a best practice to apply the hybrid cloud, the gentlemen are unanimous: there isn't any. Every company is different, and ultimately, the workload and, in some cases, the compliance requirements determine where it can best be run. It also depends on previous choices. If a specific CRM or ERP solution has already been chosen, you have to consider it. These are not solutions that you can simply replace.
Ultimately, the application landscape for every business must be mapped out, as well as the requirements imposed on it by the company or a government. It also needs to be mapped out how those applications and infrastructure depend on each other and what cannot be split up. Then a cost aspect comes into play.
An example
Bringing data to the cloud doesn't have to cost a lot, but getting data from the cloud comes with a hefty fee. You have to take that into account. Running all the data on-premises and the applications in the cloud is not an ideal solution either, because some applications don't function properly if the application and data are separated. So you really need to look at each application to see what works best. For one company, this will be the cloud, and for the same application for another customer, it is on-premise.
The only way to determine this properly is to engage in the conversation, give customers the right information and teach them how to make those choices.
VMware offers a bit of extra flexibility
Defining a hybrid cloud strategy takes time. Depending on what the customer did before and which cloud they want to move to, there may be a difference. Customers who currently use VMware and have virtualised all their workloads may find it easier to embrace a hybrid cloud strategy. They can now run VMware on any cloud. This allows the on-premise infrastructure to be connected to the cloud infrastructure. Workloads are easy to migrate back and forth. Should something turn out to work better on-premise or in the cloud, the workload can easily be moved.
VMware provides a unified platform across Intel x86 bare metal environments and clouds to manage the entire hybrid infrastructure through a single pane of glass. Because VMware is a subsidiary of Dell Technologies, it is firmly committed to this. This is reflected in the great success of a product like VxRail.
Is hybrid cloud with VxRail the best recipe for success?
According to Van Peer, VxRail is one of the most successful products the company has added to the portfolio in recent years. "Our customers just can't get enough of it," says Van Peer. The demand for VxRail is high, and that has everything to do with the way the product is put together. VxRail is a joint product of Dell EMC and VMware. The companies developed it together. The reason for its great success is that it works like bringing the cloud to your own data centre.

VxRail is sold in a number of different configurations. Some have a bit more compute power, others a bit more memory and yet others can be equipped with a bit more storage. VxRail is a Hyper-Converged Infrastructure (HCI) solution, where the different VxRail nodes are tied together to create one large cluster on which infrastructure environments and workloads can run. By using multiple nodes, redundancy is automatically built in so that when one node fails or suffers a failure the other takes over.
VMware offers a single pane of glass
The great advantage of VxRail is the cloud experience it offers. The VxRail nodes are installed in a data centre. The client then gets a login to a management interface and doesn't have to worry about anything else. They can create their infrastructure and VMs on the cluster and roll out their applications. The management of firmware updates and updating to the latest VMware vSphere versions are all taken care of by Dell Technologies. With VxRail, you bring the cloud to your own data centre.
This means that the VxRail cluster can also be linked to VMware environments for a hybrid cloud solution. VMware has a preferred partnership with AWS, offering VMware on AWS. VMware also manages this. However, companies who have made the strategic choice to mainly work with Microsoft Azure, Google Cloud, Oracle Cloud or IBM Cloud can also go there.
This combination, where maintenance, configurations and patching are largely taken out of the customer's hands, is very appealing. Most companies are fed up with managing every node in their infrastructure and want more convenience. The fact that VxRail configurations are limited makes it easy to manage. All components are tested through and through, including any updates, before being deployed to the client. This provides the client with a reliable system.
Related: VMware enters a new era with VMware Cloud Foundation 4
Is an HCI like VxRail flexible enough?
We also asked the gentlemen whether VxRail is flexible enough. After all, if you only have a limited number of configurations, your business may have requirements that are more difficult to meet. Ultimately, every HCI node must be equipped with compute, memory and storage. You can't just plug in a pure compute or storage node.
Van Peer understands what we mean, but in practice, this is generally easy to solve. And development hasn't stopped either. The portfolio now also offers ruggedised nodes, so VxRail can also be used for edge computing. For example, this is useful in industry or ports, where a node can work on-site while being part of a larger cluster.
In addition, it is possible to add extra powerful nodes with much more compute or memory. For example, nodes with multiple Intel processors, more powerful Intel processors, GPUs or enormous amounts of memory. As an example, they mention customers who want to run their SAP ERP on VxRail. That is possible and there are configurations with large amounts of memory. There are also customers who need a large storage capacity. This sometimes requires a creative solution. In some cases, a Dell EMC Isilon solution is linked to VxRail. This is a scale-out storage solution that can be connected via the network for heavy storage workloads. Isilon can also be combined with vSan, so that everything can still be managed via VMware's single pane of glass.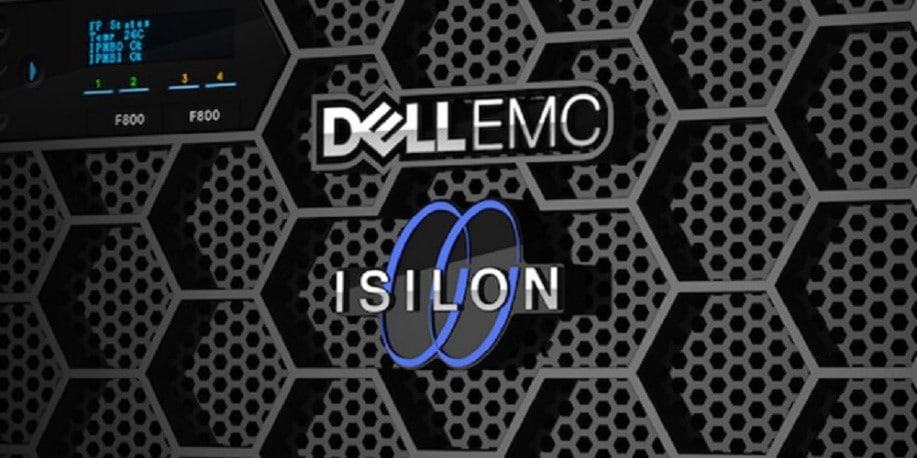 Suppose your business wants to combine VxRail with Isilon, but not on-premise. That is also possible. Dell EMC Isilon is also available virtually in the Google Cloud. So it is also possible to combine VxRail with VMware in the Google Cloud and link Isilon to it from the Google Cloud. So there is definitely flexibility.
Expansions into compute
With the rise of the cloud, we see an increase in demand for different types of compute. VxRail is entirely based on reliable Intel Xeon processors and the x86 platform. Also, Dell Technologies foresees more and more expansions to this in the future. For example, the company expects Intel to soon come up with discrete GPUs for AI models so that there will also be more choice in that area. At the moment, the company already offers the possibility of adding Nvidia GPUs to VxRail nodes. Furthermore, the company has invested in Graphcore. They are also working on special chips for AI applications.
Competition in the compute field, whether for CPUs, GPUs or AI applications, is greater than ever. VxRail is entirely based on Intel, and it is expected that this chip giant will bring enough innovation to VxRail in the coming years to make it grow further.
VxRail is available as Flex On Demand
In a previous article, we talked about the ways in which Dell Technologies products can be financed. Businesses today want to innovate faster, but to do so, budgets must also be appropriate. Large investments that require everything to be paid for in advance are not very popular. The company is responding well to this with Dell Financial Services. With this, the company offers Flex On Demand. Companies can choose to spread the payments over a longer period and, for example, only pay for the amount of compute, storage and memory they consume with their infrastructure. It can all be tailored much more closely, which avoids making large investments that might later prove unnecessary.
Conclusion
All in all, there may not be a best practice for the hybrid cloud, but it is the best way for many businesses to innovate affordably. With VxRail, Dell Technologies has a good and flexible product to make this possible. It is clear that the company benefits greatly from its partnership with VMware. The flexibility that the platform offers and the flexibility in purchasing and settlement policies will also appeal to many companies. However, the customer remains responsible for deciding which infrastructure to run on-premises and which to run in the cloud.