More and more companies are looking for ways to speed up innovation. To achieve innovation, the cloud is often regarded as the solution. Nevertheless, companies need to realise that the cloud is primarily a tool and not a complete solution. We discussed this with Patrick Eikenaar, Director of Data Center Compute Solutions Netherlands at Dell Technologies.
Whereas in recent years many enterprise organisations have been particularly active in deploying new technologies to accelerate innovation, medium-sized companies are now starting to do that as well. Partly due to COVID-19, companies are forced to adapt their processes. When they then see the benefits that these changes bring, they are also willing to investigate into what other benefits can be achieved with appropriate investments.
The cloud is playing an increasingly large role in this shift. Many solutions that used to run on-premise are now also available in the cloud. It is possible to pick up your entire infrastructure and move it to the cloud. According to Eikenaar, some SMBs don't fully understand the cloud. The cloud certainly has its advantages, but there are also disadvantages and risks that need to be properly mapped out before a decision is made to migrate to the cloud. He has already seen several instances of customers reverting back from the cloud after a few years. The costs can increase a lot after a couple of years.
Cloud vs on-premise
Eikenaar argues that SMBs should look beyond the bare marketing claims of the cloud vendors. You cannot just throw everything towards the cloud. We list a few things that SMEs need to think about concerning their IT infrastructures.
Infrastructure does require maintenance
When your infrastructure is migrated to the cloud, you are no longer responsible for monitoring and managing the hardware. You can order a customised virtual machine or bare metal server and pay for it by the hour or by the month. However, you are not completely relieved of all maintenance, as you remain responsible for:
The applications that run on the rented infrastructure, including management and configuration;
Patching the operating system and applications;
The security policy, from the firewall to endpoint security, but also managing who has access rights and who doesn't.
Finally, there is another major difference. Cloud vendors charge for data traffic by the gigabyte, whereas you would pay a fixed rate for a connection in your own data centre. The cloud is almost always more expensive in this aspect.
SaaS applications require less maintenance, but do you have access to your data?
In the case of Software as a Service (SaaS) applications, you do reap many of the benefits that cloud parties tell you about in their marketing. With SaaS, you have a cloud application that is accessible from everywhere, usually directly from your browser. The maintenance of this application, as well as updates and security, are all taken care of by the supplier. As a company, the only things you usually have to do is create the users and set up the application for your business case. SaaS applications come in many shapes and sizes: from large suites like Salesforce to small services for project management or the digital signing of documents.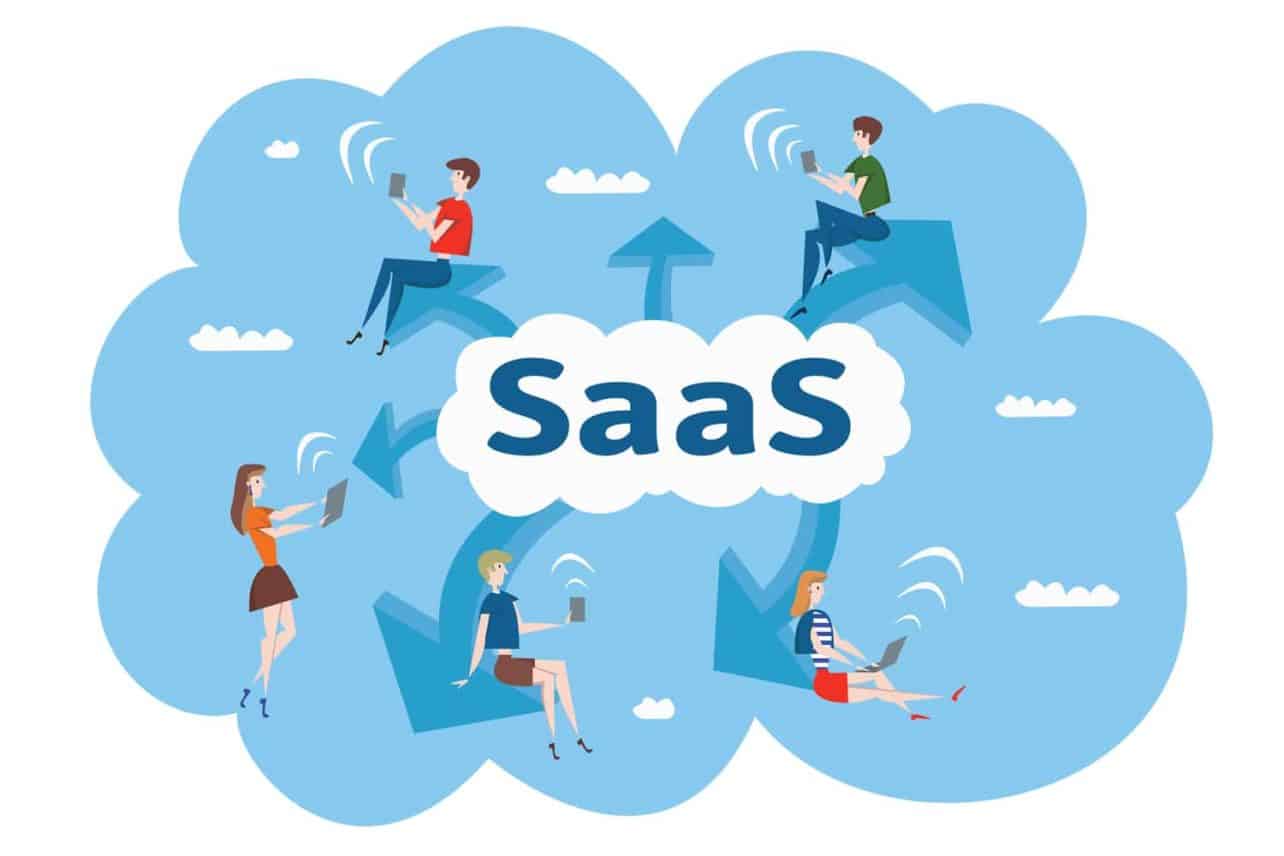 One of the major disadvantages of SaaS applications is that you sometimes have limited access to your own data. Your data is locked in the SaaS application and you never actually get direct access to the database. However, many SaaS applications do have a so-called API, which other applications can use to access the data. Then the question becomes how extensive this API is and whether you can actually use it to access all your data. Checking this beforehand is a must.
In the end, individual data analyses do not show the full picture. That picture only comes about when you put all the company data together.
More and more innovation and decisions come from the analysis of company data. If your company data is locked in a handful of SaaS applications (or several handfuls), it can be challenging or even impossible to bring it all together. However, bringing it all together is necessary for finding a correlation and enabling more in-depth analyses. In the end, individual data analyses do not show the full picture. That picture only comes about when you put all the company data together.
PaaS speeds up application development but also creates lock-in
Many major cloud providers offer dozens to hundreds of Platform as a Service (PaaS) solutions. This enables customers to purchase a managed database or a Kubernetes cluster (containers) or to process data and media via serverless services quickly. These PaaS services ensure less maintenance and faster application development. But this also poses the risk of getting locked in with a specific cloud vendor. As a result, you cannot simply move your workloads and applications back to on-premise or another cloud provider, as those PaaS solutions are not universally supported, but are specifically designed for the cloud platform. Again, it's something to keep in mind.
Dell Technologies offers alternative in the cloud, on-premise or in hybrid form
If you are at the crossroads where you have to make strategic choices for your IT infrastructure for the coming years, these are all things you need to take into account. If you want to enjoy the benefits of the cloud, but not run into its limitations, there are also some alternatives to consider. For example, you can opt for a VMware or Nutanix infrastructure. Then you can choose where your workloads are located. VMware and Nutanix both add a software layer to public cloud providers, partners' data centres and your own data centre. As a result, you can run workloads anywhere and manage them from a single pane of glass.
The only limitation, if you can call it as such, is that VMware and Nutanix currently only run on Intel-based hardware. This doesn't pose a problem at all in the public cloud. All providers mainly offer Intel-based hardware. Furthermore, parties like Dell Technologies also have a wide range of Intel servers to offer.
Intel server portfolio
Eikenaar says medium-sized companies can choose from many different solutions, whether they're smaller companies with a few servers or medium to large-sized companies that require a bit extra.
For example, Dell Technologies can supply smaller companies with two Intel compute servers and a separate data storage server. It is then possible to combine Windows Server with a file server, for example. Many companies do not need virtualization in this case.
For companies that need more features, such as a hardware setup on which employees can work remotely, Dell Technologies offers special blueprint configurations. Because of COVID-19, these configurations are suddenly in great demand. These are all Intel-based servers, in which the hardware is set up in a way that all components can work perfectly together. Dell Technologies has thoroughly tested these setups beforehand, so that performance pretty much guaranteed. The company can directly make a personalized recommendation from an indication of how many employees simultaneously need to work remotely and what kind of applications they use.
Related: Dell simplifies IT operations with PowerOne autonomous data center

VxRail
For customers in need of a more extensive solution and who might also be thinking of a hybrid environment, Dell Technologies also offers VxRail solutions. This solution works in conjunction with VMware, where the customer has an Intel-based VMware appliance in their own data centre. The appliance can also be directly linked to VMware on AWS, for example. This allows for some flexibility. The customer can either run workloads in their own data centre or in the cloud from a single pane of glass. Workloads can also be moved from the data centre to the cloud or vice versa very quickly, which is very useful in the event of an emergency. This is also a good solution for customers who suffer from latency problems. Some customers simply need computing power on-premise for quick data processing, without having to send the data to the cloud and back.
We also mentioned Nutanix before. Dell Technologies has a wide range of Nutanix certified Intel servers in its line-up, offered by partners in conjunction with the Nutanix software. As VMware is a subsidiary of Dell Technologies, the company puts more emphasis on its VMware offering. That's reasonable, but Nutanix products are still supported and offered through partners.
Cloud-only, multi-cloud, hybrid cloud or simply on-premises
During our conversation, Eikenaar stressed that companies have more choice than ever and that each company has to figure out what solution fits them the best. It really could be anything, from cloud-only to a hybrid cloud setup or on-premises in your own data centre. In any case, it is important to take a good look at the company data, future perspectives and what requirements there are from the business. Ignoring the cloud, as well as ignoring on-premises, isn't a smart move.
The people at Dell Technologies are also happy to engage with customers to help them find the mix of solutions best suited for them. Many companies end up opting for some hybrid cloud solution. For example, Office 365 is very popular in many verticals and countries, which is a cloud-based application. So don't be fooled by all those marketing stories, but draw up a clear set of requirements and be well informed.
Tip: Dell EMC PowerStore: new intelligent storage system for all data