Dell Technologies thought it was time to rethink and innovate the way we store data. A new all-embracing system that takes the work out of our hands by automation or running autonomously. The Dell EMC PowerStore is what they call a mid-market enterprise system, making it available to SMEs with large storage needs.
Dell Technologies has built a new storage system with all the knowledge and experience it has in-house. With all the knowledge we refer to the expertise from not only Dell but also EMC and VMware. Various companies within the Dell Technologies group have contributed to this new system and the new storage system has been build from the ground up.
This system will eventually compete with all the storage solutions that Dell Technologies currently offers. They don't quite want to put it that way, but it does come down to it eventually. After all, why invest in a more expensive solution that requires more staff-hours, when this new system can do it better and cheaper?
What is unique about the Dell EMC PowerStore?
The Dell EMC PowerStore is Dell EMC's latest storage server. This server runs PowerStoreOS, the new storage operating system that enables the new generation of storage. In the end, the server itself just adds a little to the solution, because it is mostly plain vanilla hardware (generic hardware based on an Intel x86 processor). Dell EMC also announced that PowerStoreOS will soon be available independently, in the near future you can just buy a license for PowerStoreOS. Of course, you still have to build your server farm with vanilla hardware to run PowerStoreOS. But it means it doesn't have to be Dell EMC hardware and it may also be your current supplier that already delivers all servers and maybe laptops and desktops.
We checked with Dell EMC to see if specific firmware or hardware changes have been made to let PowerStoreOS work better on the Dell PowerStore appliance. In principle, this is not the case; PowerStoreOS is a software solution that will change the way data is stored. However, Dell EMC does point out that more redundancy is applied in the appliance through dual controllers and they have used faster NVME connectors. Also, Dell EMC has a lot of expertise in putting together the best hardware components for a server. In the end you want a well tuned server with optimal performance. So the innovation is mainly in PowerStoreOS, but also in redundancy and optimal components. PowerStoreOS is currently not available separately as a license, Dell EMC can not yet give a date when this will be available.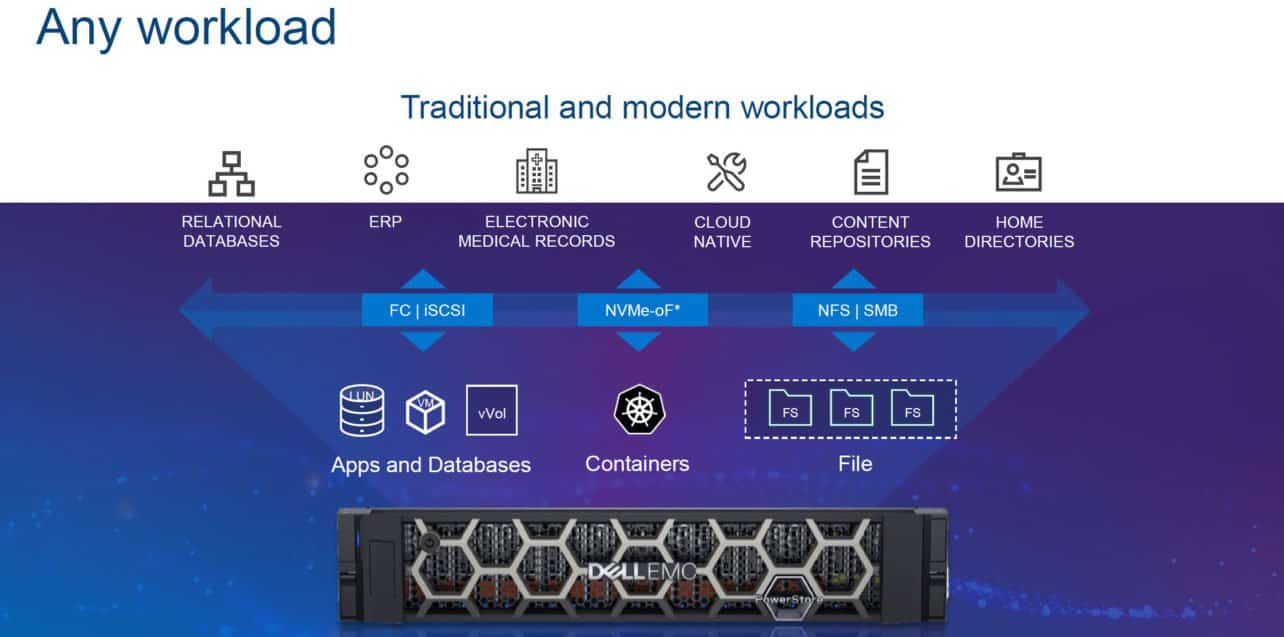 What is PowerStore?
PowerStore allows all forms of data to be stored side by side within the same PowerStore platform. Whether it's block-storage or object-store, whether you want to store Windows 10 desktop VMs (virtual machines), your database server or your ERP solution: it's all possible via PowerStore. According to Dell Technologies, bringing together all the different qualities within the company has led to great results, the Dell EMC PowerStore would be seven times faster than the current Unity XT. All thanks to the PowerStore software and the appliance hardware.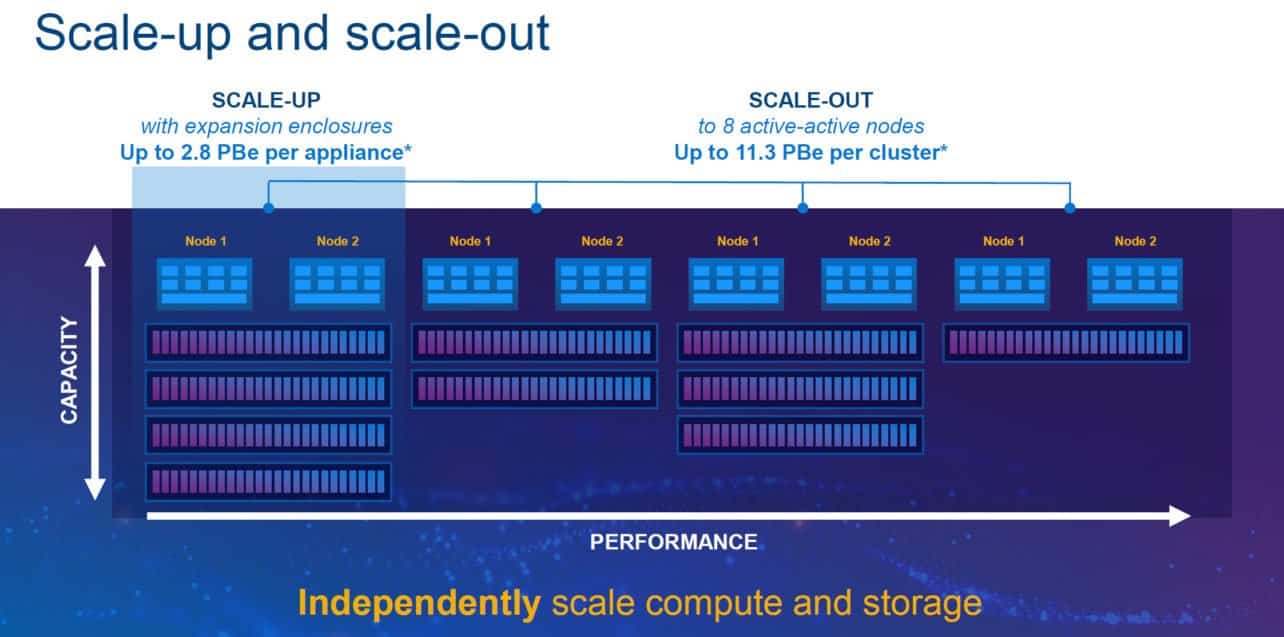 From small to large storage
A PowerStore platform can theoretically consist of (multiple) racks with storage servers that are all clustered into one large PowerStore platform. According to Dell EMC, this will not happen any time soon. The Dell EMC PowerStore can be configured in different formats, but in the standard 2u housing a maximum of 1.5 petabytes of storage capacity is possible. It fits 96 NVMe drives of 15.36TB each, plus 2 or 4 more NVRAM drives. That's a performance in itself for such a compact enclosure.
On the other hand, the Dell EMC PowerStore can also be used for edge computing and IoT purposes. For this purpose, an appliance has been developed that is fully redundant and for which Dell EMC dares to offer an availability guarantee of 99.9999 percent (guarantee is only offered on Dell EMC hardware). A PowerStore edge unit does not have to run on its own. You can also make it part of a large cluster, where the edge unit is always synchronised with the base cluster in the data center. If something should happen, the data is safe.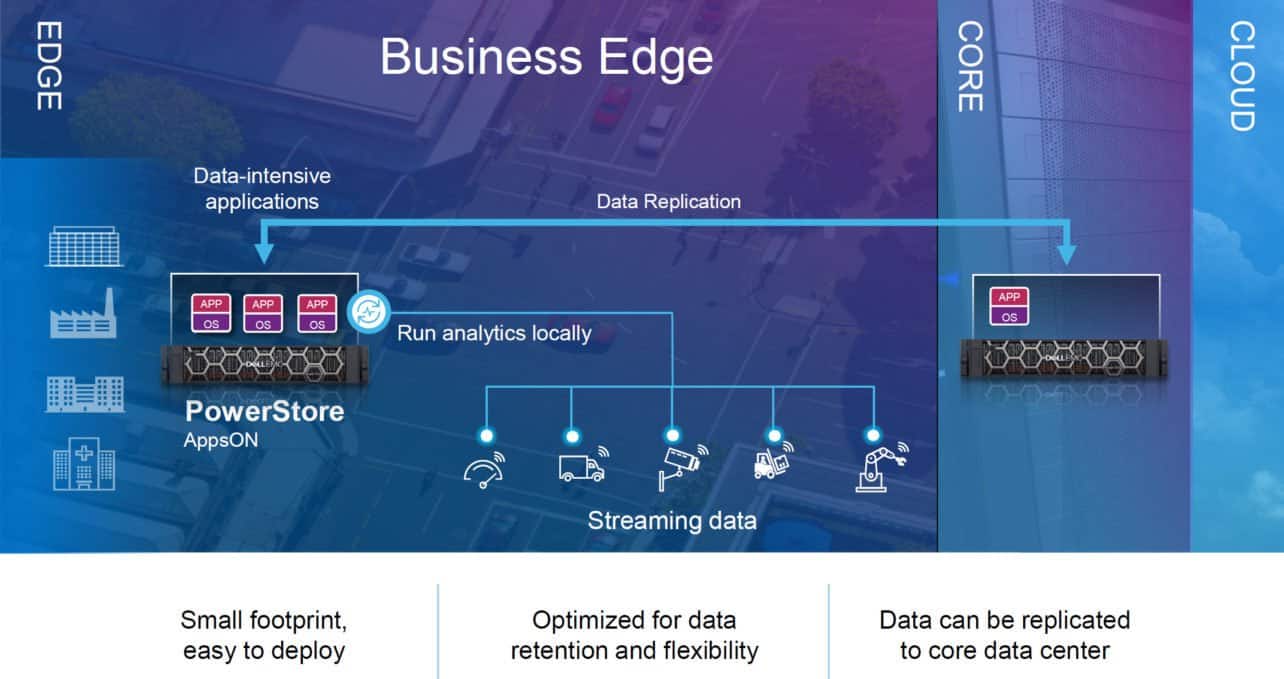 For these edge-computing clusters, Dell EMC sees many possibilities. For example, for smart cities, where traffic lights and camera surveillance, among other things, have to be controlled. There is not always room for large servers, but there is room for a reliable edge computing solution.
How does PowerStoreOS work?
What Dell EMC has done with PowerStoreOS is develop a new stand-alone operating system. Storage pools can still be created for a specific purpose, but the software will analyse the data itself to see how that data can be stored as efficiently as possible. At the same time, the data must also be available as quickly as possible when there is a demand for it. To this end, the necessary machine learning and AI have been added. The system will analyse the data that is stored and see what type of storage it is and how often applications use the data. The data will then be stored across the storage server or multiple storage servers to improve performance. If data can be delivered from multiple servers it will be faster than if everything has to come from one server. The same applies when everything has to come from the same NVMe drive or from multiple drives. The dispersion and efficiency that can be achieved is performed completely autonomous by PowerStoreOS.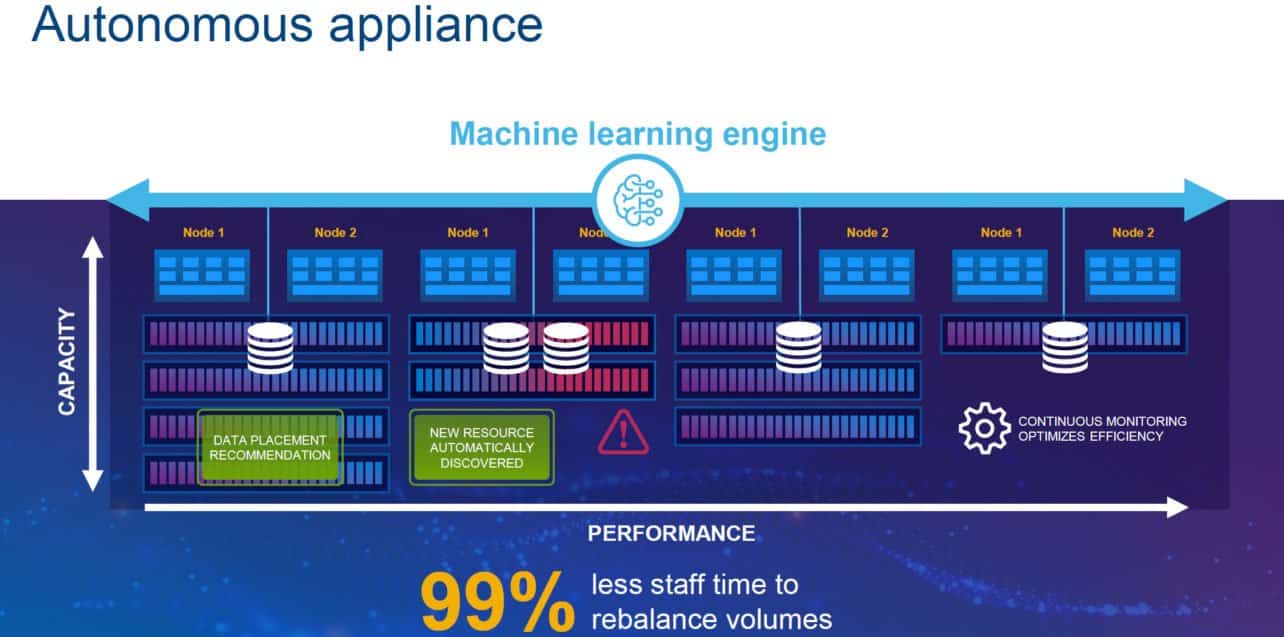 Based on the use and demand for data, a pattern will emerge. There will also be a steady increase in the volume of data. This allows Dell EMC to predict when there is a risk of a shortage and when it might be wise to add extra capacity or add a node (extra server).
The PowerStoreOS operating system is fully container-based and modular build, making it easy to expand and improve in the future. It, therefore, meets the requirements of modern infrastructure and that is important because ultimately the future development of this platform will be important for its success.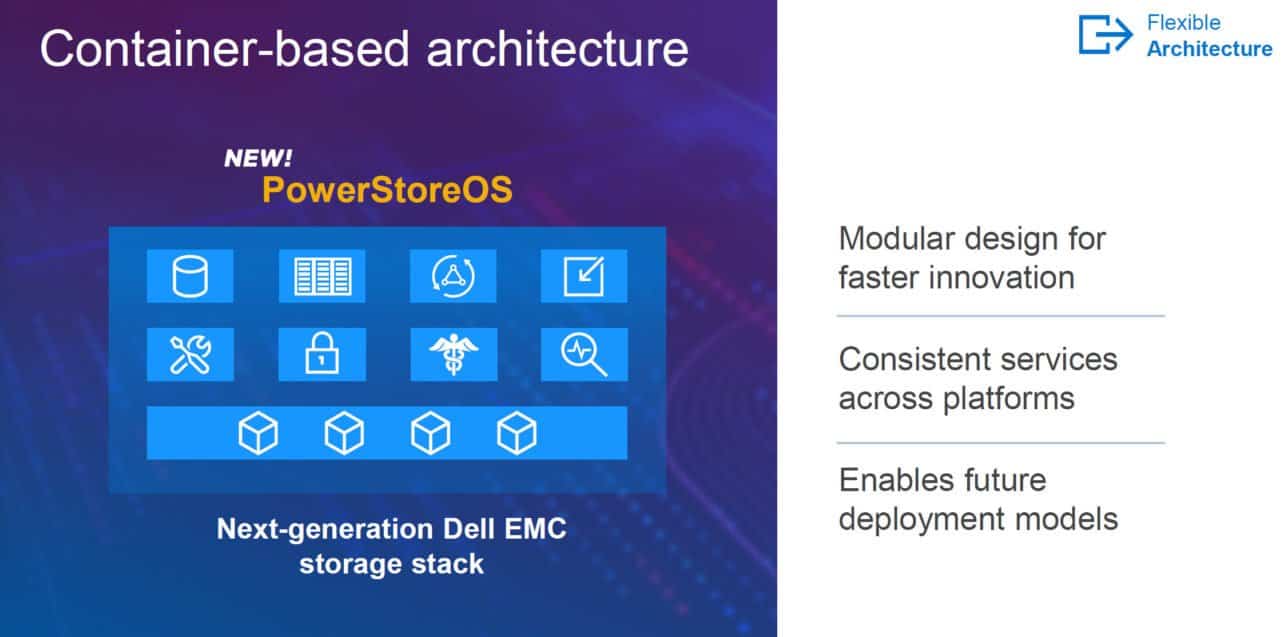 Widely deployable
The purpose of PowerStore is to be as versatile as possible. All possible forms of data can be stored with PowerStore. Where companies used to buy a specific storage system for one particular data need, you can now buy a generic system on which you can store all types of data (together on the same platform). Some companies have three different storage systems representing three different types of data, all of which can be merged together on a PowerStore platform. Combining all storage platforms to one is an idea that some IT professionals will have to get used to. In this case, Dell EMC will have to rely on customers who are willing to serve as examples for great case studies, because we suspect that not every customer will go for PowerStore immediately.
The beauty of the new generation of autonomous products is that case studies will come pretty quickly. In the end, a computer always wins from a human when it comes to autonomous tasks, we just can't cope with the efficiency in our heads.
Competition with specialist platforms will be fierce. Whether Dell EMC always wins on performance will have to be proven. However, merging multiple storage systems into one virtually autonomous system does lead to cost advantages. That is still a valid argument in every company.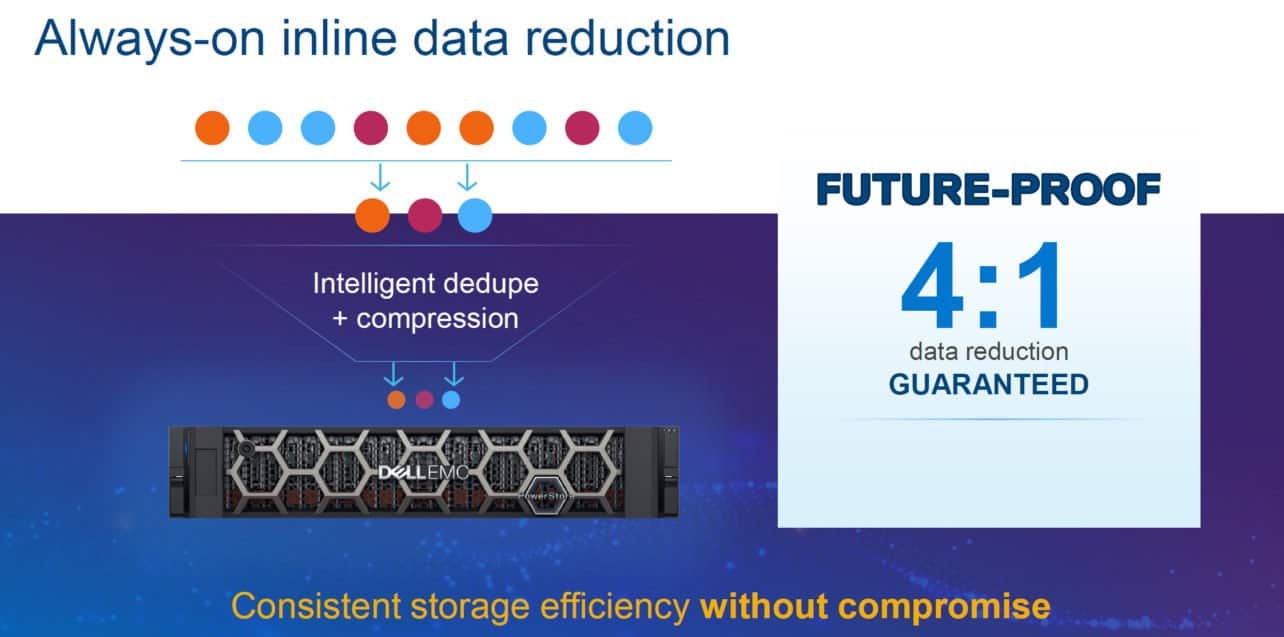 One of the frequently asked questions with storage systems is always deduplication. You don't want to store the same data multiple times, and every manufacturer has its deduplication algorithms. Dell EMC dares to offer a data reduction guarantee for the PowerStore from 4 to 1, which consists of both deduplication and compression. The deduplication rate is not the highest in the market, but Dell EMC also states that it will often be better. However, PowerStore is a generic storage system for many different types of data, and then a hard guarantee is more complicated.
Virtualising applications on your PowerStore server (AppsOn)
Dell EMC also presented the ability to virtualise applications on the PowerStore server, this is called AppsOn. We had to think about that for a minute because that doesn't sound very logical. A storage server is primarily for storing data, not for running applications. For running applications, you need a lot of computing power and memory. We talked about this with Robert de Koning of Dell Technologies. He told us that you should mainly think of applications that work directly with data. Often you have an application server next to your storage server with all kinds of applications that perform analyses on that data. You can now run such applications on the PowerStore with AppsOn.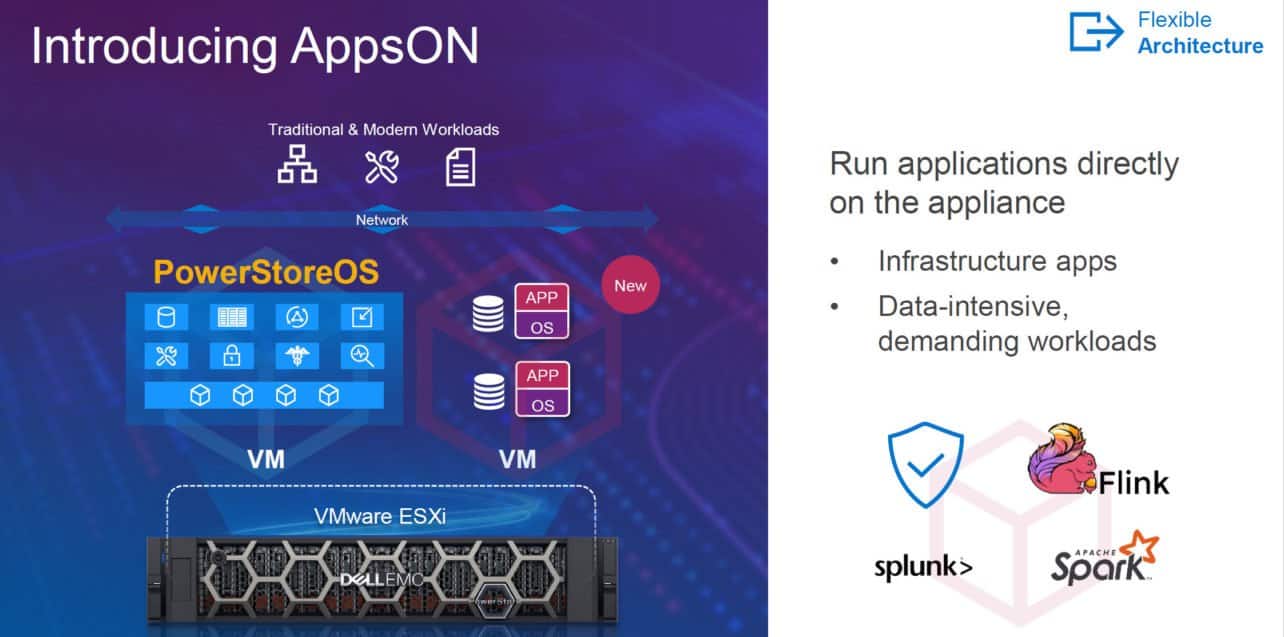 It is not the intention to virtualise your entire server portfolio on your storage server, but you can run for example, Apache Spark, LogRhythm or Splunk on your storage server.
That this is possible is again thanks to Dell Technologies subsidiary VMware. VMware ESXi (hypervisor) runs on top of the hardware and on top of the hypervisor runs the PowerStoreOS and other AppsOn applications. Since the storage solution uses VMware technology, it can also integrate well with the existing VMware portfolio. You can easily link the PowerStore with VMware Cloud Foundation.
On-premise and cloud integrations
The PowerStore is easy to integrate with VMware Cloud Foundation, making the storage server easily accessible again to all servers virtualised in the data center next to the PowerStore. The integration with VMware immediately brings a lot of advantages. In terms of integrations, however, it doesn't stop there.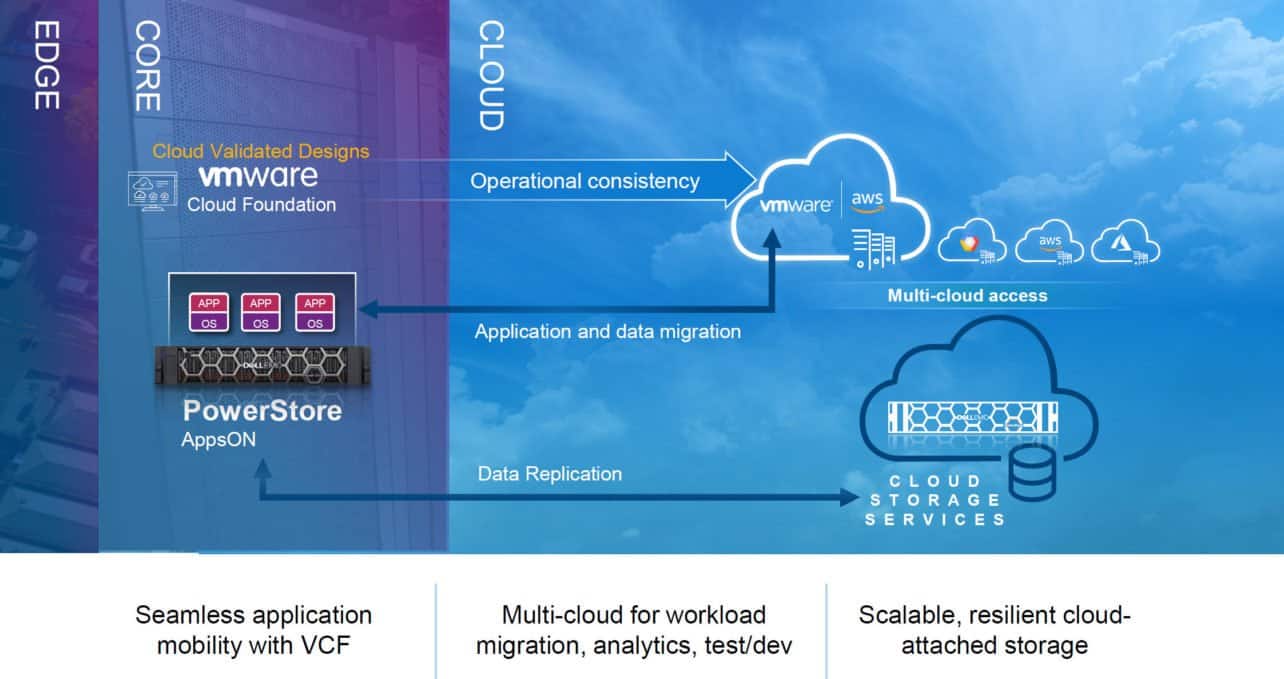 You can easily replicate or migrate data from and to the cloud. PowerStore has direct support for Amazon Web Services (AWS), Microsoft Azure, Google Cloud and VMware on AWS. You can choose to make specific data available in the cloud, for example, for availability in other regions. However, you can also use it for disaster recovery. If your primary data center becomes unreachable, you could temporarily move to one of the many cloud providers and start to run applications there. It is also possible that your company has a multi-cloud strategy where some applications run on-premise and others in the cloud, but for compliancy reasons, you need to have all the data together on-premise on your PowerStore. You can sync all your cloud instances with the PowerStore platform.
Flexible migrating, scaling and upgrading
With the PowerStore, Dell EMC brings the modern autonomous infrastructure one step closer. Of course, there are always questions about migration, scalability and upgrade possibilities and possible downtime. Dell EMC has a modern approach and offers a lot of flexibility. You can purchase the Dell EMC PowerStore using a pay-per-use model. Dell Financials Services offers a Pay As You Grow and Flex On Demand program, which is available in most European countries.
Furthermore, you can easily migrate from all existing Dell EMC solutions to Dell EMC PowerStore, which is already embedded in the platform. For migrating from third-party solutions there are already some solutions in place, but this is different for every third party solution. The intention is to migrate from all popular existing storage solutions.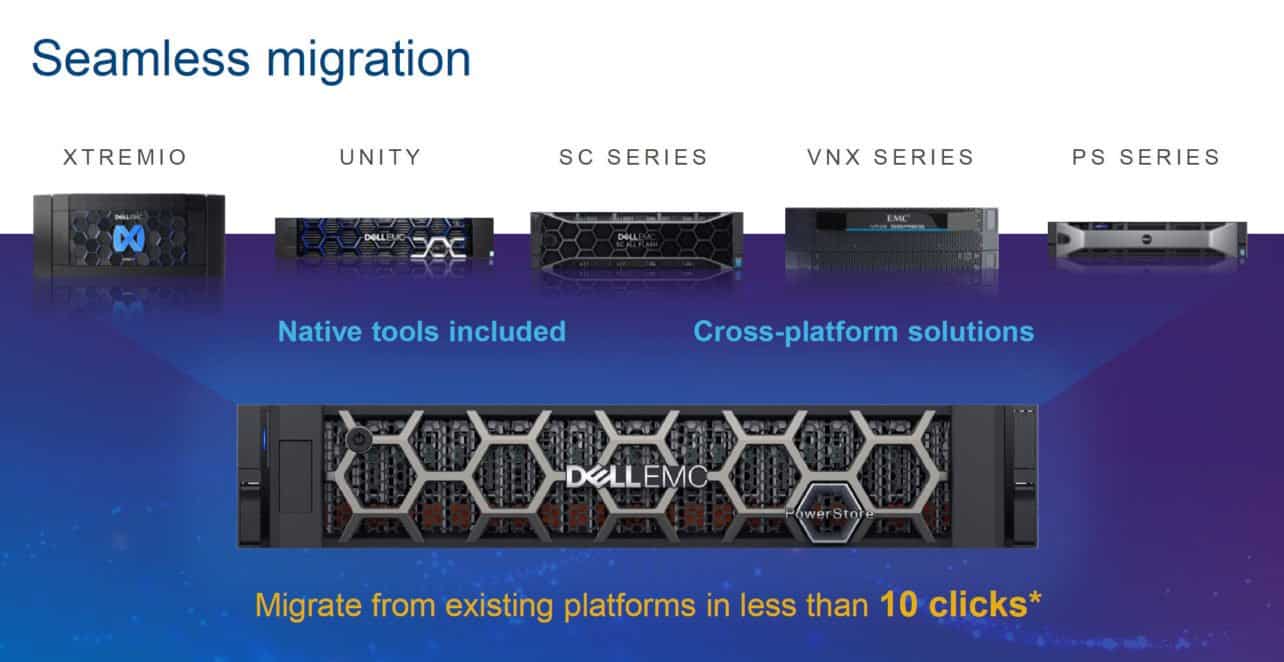 When it's time to expand the PowerStore, Dell EMC will offer customers a discount. The expansion process itself is fully automatic. As soon as you add a new appliance to the network, the first appliance will automatically recognise it and add it to the cluster. Also, all workloads will be analysed to see what the best way is to spread the storage environments across the underlying hardware.
The next step in autonomous has been taken
With the Dell EMC PowerStore and the PowerStoreOS, Dell EMC has taken the next step in autonomous. Last year we already wrote about Dell EMC PowerOne, the autonomous product. This is a complete data center in a rack that works autonomously. Now Dell EMC adds an autonomous storage solution. This will significantly reduce IT management hours and improve the stability of the infrastructure. Autonomous seems to be a core value of Dell's current technology strategy. We look forward to seeing what else becomes autonomous in the future.
Dell EMC is currently the market leader in the enterprise storage market, but the competition is also growing stronger. With this product, Dell EMC will at least make a good attempt to keep the competition behind. We will see how the market develops.