The hybrid cloud has become a top choice when it comes to setting up infrastructure and IT services. After all, the cloud model can offer organisations the flexibility to adapt to new situations. At the same time, the IT ecosystem is getting bigger and more complex, something that calls for a new perspective on hybrid cloud management. That is where Micro Focus aims to help, with its solution HCMX.
Recently a research of analyst Research in Action (RIA) published a report which positions Micro Focus as one of the key players for hybrid cloud service management solutions. It made us curious to take a closer look at the approach of Micro Focus.
RIA looked at four sub-topics around hybrid cloud: discovery and mapping solutions, infrastructure management solutions, service management solutions and cost management solutions. The reason Micro Focus is proud to share the survey, is that the IT vendor was named a winner in the hybrid cloud service management category because it "enables global organisations to transform into a digital business".
Hybrid cloud is the standard, but is also complex
That position may well pay off for Micro Focus, as RIA's research finds that a majority of enterprise organisations use a mix of private and public cloud infrastructure and IT services. Provisioning, monitoring and managing the resources and environments ultimately require Hybrid Cloud Management solutions. " The use of Hybrid Clouds in enterprises globally has multiplied in recent years. While more than 90% of enterprises globally today use Hybrid Clouds, there are still more than 40% of companies that do not have Hybrid Cloud Management solutions in productive use," RIA said.
According to the analyst firm, change is coming soon, though. It expects that next year, only 3% of multinationals will not be using Hybrid Cloud Management solutions. Based on company size, region and industry, organisations will embrace Infrastructure Management and/or Service Management solutions.
Such solutions will be needed to make the hybrid cloud a success. While the hybrid cloud offers benefits, it also causes complexity. Workloads and applications move to the cloud, but at the same time companies continue to use legacy servers and databases, for example. The fragmented landscape can make visibility complex. It is difficult and time-consuming to deploy services across the dispersed infrastructure. At the same time, IT is under pressure to deliver a lot and quickly in the hybrid world, without losing sight of governance.
OPTIC helps businesses and IT move forward
According to RIA, Micro Focus has recently put addressing those challenges quite central in its product development. Last year, it evolved its ITOM platform, used for installing and updating Micro Focus solutions, into the OPTIC platform (Operations Platform for Transformation, Intelligence and Cloud,). Updates were added to ITOM over the years to unify identity management, single-sign on, container management and integration capabilities. It was then scaled up with additional focus on data and analytics, automation, discovery and user experience. HCMX (Hybrid Cloud Management X) made its introduction, which can do a lot for managing hybrid environments and is crucial in the evolution to OPTIC.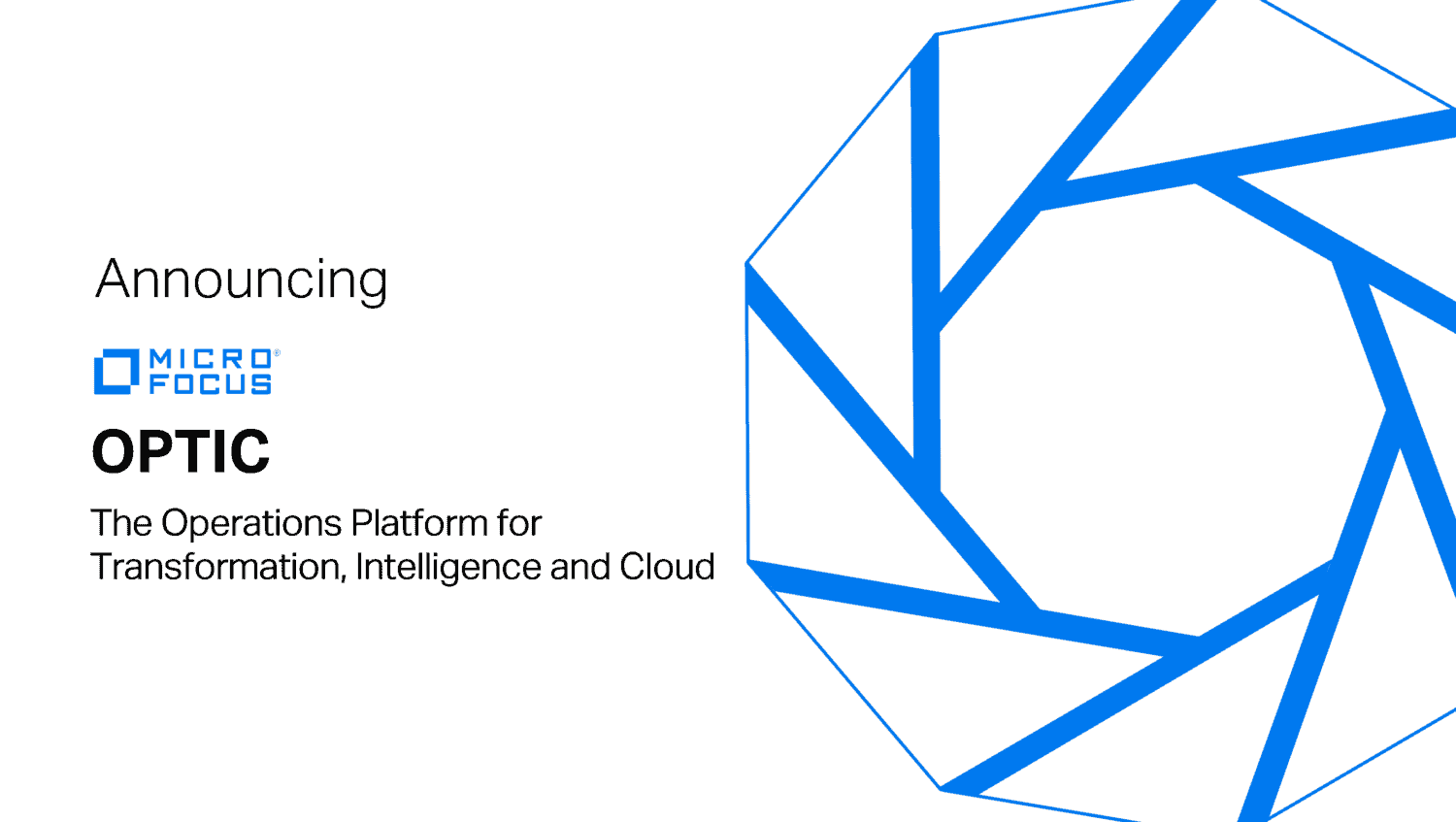 Due to the substantial expansions, Micro Focus decided to refer to it as OPTIC. RIA calls OPTIC "significant step towards the next chapter of digital transformation which enterprises are needing within both business and IT teams". What OPTIC does, is provide a lot of automation, allowing enterprises to introduce services faster. It uses open, composable REST APIs and a set of connectors. As a result, to make everything work properly, companies no longer need to replace valuable systems. Micro Focus aims to keep it easy to keep using the solutions, by offering the following options:
Unified process automation – with embedded best-practices content that improves productivity without requiring brittle custom code.
Discovery and topology mapping – for both cloud and on-premises environments that enables efficient management based on current configurations.
A single interface for user self-service – backed by smart virtual agents, that reduces user frustration while improving response times and staff efficiency.
Flexible deployment options—in the cloud, in containers, as a service, or on premises—and the ability to switch as needed.
OPTIC was ultimately created to combine cloud discovery, monitoring, management and governance with a company's on premises strategy. They can set up safeguards and policies for the cost of hybrid environments through the platform. It is possible to unify performance and availability management for all applications and infrastructure.
RIA also praises the fact that OPTIC encourages the use of AI. OPTIC lets IT professionals understand data from tools in IT environments. For this, Micro Focus developed algorithms to analyse data from different sources.
HCMX takes cloud management forward
Looking a little further into Micro Focus' service management capabilities, the tailor-made solution HCMX stands out in particular. This solution basically tackles three cloud management-related issues. The first pillar the company calls 'fulfilment orchestration'. Within this pillar, HCMX offers customisable service designs, which allow the automation of different types of requests to IT. An orchestration engine handles deployment, making service delivery faster. The engine can also orchestrate lifecycle management and change request actions. Tasks can be automated by customising automations. HCMX offers 8000 operation workflows for this purpose, which can take over a lot of manual work.
The second pillar is 'consumption simplification', which lets users more easily use multicloud services through a portal. In a self-service catalog, all services should be available, including those from external suppliers. If users need help, they can use AI-based search and smart virtual agents.
Finally, there is 'governance enforcement'. HCMX makes it possible to set governance rules for compliance and cost optimisation. Based on what the user has configured, the rules automatically trigger workflows. For example, it is possible to define which employees should approve the different parts of a request. HCMX can also be used to optimise cloud usage. Dashboards provide insight into each department's spending. In addition, HCMX comes up with recommendations to reduce costs.
Ready for the future
RIA finally notes that Micro Focus has a broad portfolio and good integrations between its own products and domain-specific solutions. It makes Micro Focus an "an excellent partner for all global enterprises journey of digital business transformations". The analyst firm therefore expects Micro Focus to remain one of the more important market leaders for hybrid cloud management.