At Paessler, the development of a monitoring tool with a variety of use cases is in full swing. Additional focus on the cloud, enterprises and industries shows PRTG is working on further relevance.
Paessler exists 25 years this year and in that time it has made network monitoring its specialty. Therefore, the basics are in place. At the same time, in recent years users came with requests for various extensions. Paessler responded to major requests, expanding PRTG's monitoring capabilities to the cloud, gaining more enterprise options and offering customization for different sectors. We talked to Country Manager Benelux Wilco Ravestein and Regional Sales Manager Northern Europe Martin Hodgson about the developments.
Traditional capabilities
The core Paessler PRTG product continues to offer basically what it became big with. That is, a tool with sensors that monitor essential parts of the infrastructure. These can include network equipment and traffic. Should a problem occur or exist, Paessler recognizes it. The appropriate employee receives an alert so that a solution can be provided as soon as possible. This keeps the infrastructure running. At most, the infrastructure is unavailable for a short period of time because the solution to the failure of a component can be a bit more complex.
So familiarity has been built with network monitoring, for which PRTG offers many different sensors. Yet the tool has long been deployable for other IT components. For example, there are customized sensors for storage hardware and you can monitor applications running on the IT infrastructure.
Step to the cloud
Paessler actually had an SMB approach with this product, Ravestein says. Everything was put into one solution for these businesses, so they have what they need. They take out a license, and then they deploy PRTG on their server to start building the solution tailored to their environment there. On that server, they can configure the sensors needed to monitor the components they want.
This approach can still work, but Paessler also received requests to expand to the cloud. "At some point, therefore, we developed Paessler PRTG Hosted Monitor, PPHM. This allows customers to use a subscription model. And they don't have to deal with the core server, because we do it for them in the cloud. We update it and ensure it runs the latest version," Ravestein said.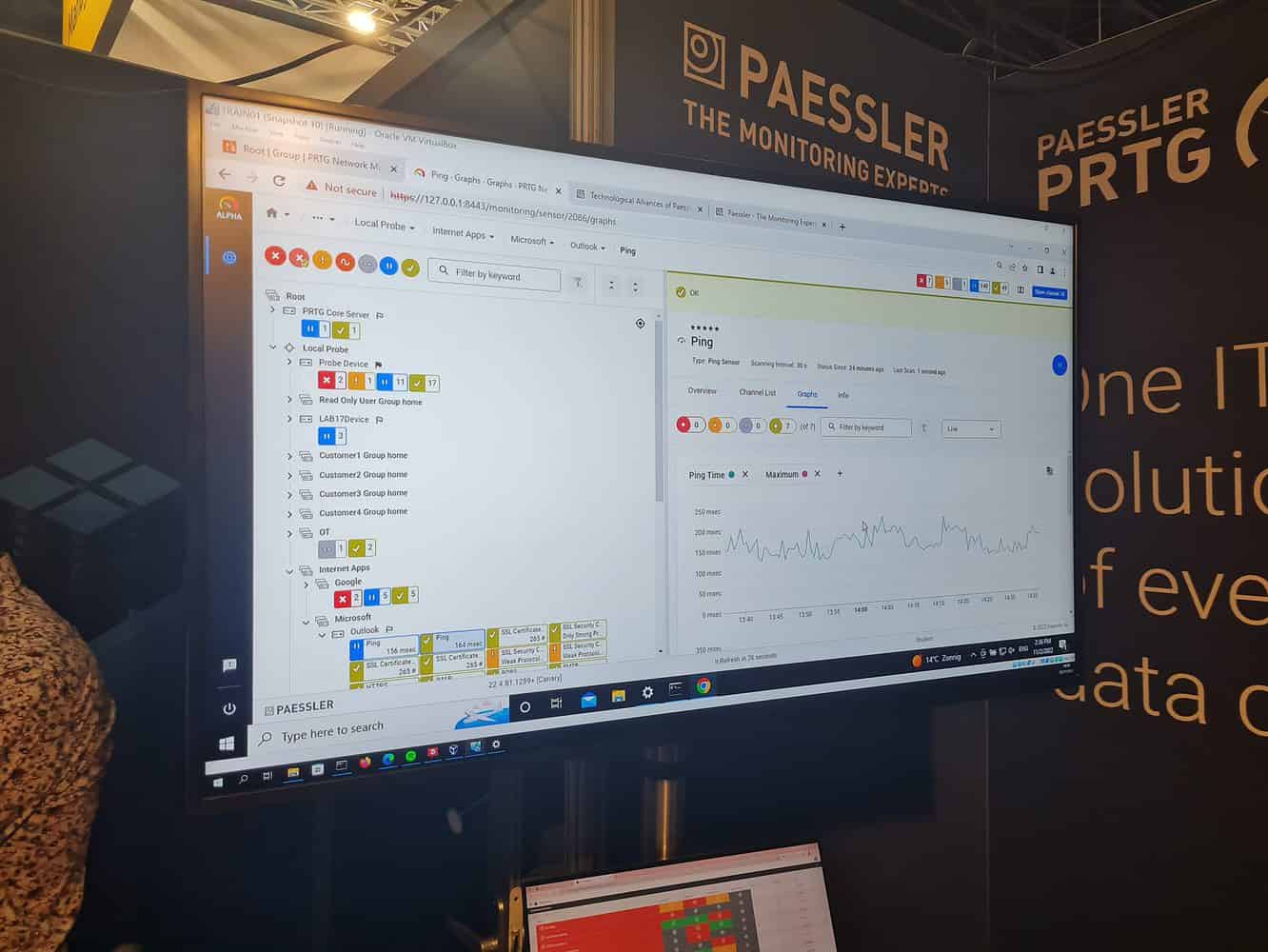 PPHM uses AWS servers to accomplish this. A company that starts using PPHM can choose which AWS region to monitor on. This can be convenient for compliance purposes. While AWS does not offer a dedicated region in the Netherlands, there is a Frankfurt region, for example. In Germany, the requirements around data are a bit higher still, so there your PRTG sensors are in a place with high standards from the cloud vendor and the country itself. Another advantage is that updates happen automatically and Paessler backs up the PRTG configuration regularly. Such steps keep things secure.
In addition, Ravestein points to PPHM's subscription model. Such a model can be useful for moving with a company's needs. If a company wants to use more sensors, PPHM allows them to set up the sensors without running into licensing restrictions. PRTG Hosted Monitor makes this possible by charging for usage monthly or annually. With self-service options, the subscription can be changed at any time.
PRTG shows strength in enterprise market
As mentioned, Paessler PRTG comes primarily from the SME world, something PPHM is also made for to some extent. However, the monitoring tool also serves multinationals. The move to the enterprise market has been made. Some PRTG users grew so fast that they ran into scale limitations. Other users were interested, but simply couldn't accommodate their infrastructure well enough. "A subscription model was a smart move from that perspective. In doing so, we said, 'here's a box with 20,000 sensors, just distribute it across as many core servers as you want.'"
Basically, with this move, we arrived at three different licensing models for PRTG. The "classic version" of PRTG Network Monitor is the one-time purchase option for SMBs. In turn, the previously described PPHM is also suitable for SMBs (due to a maximum of 10,000 sensors), but offers purchase based on a subscription model. When you grow out of those solutions, Paessler offers PRTG Enterprise Monitor. This option starts at 20,000 sensors; more is of course possible.
Sensors tailored to the market
Ravestein and Hodgson indicate that in the enterprise market the needs go beyond just a new licensing model. Large companies, they say, expect a certain dedication from IT vendors, showing that the solution understands what a company is targeting. "That's why we are stepping more and more into specific sectors. Healthcare is one example, but also data centers and education. We want to focus on such verticals as well," Ravestein explained.
Earlier, we wrote about Paessler PRTG Monitoring in healthcare. Be sure to read the story again for more on monitoring in healthcare.
We also ask Ravestein to explain a bit more about that further focus on markets, including data centers. He points out that data centers monitor infrastructure to keep an eye on whether it is running smoothly and reaching the service-level agreement. "Data centers run sensors to see the status of systems. Or, for example, what the temperature is in the data center. Are the fans actually working? But we also have collaborations for data centers, for example, where we built specific sensors for equipment. In this case, it could be racks in data centers."
OT monitors
The increasingly broad focus with the proprietary product and collaborations is inevitable in Ravestein and Hodgson's view. As far as they are concerned, Paessler will therefore increasingly make its mark in environments other than just IT. OT they have in mind. "What PRTG does in the IT world in a simple way, IT people can monitor and get an alert, is not really there for the OT world. We need to break that. We have to converge IT and OT. Then it becomes very interesting," Hodgson states.
According to Hodgson, employees on the OT side have no problem making that move. "Visualization and alerts is doable without an IT background. We've designed everything intuitively."
The confidence ensures that Paessler is increasingly finding the OT world. PRTG has its own sensors for this purpose, but it also seeks collaboration for it. The latter may include connection to Siemens S7 and S5 protocols. These are used for communication of Programmable Logic Controllers (PLCs), the machines that are often the brains of a factory. Previously, Paessler could do nothing in this area; only through collaborations can such environments be reached.
An example from Ravestein and Hodgson is a German factory producing large trucks. There they started monitoring vibrations from a machine. If vibration increases, it indicates that the bearing machine part is breaking down. If defective bearings are detected too late, the ordering process for new parts is triggered too late. In that case, production comes to a halt for five days. With monitoring, it can be mitigated and new material can be ordered and installed in a timely manner, stopping production for only about two hours.
Relevance clearer
With the truck factory example, Ravestein and Hodgson paint a good picture of the broader relevance of PRTG. While the monitoring tool was originally created for network monitoring, its functionalities now extend far beyond the network. By expanding its operations in the cloud, for the enterprise and various sectors, there is a more complete solution than before. This provides a solid foundation on which to build in the coming period.