In uncertain times of crisis, consumers expect companies to adapt to new behaviours. Further digital efforts are often needed to respond to the new demands of customers. During the corona pandemic, the call for further digitalisation is even greater than before. This is according to Salesforce's State of the Connected Customer report, which paints a picture of the current situation.
In recent months, we have experienced how radically and rapidly business operations can and must change as a result of a crisis. While some companies were able to continue running their business as usual, many organisations had to look for new ways to respond to customer needs. Due to the restrictions on physical meetings, these consumers now more often rely on digital services. Restaurants that used to have a limited digital presence, to name one example, now sometimes choose to offer take-out and delivery options via the Internet.
The need for companies to digitise has reached an abrupt turning point. Customers demand digital convenience and expect brands to innovate more than ever. They want as much of a personal experience as an empathic experience. These desires mean that many companies have to take digital steps to build in some security for the future.
The crisis has made a number of issues and questions more relevant than ever. Salesforce tried to find out what these issues are in its State of the Connected Customer report, surveying 12,000 consumers and 3,600 businesses. For example, it looks at how consumer expectations change in a continuing crisis and whether the rapid and large-scale shift to digital is affecting long-term expectations.
Customer relationships are essential during crisis
The changes in businesses and for consumers during the corona pandemic are unprecedented, notes Salesforce. All aspects of our personal and work lives have changed, and the customer-brand relationship is not immune to change either. Yet, despite the disruptive factors, the customer experience remains the undisputed differentiator. Therefore, it makes sense for companies to look for new ways of customer engagement. Digital innovation is setting a new standard. Innovation is particularly popular among younger generations.
According to the study, the importance of winning customer trust is also underscored as we find ourselves in a chain reaction of crises. "Today, customers are not only placing more emphasis on the importance of trust in their relationships with brands, they are also raising the bar when it comes to winning that trust," Salesforce said.
82 percent of those questioned consider the reliability of a company more important than a year ago
Figures that demonstrate this: 82 percent of those questioned consider the reliability of a company more important than a year ago. The crisis appears to be an influencing factor here. For example, 31 percent of customers trust companies less because of how they responded to the crisis. On the other hand, 51 percent of customers trust a company more because of its reaction to the crisis. Additionally, 90 percent of consumers think the reliability of a company is reflected in how it deals with the crisis. A reliable company is much more likely to honour its commitments, which is considered important during a crisis.
Business-to-Business (B2B) relationships also fail to live up to expectations. This is the case, for example, when salespeople do not understand the unique circumstances of their customers and push products rather than offer solutions. In B2B relationships, salespeople actually win customer trust by offering tailored solutions based on a demonstrable understanding of the company's unique challenges and goals.
Distinguish by understanding and ease of use
It would be best for companies to nurture the relationship with their customer to reach the full potential. The role of customer service has evolved from dealing with acute problems to feeling that the consumer is really being looked after. Good customer service leads to trust, commitment and also benefits the bottom line. Almost all customers (91 percent) say they are more likely to make a new purchase after a good customer service experience.

You can offer this good experience by focusing on personal, flawless and fast service. The modern consumer expects a quick solution by directly speaking to someone when contacting a company. There are also steps to be taken in terms of customer expectations. For example, 68 percent of customers expect brands to show empathy, but only 37 percent of customers see that brands actually do so in practice. Another deficit is seen in understanding unique customer needs and expectations: the expectation is at 66 percent, while only 34 percent of companies treat customers as noticeably unique.
To provide the trusted and empathetic custom experiences that customers demand, a connected experience is critical every time the customer contacts the company
"To provide the trusted and empathetic custom experiences that customers demand, a connected experience is critical every time the customer contacts the company," states Salesforce. However, making this happen is easier said than done. "Especially when you consider that customers expect a unified front of salespeople, customer service agents and other personnel who all have access to the same context and information," reads State of the Connected Customer.
What is striking about this is that 54 percent of the customers indicate that they believe that sales, service and marketing do not share information. On Techzine, we regularly write that software suppliers offer options for this. Various Customer Relationship Management (CRM) packages prioritise this by offering a complete (360-degree) overview of all customer information. The survey does not indicate whether these CRM features are being underused.
Tip: Learn from other entrepreneurs how you can innovate during COVID-19
Moment of truth
What the consumers surveyed seem to agree on is that fully digital behaviour is something permanent. New habits are formed and will not just disappear. "As digital solutions become more commonplace, consumers expect companies to digitise their operations for personal contact across channels. This largely depends on the use of personal data and consumers are demanding greater care and transparency in this regard. 88 percent of consumers expect companies to accelerate their digital activities because of Covid-19," said Salesforce.
As you can see from the image below, the preferred contact channels have shifted over the past year. Most customers want to use multiple channels. Text messages/SMS and video chat have entered the top 10 for the first time.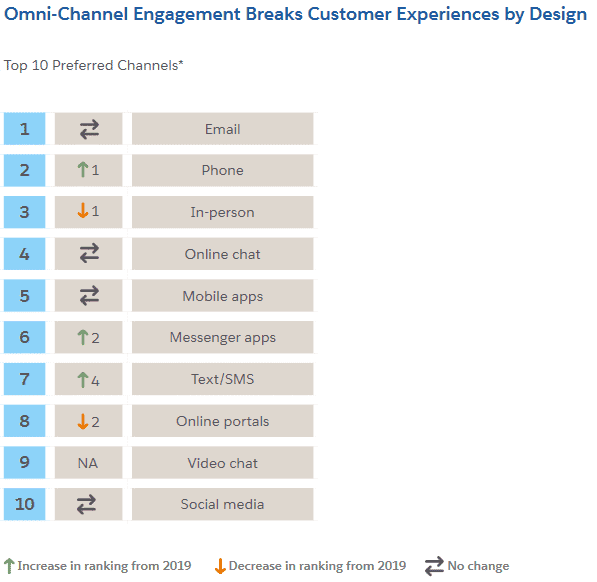 From the top 10, can be concluded that, now that much of the physical world is intermittently inaccessible to a greater or lesser extent, customers spend more and more time online. Digital communication has reached a tipping point. It is estimated that 60 percent of all transactions will occur online in 2020, compared to 42 percent the year before. This trend is expected to continue as the pandemic becomes less dominant in our lives. 58 percent of consumers expect to make more online purchases after the pandemic than before. Four out of five business customers even expect to do more business online.
At the same time, it is striking that artificial intelligence (AI) is gaining ground: 60 percent of consumers are open to the use of AI in customer contact. This is important in order to serve customers better in the channels mentioned. Examples of this are chatbots that quickly and correctly respond to customers and sales conversations that are recorded and analysed to improve future service. In our view, being open to the use of AI can also contribute to further digitalisation of services, although a majority of consumers do not trust companies to use AI ethically. There is still room for improvement here.
Tip: Salesforce Service Cloud Voice brings telephony and CRM together
Show company values
According to Salesforce, in addition to customers' digital desires, another phenomenon is influencing purchase decisions: company values and reputations. The research indicates that reputations are shaped by issues that have become visible in 2020. These include how staff are treated, attitude towards ethnic and economic inequality, social awareness and climate change mitigation. More than half (56 percent) of consumers re-examined the social role of companies in 2020. It appears that people really do have higher expectations of companies. The sentiments are shared by all age groups, not just the younger generations, as some believe.
"The long-overdue resolution of social, economic and environmental problems has come to the fore, and society expects companies to do their part to correct the mistakes. Paying attention only to the responsibilities towards the shareholders jeopardises the company's results. 86 percent of consumers say that the social role of companies is changing," concludes the Salesforce report.
Looking forward
All in all, consumer wishes have rapidly changed in a relatively short period of time. Customers come into contact with all kinds of products, services and experiences in different sectors. As a result, the standard is also constantly being influenced. It is therefore wise to not only look at direct competitors but to take a closer look at other sectors as well. Although responding to general trends resulting from the crisis helps, specific innovations can add value for the digital consumer.
Are you curious about more specific figures and trends from State of the Connected Customer? Then check out the Salesforce report for yourself.