Tableau Cloud, the new version of Tableau Online, is now available. The rebranding includes three updates.
Tableau develops an analytics platform. Salesforce acquired the company for $15.7 billion in 2019. The platform receives year-round updates, but the biggest announcements are saved for the Tableau Conference. During the most recent edition, Tableau announced more than ten updates.
Tableau Cloud
The cloud version of Tableau was initially known as Tableau Online. The name recently changed to Tableau Cloud. The rebranding includes three updates.
First, Tableau is making Accelerators available within the platform. Accelerators are templates for analytics dashboards. The templates are currently distributed on the Tableau Exchange, a separate marketplace. Soon, users will be able to browse and install Accelerators from within Tableau Cloud.
Second, Tableau is allowing users to send analytics dashboards to recipients without a license. When sharing a dashboard at this time, the recipient needs a Tableau licence. Soon, dashboards will be shareable with anyone.
Third, Tableau is introducing three new features for security and compliance. 'Customer-managed encryption' lets customers decide where encryption keys are stored. 'Activity Log' displays a history of user activity and permission changes. 'Admin Insights' is a new dashboard with relevant statistics for administrators.
Tip: Tableau lets you communicate with your data in-depth
Data Stories and AI
In addition, the beta of Data Stories was recently released to Tableau Cloud users. The technology allows you to convert data into visual presentations, as illustrated below. Tableau Server users can access the beta later this year.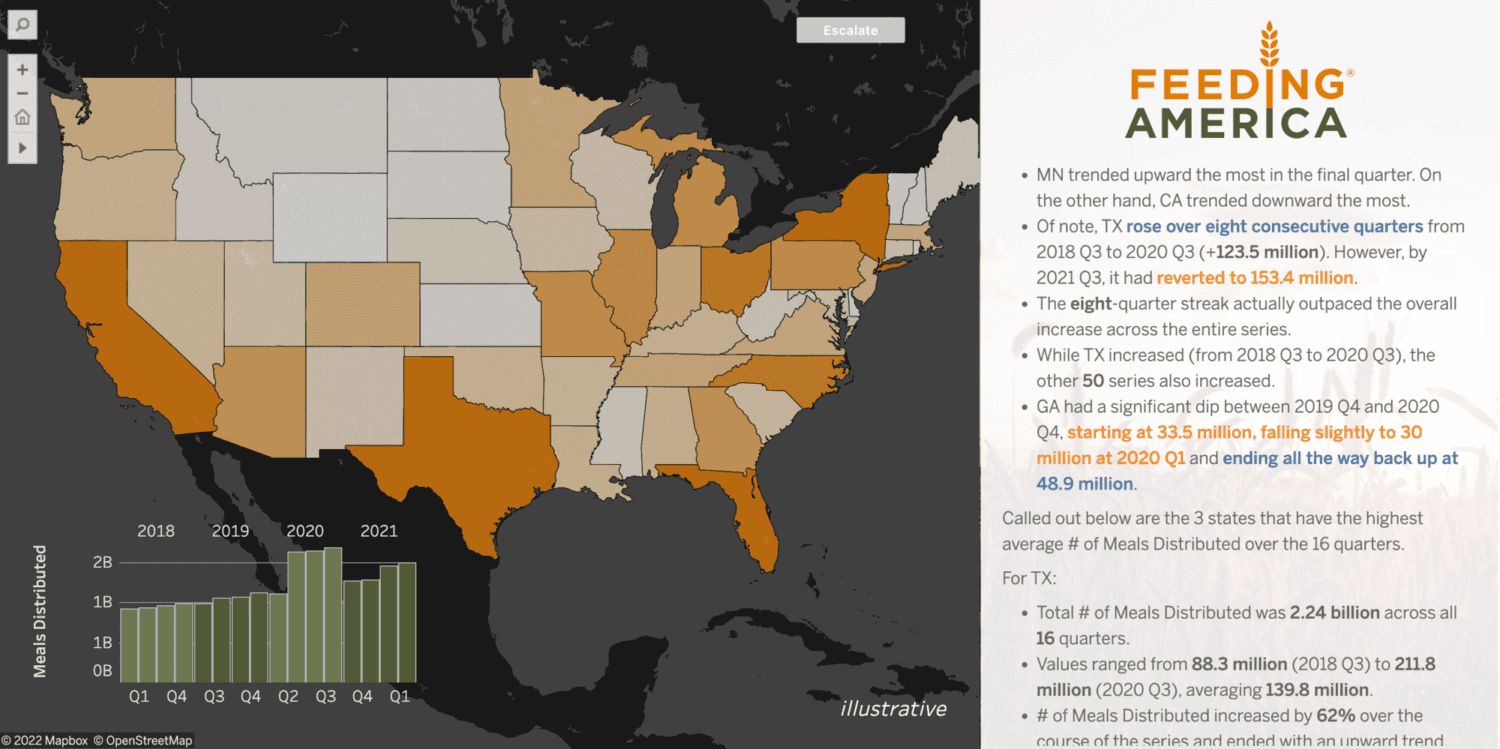 Tableau also confirmed that Model Builder will become available in the coming months. The feature allows users to develop predictive AI models without programming. All data within Tableau is usable for model development. Finished models can immediately start predicting trends in dashboards.
Finally, the organization shared an overview of smaller updates, spread across the platform. Two additions stand out. The Web Data Connector 3.0 is a promising drag-and-drop system for linking data and APIs. The Data Orentiation Pane presents the sources of dashboard data in a sidebar.
Tip: Tableau wants to make analytics understandable for everyone