Many companies see opportunities for ChatGPT, but there are also drawbacks. That is why some companies are formulating guidelines for using the AI chatbot. Other companies are even banning the use of ChatGPT in the workplace.
Banning, in this case, is found mostly among U.S. companies, particularly in the financial services industry. Large investment banks like Bank of America, Goldman Sachs, Deutsche Bank, Citigroup and Wells Fargo & Co. are banning ChatGPT in the workplace. On the other hand, a hedge fund like Citadel is embracing the technology.
Tip: How effective are ChatGPT-generated phishing attacks?
Rules, no rules or middle ground
Bloomberg relies on an unpublished Gartner survey of HR executives. Half of the companies surveyed say they are currently creating rules for using the AI tool in the workplace.
Yet again, a third of the respondents indicated that they are not yet ready to establish rules for the business use of ChatGPT. Gartner gives as possible reasons for this that companies are working in a sector where the technology is not relevant or that HR managers think the functionality will blow over. Other HR managers indicate that it is not their job to judge whether employees should be allowed to use ChatGPT, but that the legal and IT departments should make a judgment on this.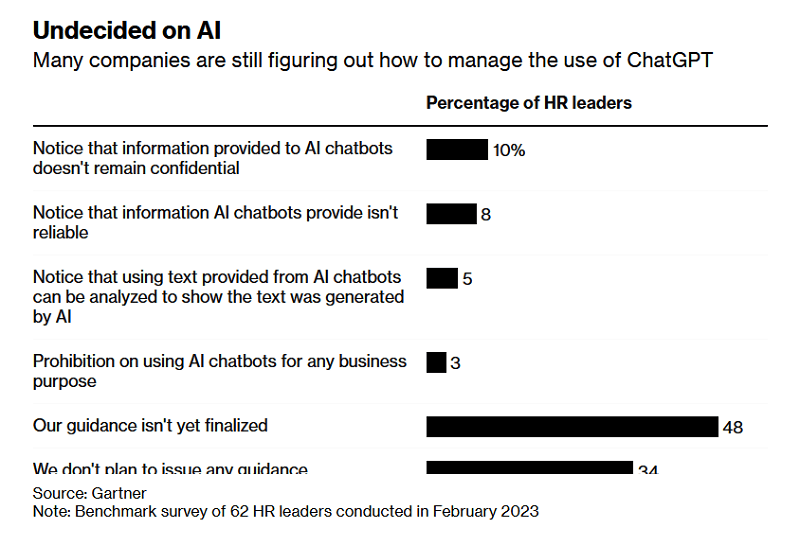 Some HR managers are also trying to find a middle ground. They are not banning the tool, nor are they denying the potential problems its use may bring. They warn employees that AI tool answers may not always be reliable or confidential. They also indicate that it is possible to check whether certain answers were generated by AI.
Popularity
The use of the generative AI tool ChatGPT in the workplace is increasing. Research by the U.S. work-related social network Fishbowl, for example, shows that 50 percent of all employees surveyed have used the tool at some point in business. Especially Gen Z employees (born 1997-2012) seem to be embracing the tool.
ChatGPT is especially popular in the marketing and advertising industries, followed by the tech and consulting industry. Healthcare has the lowest adoption. It is notable, however, that many employees do not inform their managers about using ChatGPT for their work.
Also read: OpenAI introduces GPT-4, also available in Microsoft Bing