For months, Samsung has been talking about its first foldable smartphone. After Royole was the first to come up with a solar phone last week, Samsung couldn't resist and during the Samsung Developer Conference, the company showed its own foldable device. The screen has been given the illustrious name Infinity Flex Display.
As has been pointed out a number of times in recent weeks, the foldable phone is equipped with a screen that is approximately the size of a tablet. The user can fold it up, leaving a relatively small device that fits in a pocket. Unfortunately, Samsung bar gave few details about the smartphone.
Infinity Flex
The foldable smartphone has two screens. There is a display on the outside, so you can use the device as a smartphone. In addition, there is the main screen of 7.3 inches. You can unfold that screen. The exact size of the screen on the outside was not disclosed, but it is estimated to be around four inches.
Within a few months, Samsung wants to mass-produce its Infinity Flex screens. The flexible screen has no glass on the inside, because that material is not bendable. Instead, the South Korean company opted for polymer-composite. That can absorb certain shocks. During the next Unpacked event, Samsung wants to show more of the device.
Foldable screens
Many manufacturers are currently working on a smartphone with a foldable screen. Huawei wants to release a foldable phone next year and Lenovo and Xiaomi are working on prototypes. Google has already responded to this by adding support for foldable screens to Android.
Furthermore, LG is working on a flexible OLED screen and even looks at televisions that have roll-up screens. Microsoft is also working hard on it, and wants to bring a portable Surface device onto the market. It is likely that 2019 will be the year in which most manufacturers will present their own variants.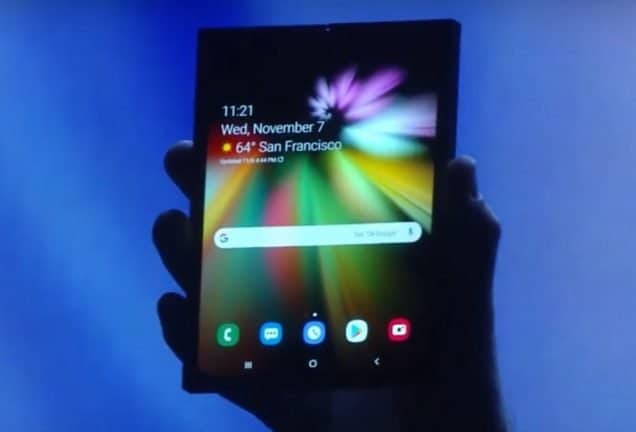 This news article was automatically translated from Dutch to give Techzine.eu a head start. All news articles after September 1, 2019 are written in native English and NOT translated. All our background stories are written in native English as well. For more information read our launch article.