AWS continues to lead the market when it comes to public cloud platforms, according to Synergy Research researchers in their latest quarterly survey of the power distributions in this market. Infrastructure-as-a-Service (IaaS) and Platform-as-a-Service are the most popular services for this.
According to the quarterly report for the third quarter of 2018, AWS is the absolute market leader worldwide and in all regions. In total, this public cloud environment has a market share of 40 percent. Microsoft is in second place with Azure. In three of the four regions of the world, the company also ranks second. Only in the APAC region does Microsoft have to tolerate the Chinese Alibaba in front of it. Third place is convincingly taken by Google, with third place in three of the four regions as well. Only in the aforementioned APAC region do AWS, Alibaba and Microsoft lead the way. In total, these Top 3 companies have a combined market share within the public cloud of 65 percent.
Places four and five are much more mixed than the top three. Alibaba takes fourth place worldwide, followed by a shared fifth place between IBM and Salesforce. The latter two companies, with the occasional intervention of Google and Tencent, also distribute the fourth and fifth places in the individual regions.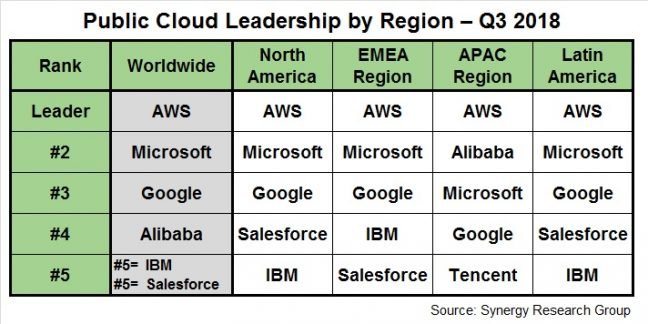 World players really dominant
According to the researchers, the above ranking shows that public cloud environments are a global market dominated by the large global providers. In order to secure their position, these market leaders need to continuously invest in presence and brand identity.
Synergy Research indicates that there are opportunities for more local cloud providers. However, these should focus on niche markets for individual countries or local regions. For market leaders such as AWS, Microsoft Azure and Google Cloud, these smaller providers are not in competition, according to the researchers.
IaaS and Easter most sought after
Synergy also looked at which public cloud services are the most popular and thus bring in the most money for the providers. These are IaaS and PaaS services. It does not really matter whether these are hosted private cloud services or managed cloud services, the researchers conclude their quarterly report.
This news article was automatically translated from Dutch to give Techzine.eu a head start. All news articles after September 1, 2019 are written in native English and NOT translated. All our background stories are written in native English as well. For more information read our launch article.