The number of pulls from Docker Hub in Q2 increased to 42 billion in Q2 of 2021. The sharp rise marks an increase of 12 billion from 30 billion pulls that Docker recorded in Q4 of 2020. In total, Docker claims the total number of pulls from Docker Hub now stands at 396 billion for all time as of August 31st this year.
The number of application container image repos on Docker Hub hit 12.5 million, up from 8.3 million in February of 2021. The company also says it had a more than 50% year-over-year increase in the number of application components that developers employ to build apps.
What the numbers say
To continue with the numbers, Docker reported that there are now nine million Docker Hub accounts, up 30% year-over-year, with Docker Desktop installations rising to 4.7 million from 3.3. million February of 2021. Docker Desktop downloads now top out at 11.9 million.
Matt Carter, the Veep of marketing for Docker pointed to the level of growth as an indicator that Docker Hub is a secure repository for software artifacts, especially as many organizations review their software supply chain process following high-profile cyber-attacks.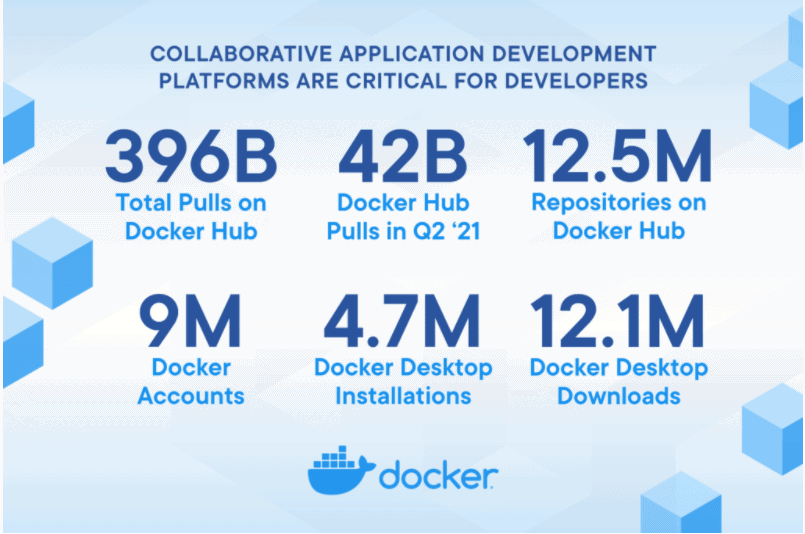 Docker's efforts
To ensure supply chain integrity, Docker has been making the case for its Docker Trusted Content, including Docker Verified publisher content, Docker Official Images, and Docker-sponsored open-source software, which give developers access to continuously maintained and inspected container images.
Carter notes that the offerings play a critical role in driving digital business transformation programs that need a secure software artifact foundation.
It is not clear what percentage of new applications being built and deployed is container-based. However, the current growth rate of pulls suggests that apps being developed using containers are steadily going up to the point where many IT teams will need to revisit their deployment and applications update strategies.