Microsoft has started deploying the Windows 11 2022 Update. According to the tech giant, the release is the first major update for Windows 11. The update focuses on usability, productivity and security.
In terms of usability, the update offers new drag-and-drop functionality in the taskbar. The feature allows users to pull applications in and out of the taskbar with a right-click.
The new Snap Layouts functionality allows users to perform several tasks simultaneously. The feature comes in handy when running several tabs in Edge. Users can optimize their field of view when working with different applications and documents. The functionality adds touch navigation and the ability to simultaneously close several browser tabs in Edge.
Furthermore, applications and functions can now be controlled with finger swipes. A swipe up opens the Start menu while a swipe down closes the window.
Productivity
On the productivity front, users gain new video calling capabilities through updates to Windows Studio Effects. The updates include filters that remove background noise and so-called Automatic Framing, which allows cameras to automatically frame users that move during meetings.
With Eye Contact enabled, a user appears to be looking into the camera, even if he or she is actually looking down. Live Captions automatically adds subtitles to meetings. This should make video conferencing accessible to more users.
The Settings menu now includes a 'do not disturb' feature that blocks all notifications so that users can fully concentrate on their work. The feature is customizable, allowing users to specify which notifications are forwarded. Users can, for instance, allow all Slack messages while blocking everything else.
Security
Microsoft highlighted numerous improvements in the area of security. Some of the updates are hardware-based. Windows devices with 8th gen Intel processors or higher get virtualization- and hypervisor-based security and code integrity by default. This should protect devices from both common malware, ransomware and more advanced attacks, the tech giant said.
Furthermore, Windows Credential Guard is enabled by default. The virtualization-based technology isolates highly critical data so that it can only be accessed via authorized system software. This should further protect systems from cybercriminals.
Additionally, the Defender SmartScreen tool gained new security functionality for passwords. When Windows detects that users are inputting a Windows password, the tool analyzes preciezly where the password is input. It then reviews the integrity of the application in question, what networks it is connected to and more. This ultimately ensures that the password is input in a safe location. If phishing is found to be involved, measures can be taken. The technology is integrated directly into the Windows kernel for this purpose.
The Smart App Control tool, now available on new Windows 11 devices and clean installations of Windows 11, also provides more security. The tool ensures that untrusted or uncertified applications, scripts and malicious macros cannot run on Windows 11.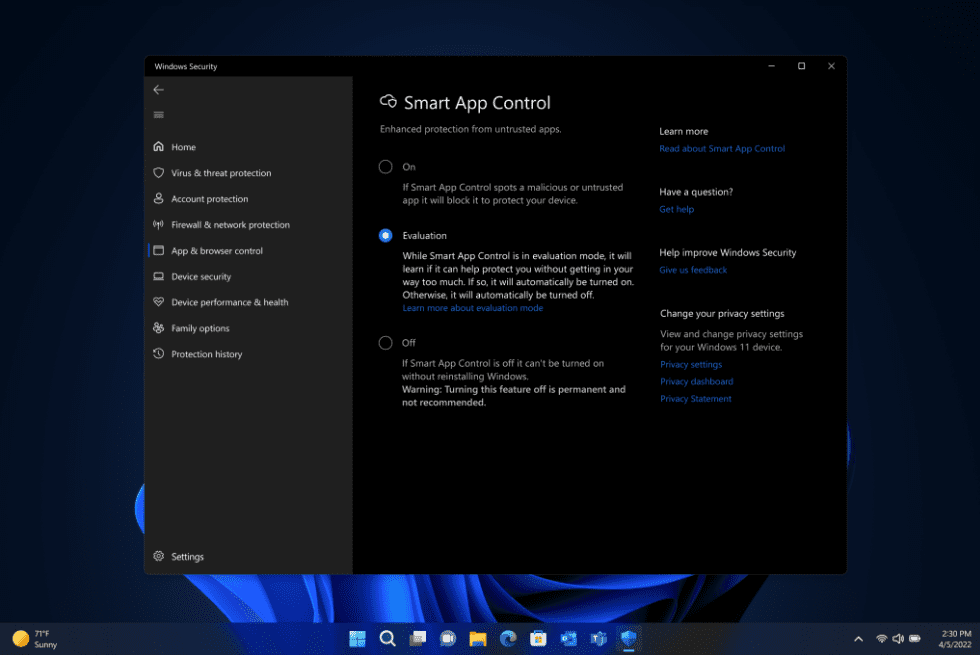 Phased rollout
The Windows 11 2022 Update has the same system requirements as Windows 11. As usual, the deployment is phased. The update will be rolled out in more than 190 countries. The Windows 11 Installation Assistant allows users to download and install the update manually.
Furthermore, Windows 10 receives an update to Windows 10 22H2 this month. Windows 10 will be supported until October 2025.