Salesforce CEO Marc Benioff reportedly questioned the productivity of new employees in an internal Slack message leaked to CNBC.
According to CNBC, the CRM giant's chief sent an internal Slack message concerning the productivity of new employees to all staffers last Friday. Benioff suggested that employees who joined Salesforce in the past two years are less productive on average than other employees.
The CEO speculates that the trend may be due to the remote working policy that Salesforce adopted during the pandemic. According to Benioff, the drop in productivity could be related to new employees receiving less training and sharing less knowledge with each other. The CEO noted that the latter was very common when employees still frequented the office.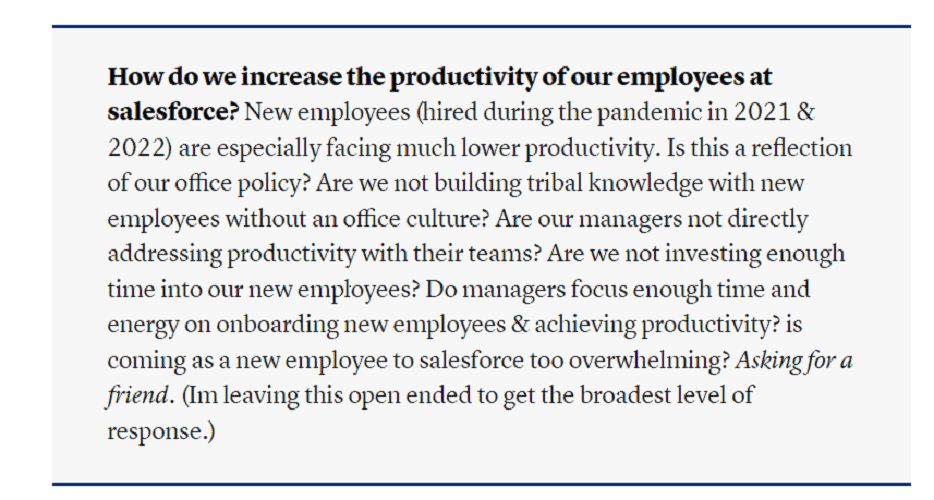 Hybrid working proponent
The CEO's comments are in stark contrast to the stance that Salesforce adopted on hybrid working over the past few years. In the months leading up to the height of the pandemic, the organization was one of the first major tech companies to embrace remote working as an alternative to traditional policies.
In an official statement following the leaked Slack message, Salesforce says the company stands behind its new way of working — a "hybrid working environment", in which managers and teams can collaborate on shared goals.
Tensions within Salesforce
According to TechCrunch, the commotion surrounding the leaked Slack message is an example of the internal turmoil that's been shining through the company's cracks as of late. The website noted that Salesforce has yet to issue a financial forecast for the coming year, adding that several top executives are leaving the company.
The most well-known of these executives is co-CEO Bret Taylor. Recent rumours suggest that his departure was due to tensions with Benioff, but Taylor and Salesforce gave other reasons.