Microsoft introduces its new planning tool Lists for companies working with Microsoft 365. The new application integrates Teams, SharePoint and Outlook.
Microsoft announced the new Lists application at the online Build 2020 event. The new tool allows companies to track problems, manage inventories, manage FAQs, create event calendars, and more. There are versions for web and mobile use as well, which makes it easier to work together remotely. Especially now during the corona crisis, this is very important.
Microsoft also provides several templates for Lists. This allows customers to set up contacts, events and checklists without any effort. There is also a possibility to create alerts and processes.
Microsoft Lists offers multiple ways to display the lists. The default view is grid, gallery is used mainly for lists that require images, and the calendar view is for data-specific purposes.
Rule system
An interesting new feature within Microsoft Lists is the new rule system. This system uses the if-this-then-that principle to create new rules. Through this feature, you can set up notifications or reminders, but also send notifications to other users as soon as you have made changes to something in the list.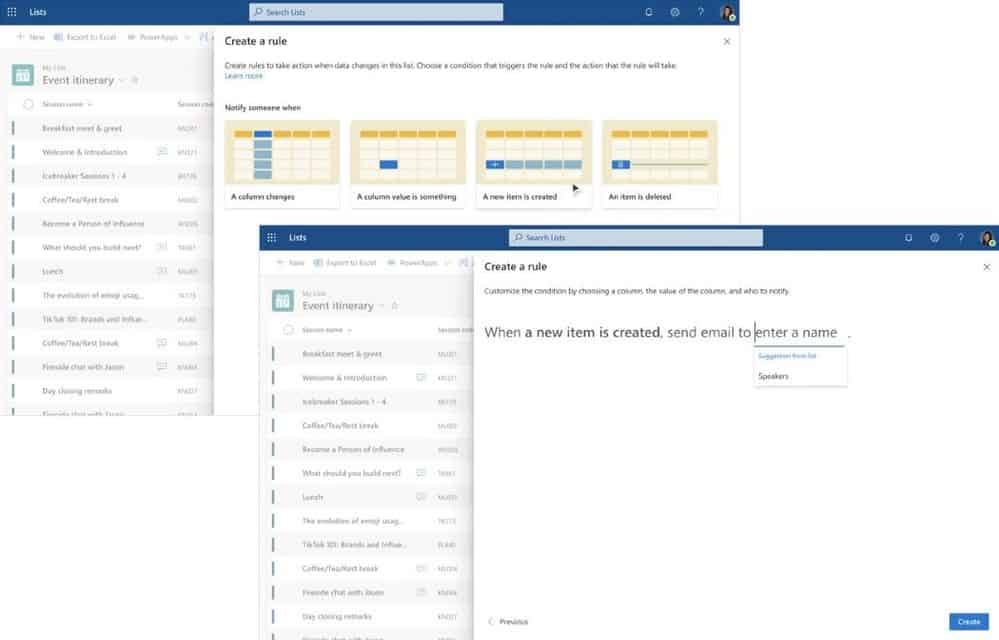 Lists is also integrated with Power Platform, with custom list forms for Power Apps and workflows with Power Automate. According to Microsoft, Lists will be made available during the summer.
AI-tool
At first sight, the announcement of Lists looks a lot like another tool that was announced last week. Microsoft's AI team and researchers at the University of Washington created an AI tool that automatically creates to-do lists based on sent emails. The tool uses AI to scan all outgoing emails for any tasks that still need to be completed. According to Microsoft, this tool will be presented in July.