Microsoft has added a number of new presentation tools to Teams. These tools improve the possibilities to hold digital presentations and organise webinars. Also, the integration with Dynamics 365 has been improved.
This week, Microsoft is holding its annual Ignite event. Microsoft mainly focuses on Teams this year, which will play an increasingly central role in Microsoft's software. Especially now that a lot of work is done from home, many employees depend on the software.
PowerPoint Live
To give users more tools to give good presentations remotely, Microsoft has worked on integrating PowerPoint in Teams, called PowerPoint Live. With PowerPoint Live, a presenter gets a complete overview of his presentation, with the slides, notes, chat and other people in one view. Other attendants can access the entire presentation to browse through slides and notes, writes TechCrunch.
Microsoft has also added some ways to combine the image of the presentation with the user's camera feed. 'Standout mode' shows the webcam of the presenter in front of the presentation, 'Reporter mode' shows the presentation in a corner of the camera view as if the presenter is a news reader and 'side-by-side view' shows the two images side by side. There is also a 'Dynamic view', where Teams automatically and per user guesses the best layout.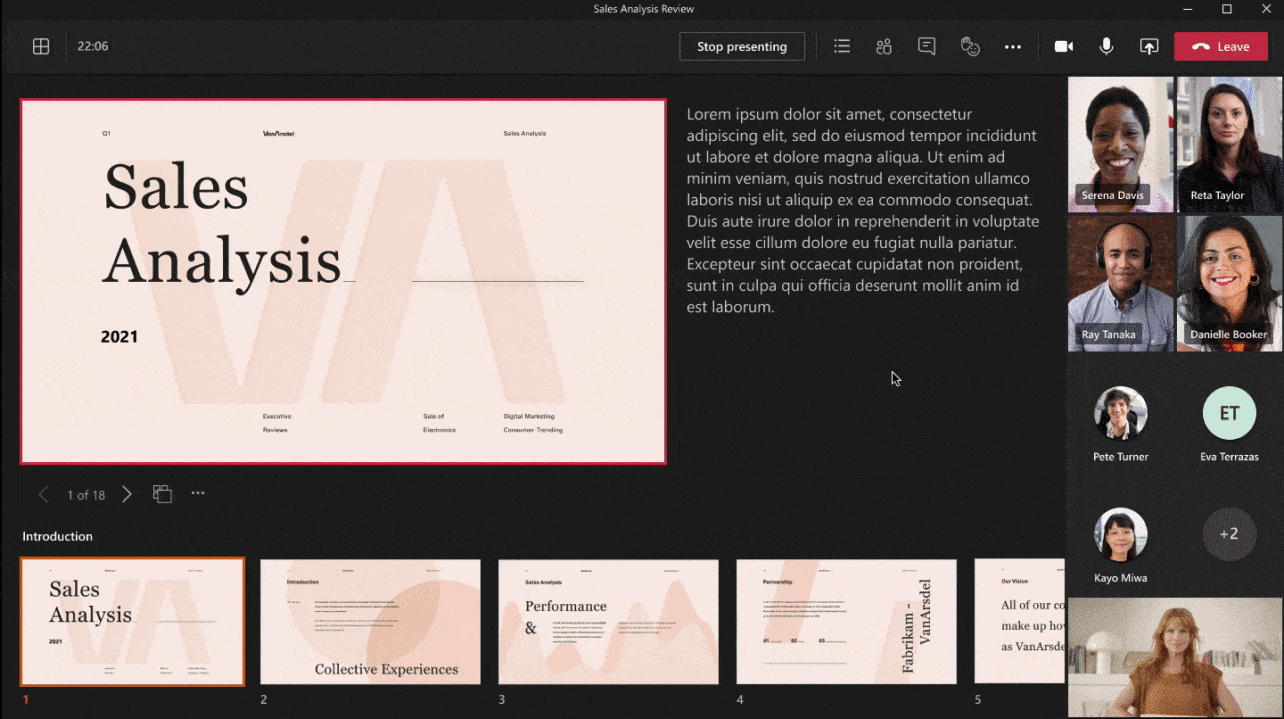 Tip: Ten ways to improve your Microsoft Teams experience
A webinar feature is also coming to Teams. This allows users to organise a webinar with up to 1000 guests from inside and outside the organisation. A broadcast option has been added for even larger guest numbers, enabling up to 20,000 guests to join. After 30 June 2021, however, Microsoft will lower that maximum number of guests to 10,000 on the assumption that physical events will return with the end of the corona pandemic.
Another new feature for Teams is Teams Connect. This allows users to share channels with users outside your team or even organisation. These shared channels will simply appear in the channel list. Teams Connect will be available later this year.
Integration between Teams and Dynamics 365
Microsoft is also working on improved integration between Teams and the business platform Dynamics 365. Exactly what that will look like, Microsoft isn't specific about, but Techcrunch lists a few ways it could work for marketing, sales, and service. For example, a marketer could set up a webinar that they could follow using the tools in Dynamics 365 Marketing and run as a streaming event in Teams using the Teams integration in Dynamics 365.
lysa Taylor, vice president for business applications and global industry at Microsoft, has an example for sales. "We're enabling sellers to be able to track the career movements of their contacts using the LinkedIn Sales Navigator, as well as connect very specific sales records within Microsoft Teams without ever having to leave Dynamics 365 Sales. So you can be in the Sales application and you have the ability to deeply understand a contact and any contact changes that occur in Teams, and that's automatically updated in Sales."
Even if a company does not purchase all of Microsoft's services, Microsoft offers several ways to integrate external tools into them.
Tip: Microsoft to further integrate Teams, Outlook with Dynamics 365