Jabra and Lenovo introduce the PanaCast 50 Room System. The release consists of a webcam and computing device for video conferencing. Teams Rooms is pre-installed, allowing the system to be deployed out of the box.
The system consists of two existing products: the Jabra PanaCast 50 webcam and the Lenovo ThinkSmart Core Kit computer. The advantage of the combination is that the products are pre-configured for Teams Rooms.
The ThinkSmart Core Kit consists of a CPU, GPU, display, ports and controller for audiovisual equipment. The model is more compact than a laptop and suitable as a computing device for meeting rooms. Employees no longer require a personal laptop, desktop or smartphone to organize a conference.
The Jabra PanaCast 50 is a high-end webcam. The model has a 180-degree viewing angle to capture the entirety of a meeting room. The webcam uses Edge AI chips to automatically focus on the person speaking. The model shoots in 4K and is certified for Teams, Zoom and Skype.
PanaCast 50 Room System
Jabra and Lenovo combined the devices into the PanaCast 50 Room System, a new product. The system comes pre-installed with Teams Rooms. The devices are instantly usable after unpacking and connecting. In contrast, purchasing the devices separately requires some configuration.
Jabra and Lenovo aim the system at enterprises. The retail price is unknown at this time, but the individual products will set you back anywhere between €2,500 and €3,500. We expect a similar price tag for the new release. The system will be available for orders starting September 15 2022.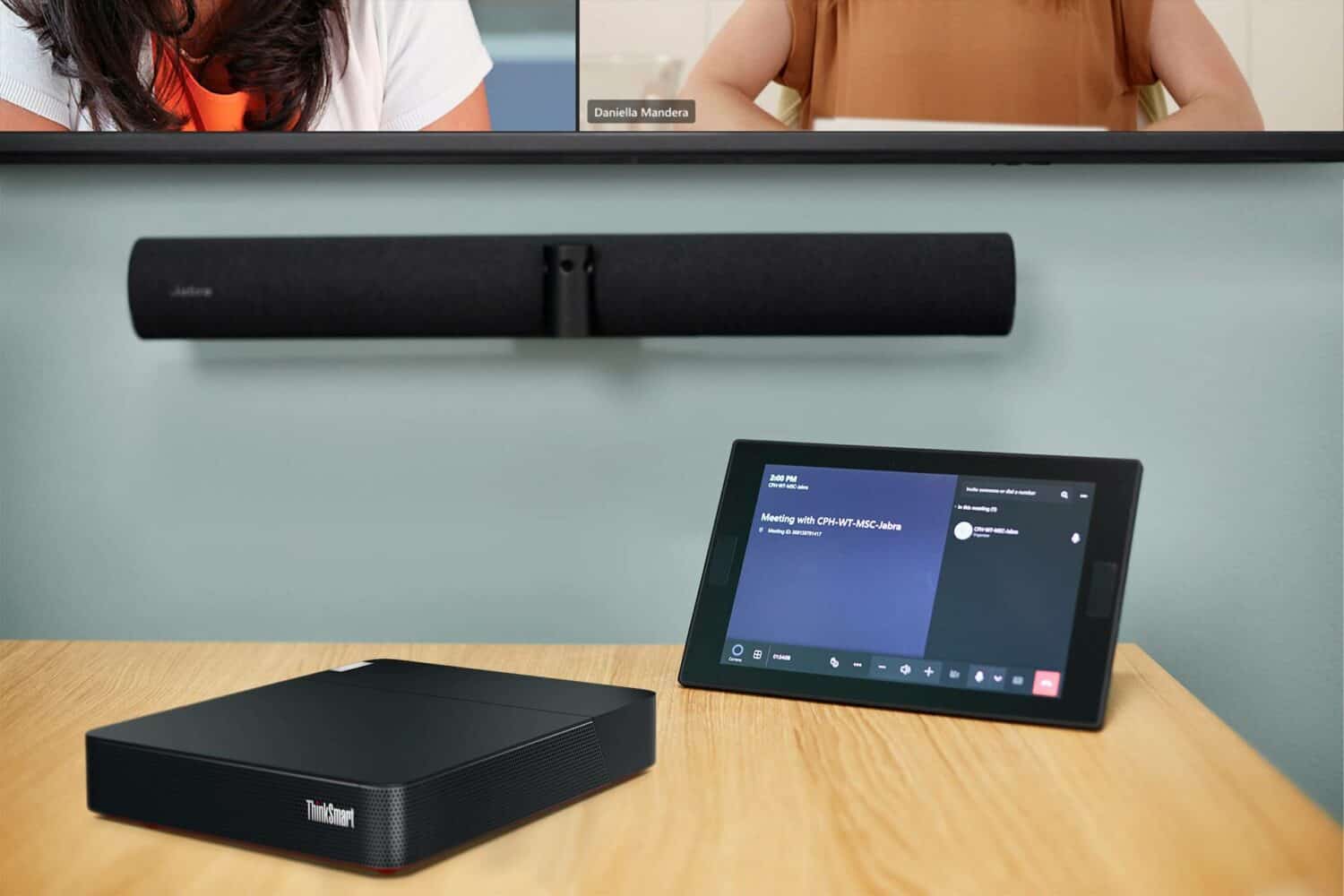 Lenovo ThinkSmart and Jabra PanaCast 50
Cybersecurity is a noteworthy benefit of the Lenovo ThinkSmart Core Kit. It's difficult to ensure the security of a conference room when employees use their own devices to host conferences. The ThinkSmart Core provides all the necessities for a video conference, meaning employees can rely on a single, secured device. ThinkSmart runs on Windows 10 IoT Enterprise SAC.
In addition to video quality, the Jabra PanaCast 50 has a sleek design. The device looks more like a soundbar than a webcam. Its size makes it difficult to place the webcam on a conference table, but by attaching the device to a meeting room display, the look of a room improves.