Zoom recently introduced Zoom Mesh, a content delivery network (CDN) solution that addresses bandwidth needs for large-scale videoconferences and other virtual events.
Zoom Mesh helps companies solve bandwidth issues for WAN and increase the speed of content streaming. The service is designed for Zoom Events and Zoom Webinars. Users of third-party CDNs can now opt for a first-party alternative.
Zoom Mesh provides high bandwidth by eliminating identical streams and routing media through clients at the same location. The service uses peer-to-peer technology to improve bandwidth utilization. This, in turn, is based on simultaneous media streams through the enterprise WAN edge environment.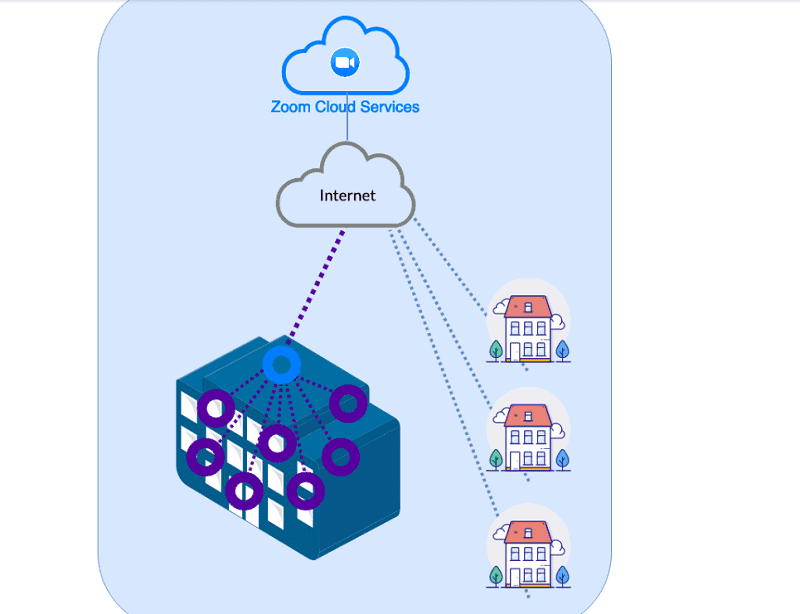 Technology
Identical media streams are sent to selected parent clients and redistributed to child clients. Each parent client can support up to 50 child clients. This dramatically reduces on-site internet bandwidth usage, Zoom points out.
The mesh configuration is created about ten minutes before the start of a Zoom Event or Zoom Webinars session. The configuration is automatically updated during the session.
Zoom Mesh can scale up to tens of thousands of users and hundreds of locations with minimal impact on user experience and individual client performance. The latency for child clients is measured in milliseconds.
Dashboard
The technology allows users to access Zoom Events and Zoom Webinars and all associated functionality. Zoom Mesh is managed through a proprietary dashboard environment that monitors mesh and endpoint performance and measures bandwidth usage for webinars and events.
The solution is available immediately.