Zoom introduced updates for Zoom Events, Zoom Webinar and Zoom Meetings. A new module allows organizations to automatically analyse and improve sales conversations.
Zoom announced the updates at the Work Transformation Summit, an annual event. The news is threefold. First of all, Zoom Meetings gains a new add-on for sales call analysis. Secondly, organizers can now communicate with each other during live events in Zoom Events and Zoom Webinar. Finally, the host of a Zoom Webinar can set the backgrounds of multiple panellists.
Zoom IQ for Sales
The add-on is designed for sales departments. Conversations between sales staff and (potential) customers are monitored. The add-on recognizes and records keys moments in conversation and.
This has several advantages. Firstly, the add-on analyses the effectiveness of an employee's communication. For example, the add-on reviews the relation between questions and customer responses. If the customer is not reactive, the add-on advises on ways to improve questions in the future.
Secondly, a sales employee or manager can manually review the recordings of key moments. Reviewing conversations takes a lot less time when the most important segments have already been selected.
Thirdly, Zoom IQ for Sales recognizes sales opportunities on the basis of recordings. If the add-on recognises an enormously positive customer, the add-on generates a notification. An integration allows the data to be automatically forwarded to Salesforce CRM. In most cases, a salesperson will have already picked up on the opportunity, but the reminder is usually welcome.
Managers can find all insights in a central environment, as shown below.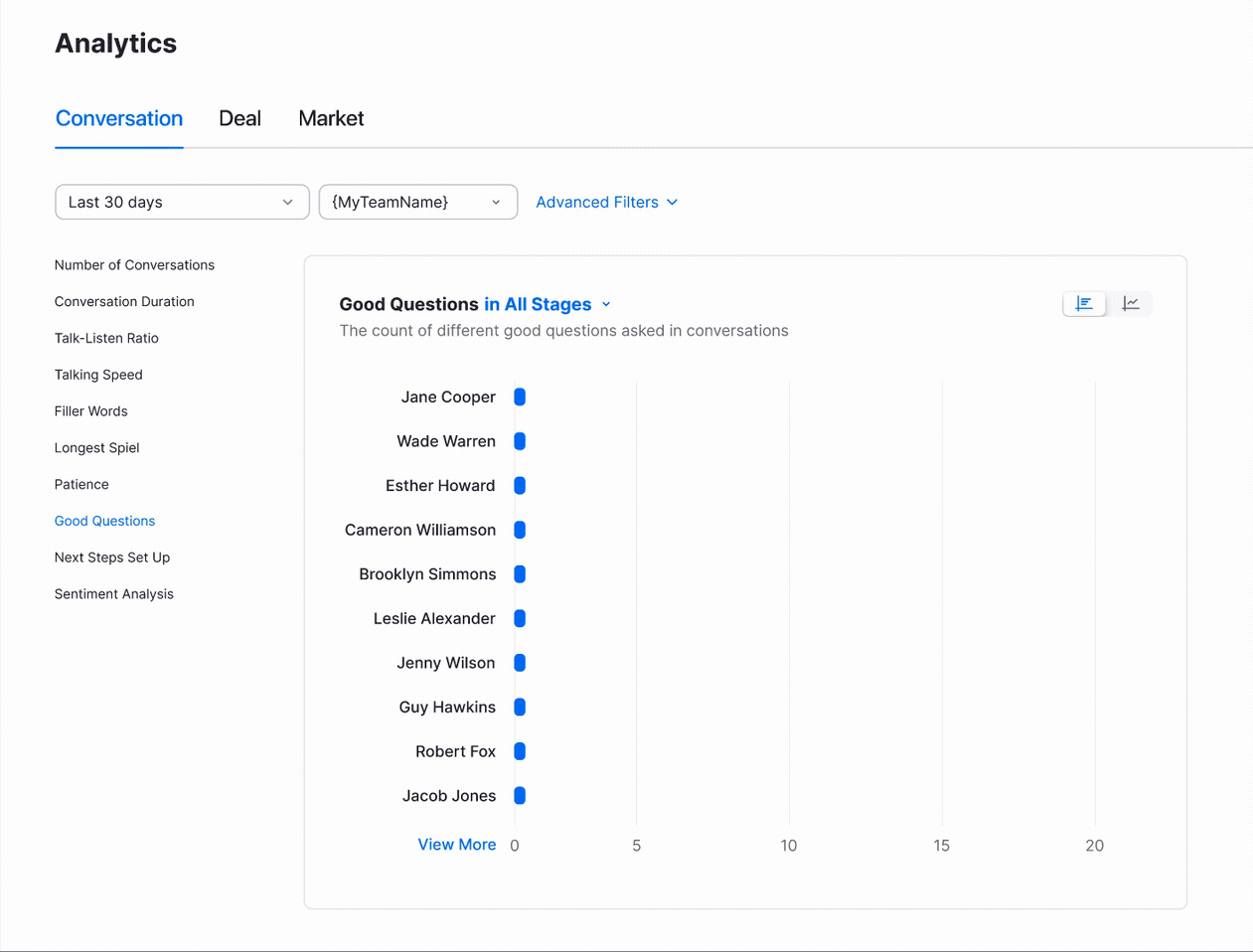 Zoom Events and Zoom Webinar
In addition to Zoom IQ for Sales, Zoom is introducing several smaller functions for Zoom Events and Zoom Webinar. From now on, organisers can communicate with one another during live events in Zoom Events and Zoom Webinar. Previously, panellists, organisers or crew members were unable to communicate during live events without involving the audience or using a third-party app. The new feature ('backstage') solves the problem. Lastly, the host of a Zoom Webinar can manage the background of multiple panellists.
Growth
Zoom is expanding rapidly. In the most recent fiscal year, turnover increased by 55 percent to 3.7 billion euros. Product development is a natural result. Today's Zoom is more than a conferencing tool. Among its products are solutions for contact centres, a cloud PBX and the aforementioned Zoom Webinars and Events. The solutions are available via separate licences.
Tip: Major education cooperative — 'Zoom can be used safely'