Zoom IQ now summarizes meetings using AI. Team members can efficiently catch up on a missed meeting. The intelligent technology simultaneously appears in the video platform's chat.
Adding AI to Zoom should further increase productivity in the hybrid workplace. For example, Zoom IQ is now capable of summarizing meetings.
No recording
This does not require recording the meeting, making it much easier for employees to catch up on a missed meeting. In fact, privacy laws require that prior permission be obtained from all meeting participants before a recording may begin.
For sensitive topics, such as trade secrets, having a full transcript of the meeting may not be desirable. Zoom IQ, therefore, creates the summary only at the request of the meeting manager. The latter can forward the document via chat or e-mail.
Employees benefit from the new functionality. A missed meeting can be easily caught up in minutes, whereas previously it was only possible rewatch the entire meeting.
AI writes your answer
Furthermore, AI is making its introduction into Zoom Chat. As a result, you will soon receive suggestions on a possible response to an incoming chat message. The technology works through OpenAI, the organization behind ChatGPT.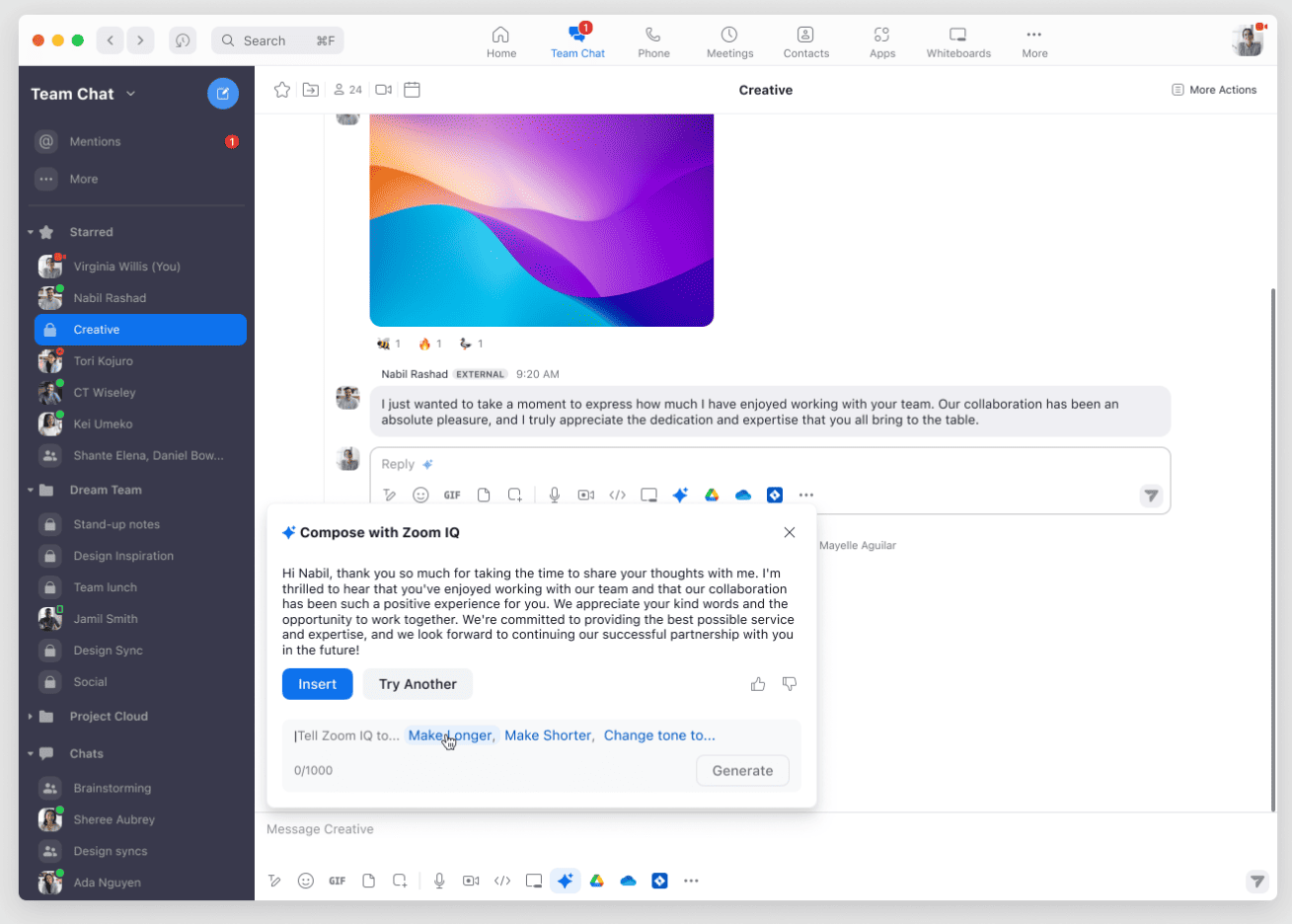 The features preview the video platform's further plans to integrate AI. "There is no one-size-fits-all approach to large language models, and with Zoom's federated approach to AI, we are able to bring powerful capabilities to our customers and users through Zoom's own models as well as our partners' models," Smitha Hashim, chief product officer at Zoom, writes in the announcement. Later, it should be possible to compose an email while AI gives you context about previously committed phone calls, meetings and email correspondence.
The AI features in Zoom IQ are free to try out for a short time by users of Zoom One, which packs the existing business subscriptions Enterprise Plus, Enterprise, Business Plus, Business and Pro. Following legacy subscriptions are also in luck: Enterprise Named Host, Enterprise Active Host, Zoom Meetings Enterprise, Zoom Meetings Business and Zoom Meetings Pro. Pricing information beyond the trial period is unknown for now. Currently, the features are only available in English.