On the 2nd of October Microsoft will present new hardware. The company has sent an invitation to the press and asks for a moment of your time. The event takes place at 20:00 hrs Dutch time and is organized in New York City.
Although it is not entirely clear what will be presented, it is almost certain that no Surface Phone will be revealed. There have been new rumours about this recently, but the latest state of affairs seems to be that Microsoft is definitely not ready for it yet.
Existing Surface hardware
During the event in New York, Microsoft is expected to focus mainly on its existing hardware. It seems that the company has been working on a major redesign of Surface Pro for some time now, and that may be revealed next October. At the same time, there is a rumour that Microsoft hasn't quite finished with that either. Instead, the company would come up with a relatively small renewal of its Surface Pro and Surface Laptops.
These devices would then be provided with an internal improvement. Integration of the latest Intel processors would be part of that. Surface Studio might also be updated; it's been two years since the device was introduced to the market and the all-in-one PC is in need of a refreshment.
Software and services
Presumably, the event will be more focused on the services that Microsoft has to offer. For example, apps and services that match the upgrades of his laptops might be unveiled. In addition, the company will come up with a new version of Windows 10 next year, of which it is also expected to show some new features of.
The Microsoft event is planned between two other presentations by tech giants. Apple is unveiling its new iPhones and possibly a new iPad this week, and Google has scheduled a press conference around its Pixel 3 on October 9.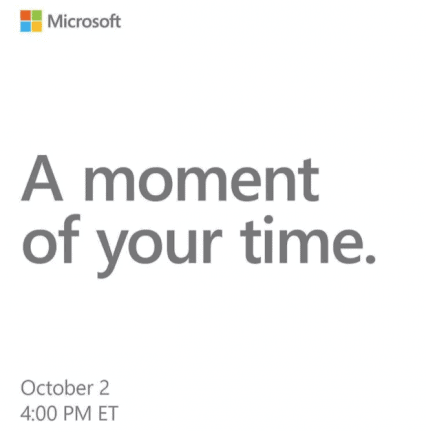 This news article was automatically translated from Dutch to give Techzine.eu a head start. All news articles after September 1, 2019 are written in native English and NOT translated. All our background stories are written in native English as well. For more information read our launch article.