Today an online render of the OnePlus 6T was released. It shows the following new headphones from the Chinese company OnePlus and shows that a newly designed notch is chosen. This time no wide notch, but a relatively small and drop-shaped one.
This is evident from the renders OnLeaks has published on the site MySmartPrice. At the top of the screen is a rather small notch, which, like other Chinese smartphones, has a droplet shape. This means that the percentage of the front panel that consists of screens is higher than with the previous device, the OnePlus 6.
Leaked Specifications
The OnePlus 6T will be unveiled to the world in about a month's time, but as the revelation progresses, many details have already been leaked. The unit would have a 6.4-inch AMOLED screen with a resolution of 2,340 by 1,080 pixels and a screen ratio of 19.5:9. Also, according to rumors, the phone will run on a Qualcomm Snapdragon 845 processor. It would have a minimum of six gigabytes of working memory and a maximum of eight gigabytes. Furthermore, there is a 64GB and a 256GB option in terms of storage capacity.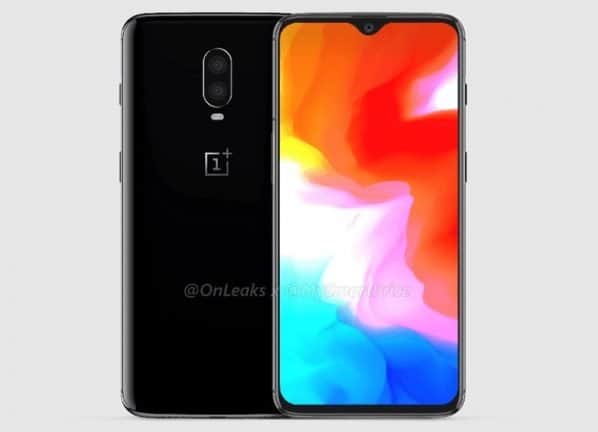 The OnePlus 6T also features an eye-catching behind-the-screen fingerprint scanner. This was confirmed by the manufacturer two weeks ago. It is very likely that technology from sister company Vivo, which was the first to bring the technology to smartphones, will be used for this purpose. The renders of OnLeaks indeed show that there is no fingerprint scanner on the back of the phone, which suggests that it is indeed behind the screen.
Other rumours point to a double rear camera with 16 and 20-megapixel sensor. Apart from that, the phone would support Bluetooth 5.0 and a larger battery than the OnePlus 6. Although it is not yet certain, the OnePlus 6T would run on Android 9.0 and a new version of OxygenOS.
This news article was automatically translated from Dutch to give Techzine.eu a head start. All news articles after September 1, 2019 are written in native English and NOT translated. All our background stories are written in native English as well. For more information read our launch article.