Huawei seems to be gradually consolidating its position as the world's second largest smartphone manufacturer. The Chinese manufacturer already sold more smartphones than Apple in the second quarter of this year, but this is now also the case in the third quarter. This is the conclusion of IDC's market analysts. However, total smartphone sales in the world have fallen in the past quarter.
The results for the third quarter of 2018, which have now been published, show that Huawei is the only manufacturer in the top three to have seen its sales increase the most. Compared to the third quarter of 2017, the market share increased by no less than 4.6 percent to a total of 14.6 percent. It is more Apple that its market share in the past quarter saw little increase, by 0.8 percent to a total of 13.2 percent and thus a third place. South Korean Samsung continues to be the market leader, but in the third quarter it recorded a decrease of 1.8 percent to a total of 20.3 percent of the total number of globally sold smartphones.
Huawei is still a long way from Samsung, but if the upward trend continues, it could of course clearly break pots according to the analysts. By now stabilising in second place in a consecutive quarter, this means that the long-standing duopoly of the two well-known smartphone manufacturers has been broken. Demand for Huawei's P20 and P20 Pro devices continues to grow and the company recently launched new smartphones with Mate 20 and Mate 20 Pro.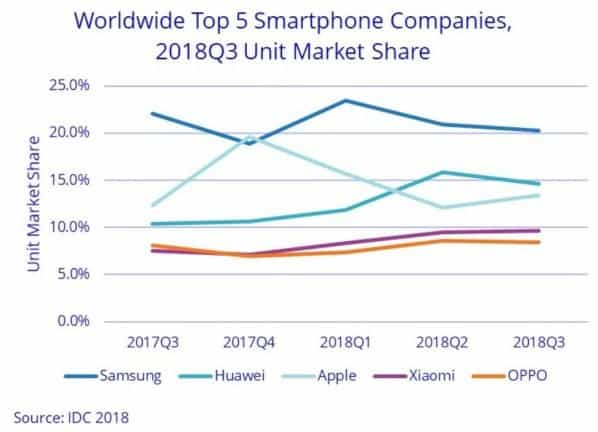 Chinese manufacturers are on the rise
Not only did Huawei do well, other Chinese manufacturers also saw their market share increase. With a market share of 9.7 percent, Xiaomi is in fourth place, while Oppo is on its heels with 8.3 percent.
Three Chinese smartphone manufacturers in the top five. This was sometimes different in the past when brands such as LG from South Korea, Sony from Japan, HTC from Taiwan and Nokia from Finland dominated the market. And who remembers RIM from Canada with the good old BlackBerry?
Smartphone sales down
Unfortunately, the market specialists also noted that total smartphone sales are not doing as well as they did a year ago. In total, 355 million smartphones were sold worldwide in the third quarter of this year. This is 6 percent less than in the same quarter a year earlier, with a total of more than 378 million units.
This news article was automatically translated from Dutch to give Techzine.eu a head start. All news articles after September 1, 2019 are written in native English and NOT translated. All our background stories are written in native English as well. For more information read our launch article.