MSI has announced two additions to its Summit Series line. The Summit E13 Flip Evo and Summit E16 Flip are two business laptops with a screen that can be flipped to act as a tablet.
As the names suggest, the laptops are equipped with screens of 13.4 and 16 inches respectively. The resolutions are full HD and QHD+, but due to the 16:10 ratio, they offer extra vertical space compared to a conventional 16:10 screen. These are touchscreens that can also be written on with MSI's MPP 2.0 stylus, writes The Verge.
Specifications
Furthermore, the laptops are equipped with up to an 11th generation Intel Core i7-U processor and an Intel Iris Xe-GPU. The E16 can also be fitted with an Nvidia GPU. The E13 can be equipped with up to a 1TB SSD, the maximum included SSD for the E16 is not mentioned. The laptops can be supplied with up to 32GB of RAM.
MSI promises that the E13 can last all day away from a power outlet. It also has features like Thunderbolt 4 and Wi-Fi 6, meeting the requirements for Intel's Evo programme. Wi-Fi 6E and Bluetooth 5.2 are also available for both models.
Connectivity
The laptops are equipped with a slider to block the webcam and an array of microphones. The webcam has support for Windows Hello, although a fingerprint scanner can also be used. In terms of connectivity, the laptops only have a couple of USB ports, a 3.5mm jack and an SD card slot.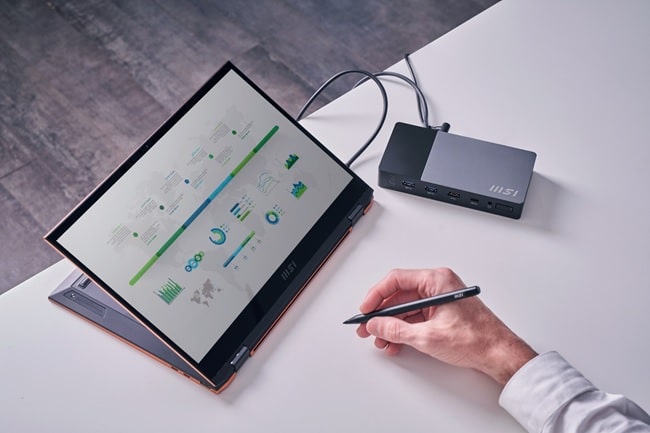 If that's not enough connectivity, MSI also offers a USB-C dock. This offers additional USB ports and a pair of video outputs. The Summit E13 Flip EVO has a starting price of 1699 euros. The bigger brother costs 1899 euros. The MSI Docking Station Gen 2 sells for 249 euros.