If you're in calls a lot, you know that good tools are important. One of the pieces of equipment you use then is a headset. For the business market there is already quite a large selection from several manufacturers. However, a fully wireless (true wireless) set of earbuds speficially aimed at the business user was not yet available. Logitech is changing that now, with the announcement of the Zone True Wireless Earbuds.
True wireless earbuds are usually very nice to use. Not only do they lack cables, there's also no band over the head. That gives you a lot of freedom of movement. They also take up little space and are therefore very easy to take with you. In addition, you can wear them quite inconspicuously. So it also looks quite stylish.
So far, however, we have not been hugely impressed with the quality of this type of headset in virtual meetings via any of the well-known platforms. Even a high-end model such as the Sony WF-1000XM4 hasn't impressed us in this department. In itself, this is not surprising, since that is a device that was not designed with the business user in mind. The Zone True Wireless that Logitech is announcing today, however, is explicitly designed for the business market.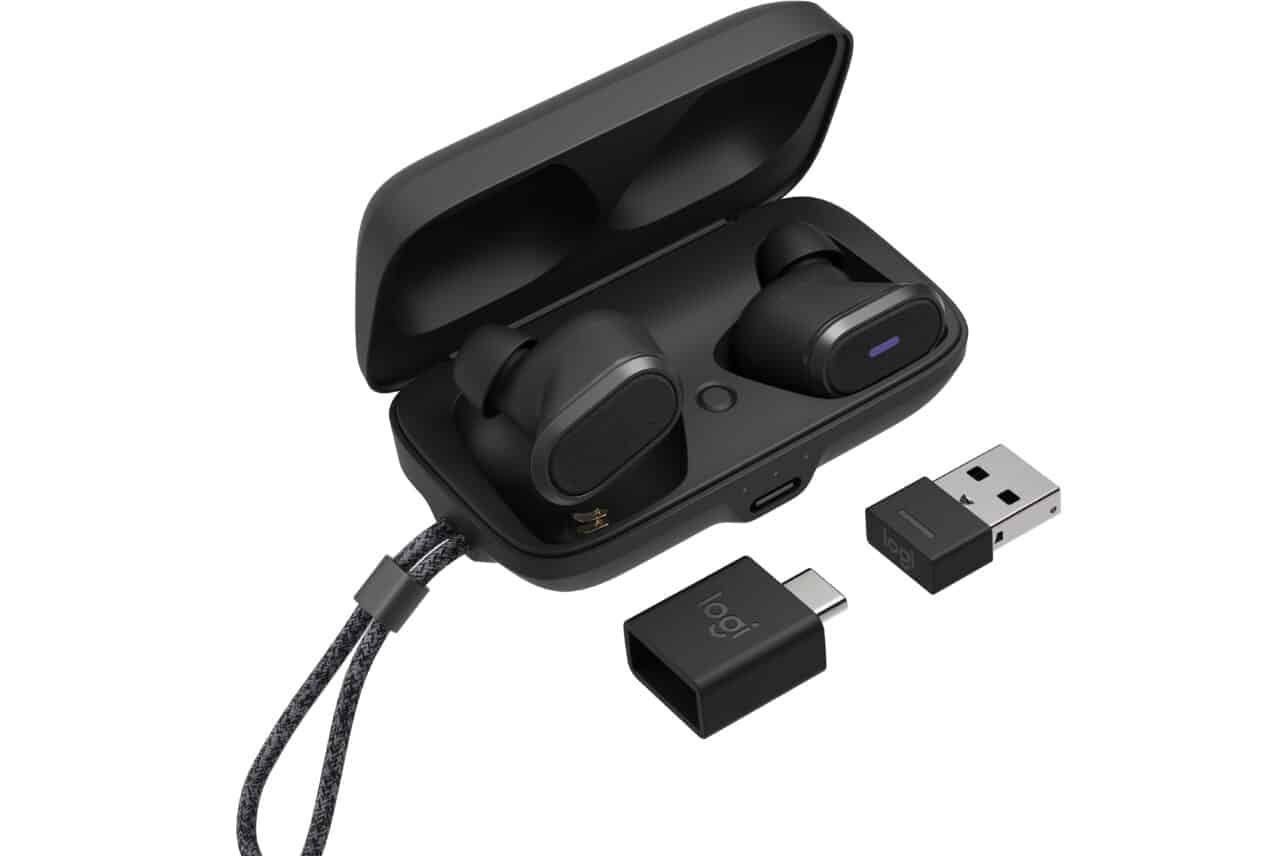 Certifications for Zoom, Teams, Meet and more
One of the key indicators that the Logitech True Wireless Earbuds have a primarily business target audience is that they come with the necessary certifications. The certifications for Google Meet and Zoom are there, as is compatibility with several smaller but still popular platforms.
At first glance, such a certification may not sound hugely interesting, but it can be important. Buttons on certified equipment work together with the platforms. If you press mute on the headset, you'll also see that appear in Meet or Zoom, to name one example. In addition to practical benefits, one would also expect a certain level of audio quality in combination with a certified platform.
In other words, the problem we ran into with some other true wireless earbuds, the inferior quality with (video) calls, should not occur when using the Logitech Zone True Wireless Earbuds. We will, of course, test that once we get our hands on a set.
What's with the certification for Teams?
In the part above, one important platform, Microsoft Teams, is missing. During the briefing we had with Logitech, it was indicated that Microsoft Teams certification was also in order. In fact, someone from Logitech told us that the True Wireless Earbuds are the first of its kind with Microsoft Teams certification. However, it doesn't seem to be all set yet. In the specifications of the product, Teams is not listed among the platforms for which a certification has been achieved. Meet and Zoom are explicitly mentioned. There is also compatibility with Webex, GoToMeeting and BlueJeans.
At this point, the certification doesn't necessarily have to be there, of course. The True Wireless Earbuds won't be released until the fall. So it may be that it will be there by then. At the moment, however, it doesn't seem to be the case yet.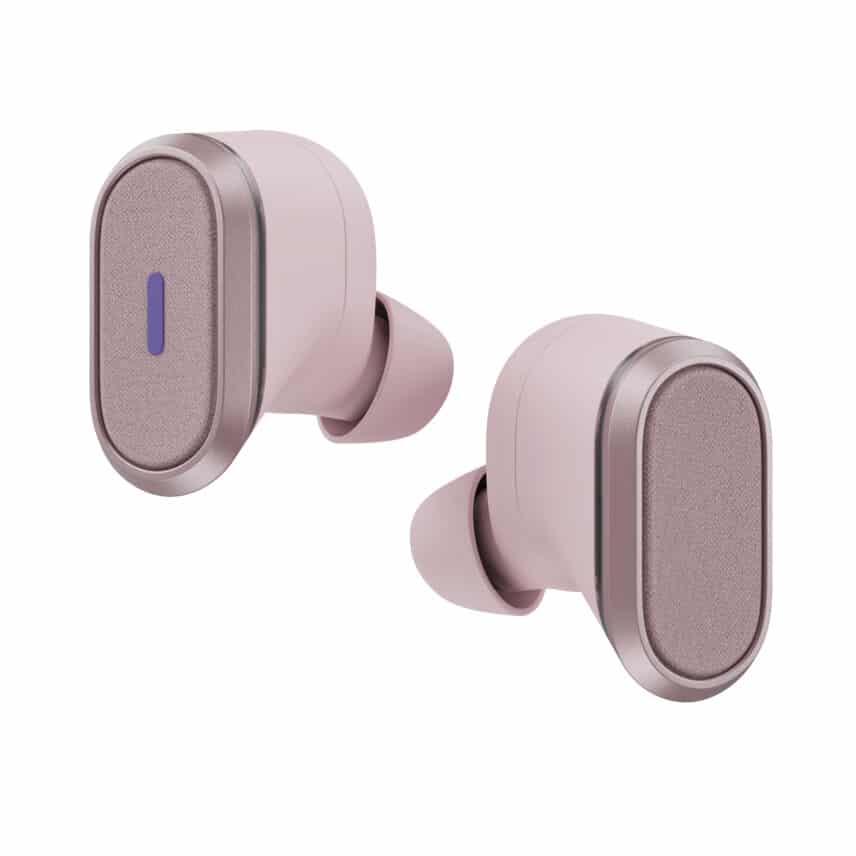 Prolonged undisturbed work
The Logitech Zone True Wireless Earbuds feature active noise cancellation (ANC). The microphone is also equipped with noise cancellation. Together, these two features should ensure that both the wearer and the person on the other end are not distracted.
Of course, an important part of a set like the Logitech Zone True Wireless Earbuds is its battery life. It seems as if the folks over at Logitech have designed it with an average workday in mind. With ANC enabled, it is possible to get a usage time of nine hours. Logitech themselves claim that they offer double the battery life compared to other models on the market. The Zone True Wireless Earbuds come with a charging case.
Multipoint Bluetooth and Tune-app
As we've come to expect from Logitech, the company also supplies a USB receiver with the Zone True Wireless Earbuds. That's smart as far as we're concerned, because that way it keeps a significant part of the performance in its own hands. After all, the quality of the Bluetooth stack usually varies greatly between laptops and PCs. This often has a (strong) impact on the sound quality. With a Logitech USB stick inserted into the computer itself, the company removes that variable.
In addition to the included receiver, you can also connect the Zone True Wireless Earbuds directly via Bluetooth, for example to a phone. The device supports multipoint Bluetooth, which means you can make two connections at the same time. The idea is that this allows you to easily switch between your phone and the computer. If you receive a phone call during a meeting, the earbuds can switch seamlessly.
One further part of note is the Logi Tune app. It allows you to tune the Zone True Wireless Earbuds completely to your own preferences. Logitech itself explicitly mentions the ability to adjust sidetone, i.e. how much of your own voice you hear during a conversation.
There's also a wired version
The Zone True Wireless Earbuds obviously steal the show in this new announcement. However, Logitech is also simultaneously releasing a set of wired earbuds, also specifically aimed at the business user. These go through life as the Zone Wired Earbuds. They obviously don't offer the specific things that only true wireless sets do. You can only plug them in wired, there's no battery in the earbuds. That also means there's no ANC present. Unlike the Zone True Wireless Earbuds, the Zone Wired Earbuds do have a version that is explicitly certified for Microsoft Teams.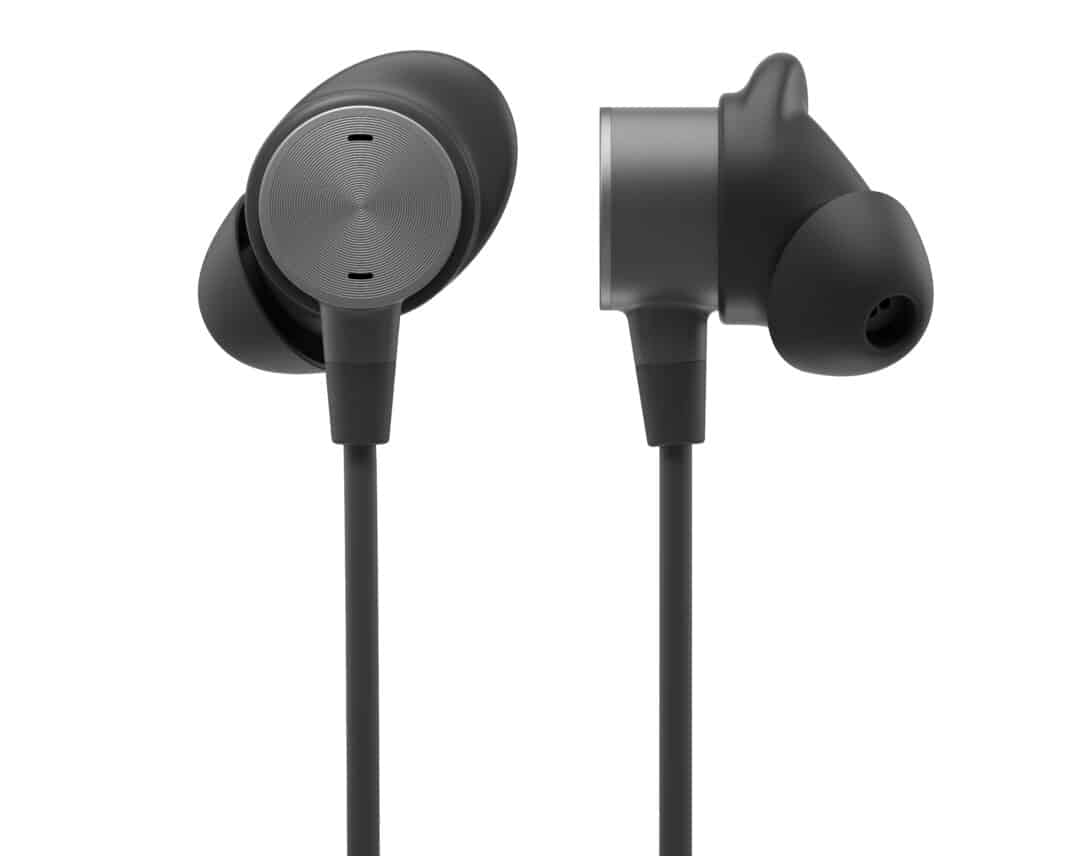 The most striking thing about the Zone Wired Earbuds is that Logitech didn't choose between USB Type-C and 3.5mm. Both are available. Not in separate SKUs, but in one and the same model. In addition, there is also an adapter that converts Type-C to USB-A. This also makes it possible to connect the Zone Wired Earbuds to a PC via older USB-A connectors.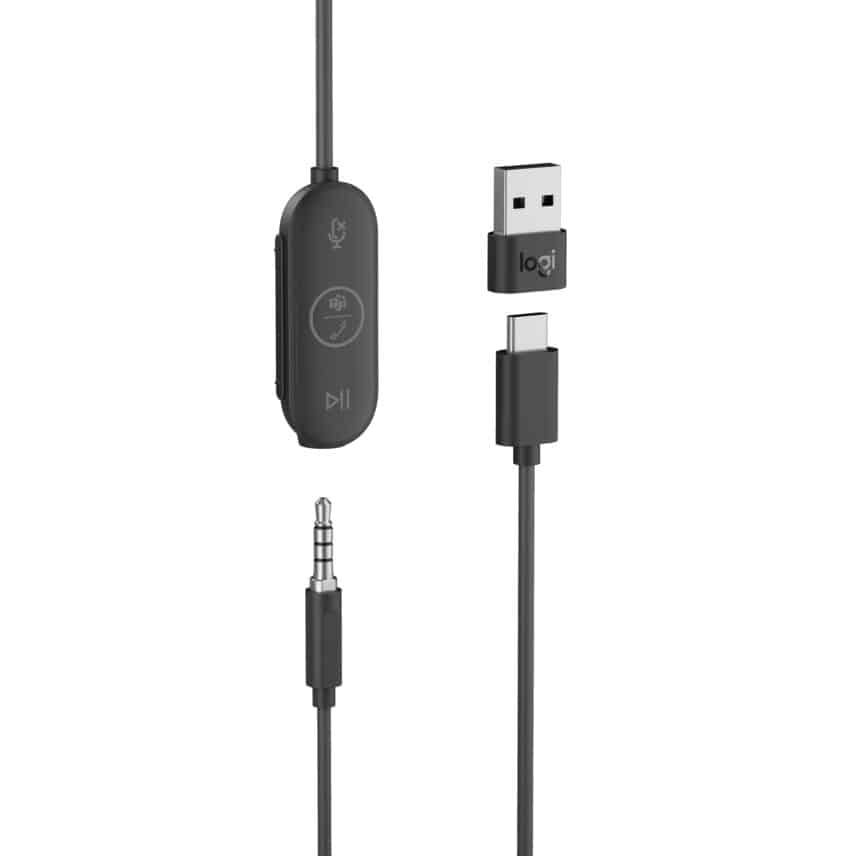 Price and availability
Logitech Zone True Wireless and Zone Wired Earbuds are expected in fall 2021 with a suggested retail price of €329 and €109, respectively. The Zone True Wireless Earbuds come in Graphite and Rose colors. The latter is initially available exclusively through Logitech itself. The Zone Wired Earbuds are only available in the color Graphite.