PC sales are on the decline worldwide. This is concluded by Counterpoint's market experts in their first quarterly survey of 2022. Only Apple and Dell showed growth. The drop brings an end to two years of strong growth in laptop and PC sales.
In the past two years, global laptop and PC sales increased substantially due to remote work. The boom seems to be over, as confirmed by Counterpoint's survey of the first quarter of 2022. Earlier, researchers from IDC came to a similar conclusion.
Counterpoint market experts say global PC sales fell 4.3 percent in Q1 2022 compared to the same period in 2021. A total of 78.7 million units were sold worldwide. Most PCs sold were ordered in 2021 rather than 2022.
Parts shortage
According to Counterpoint, the decline is primarily caused by a shortage of parts and deliverable PCs. Shortages significantly affected manufacturers. Researchers expect problems to continue throughout the current quarter. Factories in the Shanghai region have difficulty delivering products due to COVID lockdown measures currently in place.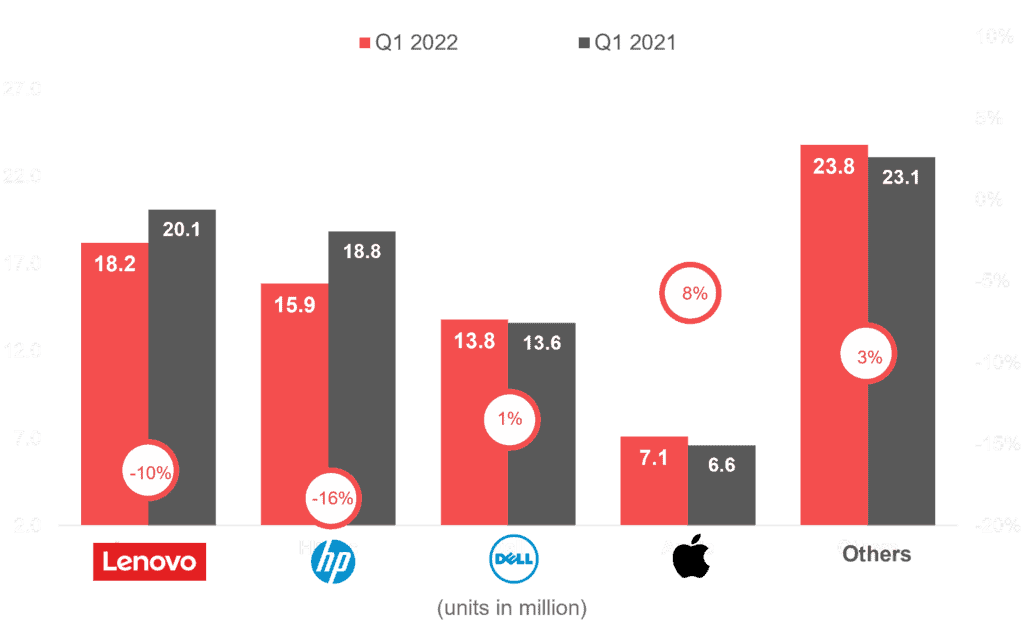 Growth for Apple and Dell
Apple and Dell are the only organizations that grew their sales in the last quarter. Apple realised growth of 8 percent with 7.1 million MacBooks and Macs sold. Dell saw its sales increase by 1 percent to 13.8 million PCs sold. Lenovo remains the market leader, followed by HP.