Twenty years ago, Google started as a search engine. At that time there were just twenty-five million web pages to index, but in the meantime there are many more. Google indexes hundreds of billions of pages and offers its service in 150 languages in more than 190 trays. But the service needs to grow, and Google has revealed plans to do so today.
In an extensive blog, Google explains the challenges it faces and the things that need to change in order to be able to respond properly to them. This ensures a comprehensive update of the search engine. In this way there will be more emphasis on a visual way of finding information.
Google is planning to redesign its search engine. According to the company, the emphasis remains on the user. The person is looking for information and Google wants to deliver that information as soon as possible. This information must be relevant, but it must also be of high quality. It is important to note that 15% of all searches are completely new. In order to be able to respond effectively to this, Google must continue to expand its algorithms.
Search becomes a journey
This leads to three fundamental changes in the way the search engine works. Google plans to have its search engine no longer just provide answers, but something that it calls journeys. According to Google, many searches that it receives are longer sessions that stretch over several days. For example, you may plan a trip, look for information about the destination and spend more than a month doing so.
Google wants to respond to this by making it possible for users to continue their search from where they left off. It is also possible to indicate which information and content is relevant, on the basis of which Google suggests what a handy new search query is, or what might be interesting to look at.

Search without asking
Last year the Google Feed was launched. It contains content that users have not searched for. According to the company, it is used by more than 800 million people per month. That makes it a relevant function, which is now given a new name, design and new functions.
The Feed is now called Discover and with the new design Google shows more information faster and more. The content that appears in the interface is completely new and should help the user to discover content they have never seen before. That makes for a richer browsing experience, Google thinks.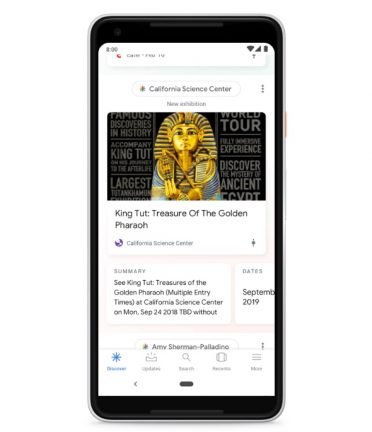 Searching becomes more visual
At its launch twenty years ago, Google was a text-only service. But since then, images, videos and other types of content have been added. Much more emphasis is placed on this. With the update, AMP stories appear in the search results; in essence, these are automatically compiled videos with relevant information about the subject of the search.
Across the board, more photos and videos are coming to the search engine, with which Google wants people to leave on visual journeys. This is a handy way to integrate the various Google services more deeply and to provide a more unambiguous search experience.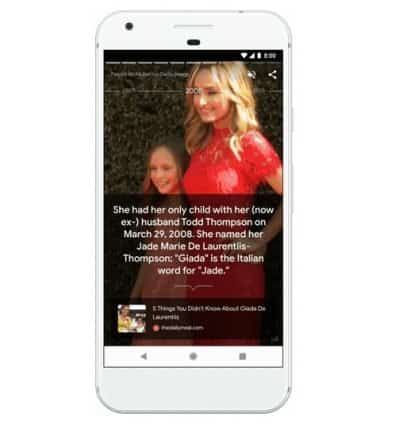 Possible thanks to AI
According to Google, the development of these new features is possible thanks to the development of neural networks. Artificial intelligence now offers the ability to understand words and concepts, which makes it possible to predict answers and provide more relevant search results.
This news article was automatically translated from Dutch to give Techzine.eu a head start. All news articles after September 1, 2019 are written in native English and NOT translated. All our background stories are written in native English as well. For more information read our launch article.