Mozilla adds a new security feature to Firefox Quantum. This makes it clear to users when they visit a website that has recently reported a data breach. In this way, users know whether their information is safe or not.
When a user visits a site that has recently or in the past reported a leak, a pop-up will appear. In this pop-up, the user receives basic information about the leak as well as the suggestion to check whether or not their data was safe.
Privacy and security first
We bring this feature to Firefox users, recognizing the growing interest in this type of privacy and security-centric features. This new feature will be gradually rolled out to Firefox users over the next few weeks, according to Mozilla in a statement.
Below is an example of what this message will look like and the level of detail: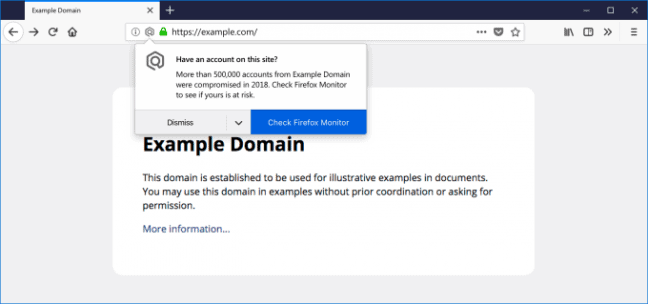 Mozilla connects the hack notification feature to the Firefox Monitor launched earlier this year. That service reports it if their email account may be part of a broader hack. Today, Mozilla states that Firefox Monitor is available in an additional 26 languages.
In addition, users can use Monitor to indicate that when a pop-up occurs, they also need to receive information about their e-mail address immediately. If that's linked to a leak from a site, they'll get to see it. As with Firefox Monitor, Mozilla also works with Troy Hunts service Have I Been Pwned, which makes it clear whether someone's email address is part of a hack.
In any case, it is a nice way for Mozilla to emphasize that it is very concerned about the privacy of its users. This is one of the ways in which it tries to differentiate itself from the competition and hopes to retain users. In these times when there is so much emphasis on privacy, this could just work.
This news article was automatically translated from Dutch to give Techzine.eu a head start. All news articles after September 1, 2019 are written in native English and NOT translated. All our background stories are written in native English as well. For more information read our launch article.