DataCore Bolt brings NVMe storage to Kubernetes. DataCore unveiled the service at KubeCon EU 2022, the Cloud Native Computing Foundation's annual conference.
According to DataCore, legacy storage systems don't meet Kubernetes' requirements. Storage is expected to quickly respond to changes in clusters and apps. DataCore Bolt offers a solution.
DataCore Bolt binds Kubernetes and NVMe storage. The so-called abstraction layer allows users to intuitively provision storage to Kubernetes pods. Storage volumes can be mirrored to prevent data loss in the event of hardware failure.
The solution supports any NVMe storage source, from bare metal to the cloud. This allows organizations to use all available storage capacity, independent of vendor. The software itself runs on Kubernetes. After a one-time configuration, storage capacity automatically scales with Kubernetes pods.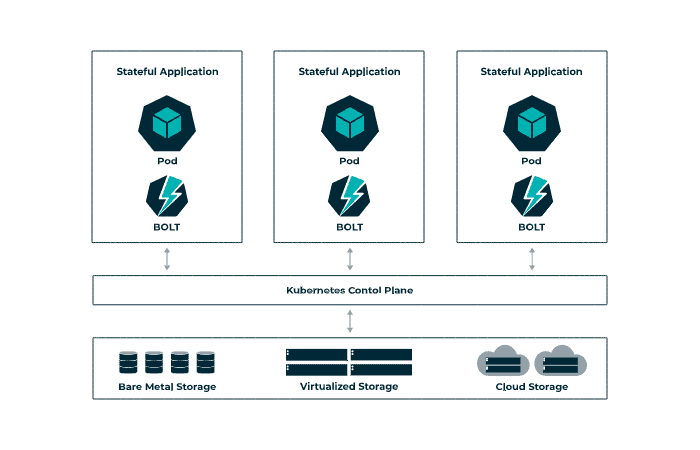 DataCore Bolt and MayaData
The technology is made possible by MayaData, the original developer of OpenEBS. MayaData was acquired by DataCore in November 2021. OpenEBS was one of the first storage systems for containers. DataCore Bolt and OpenEBS have several features in common. Both technologies run on Kubernetes, which drastically lowers the latency between storage and apps.
"Early on, we recognized that containers were going to be a once-in-a-generation transformation", said Dave Zabrowski, CEO of DataCore Software. "Storage has a singular impact on the deployment of containerized applications. This is a market where modern storage technologies such as NVMe over Fabrics and platform-independent data services are in strong demand. With DataCore Bolt, we are proud to continue the
heritage of innovation begun by MayaData."
DataCore software-defined storage
DataCore Bolt joins a broad portfolio. DataCore develops software-defined solutions for every storage type: block storage, file storage, object storage and Kubernetes. DataCore Swarm, the object storage solution, is ideal for unstructured data. All solutions are software-defined, which allows organizations to use and manage hardware from various suppliers in a centralized environment.
As mentioned earlier, DataCore unveiled the solution at KubeCon EU 2022, the Cloud Native Computing Foundation's annual conference. Techzine is on location in Valencia, Spain. Check out this page for an overview of the most important news.