Atlassian introduced Unified Admin Experience to offer central management and access functionality for its products.
SaaS solutions are proliferating. As a result, many companies are looking at a 'one-size-fits-all' approach to work management. The introduction of Unified Admin Experience brings order to the use of SaaS solutions. The centralized functionality provides integrated user and access management for various Atlassian Cloud products, including Trello, Confluence and Jira Work Management.
The tool should counter the proliferation of tools. Atlassian focuses on streamlined processes for auditing, compliance and security. In addition, Unified Admin Experience helps reduce onboarding and licensing requests with a diverse suite of products.
The updates come with a new subscription bundle dubbed Together. The bundle combines Trello, Confluence, Jira Work Management and Atlas. This bundle will cost about €11 per end user. The bundle was designed for large enterprises and is now available in beta. General availability is planned for 2023.
Smart Links
In addition to Unified Admin Experience, Atlassian introduced Smart Links. These are built-in links in products that can help users extract information from tools and applications from other vendors. The latter information can then be integrated into Atlassian's applications.
Users can use these links to find and insert content, create and edit work and access all data from various Atlassian tools without leaving their preferred application. Smart Links are now available in Confluence, Google Docs, Figma and Trello.
Atlas
Furthermore, Atlassian announced the general availability of Atlas, a solution that helps teams communicate about the context and progress of work. Among other features, the tool has rich integrations, monitoring capabilities and functionality for flexible reporting.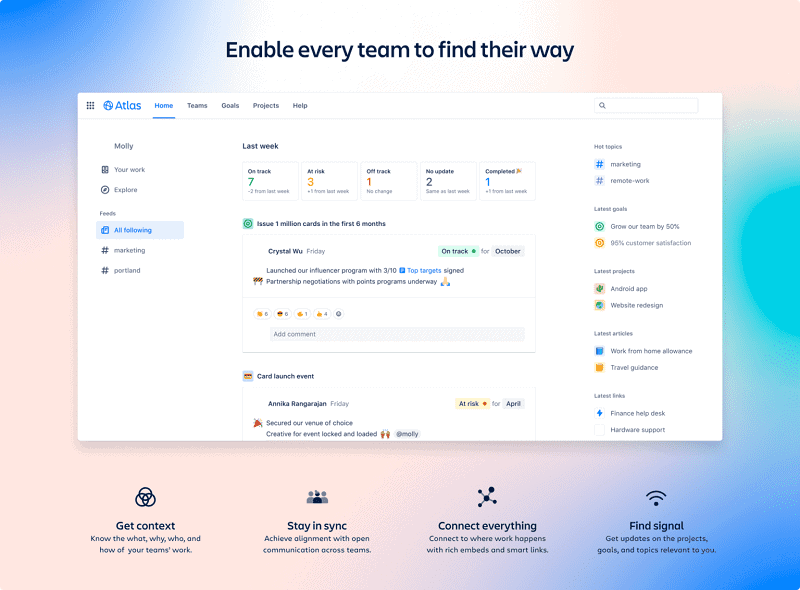 Atlassian is providing users with a free 'Atlas for Jira Cloud' application. The app allows Jira team members to see the status and updates of connected projects in Atlas. Furthermore, Atlassian is preparing an update for the Atlas project and goals directories, which should make it easier to produce roll-up reports with filters for the project's status, contributors, tags, owners and reporting paths.
Tip: Atlassian introduces Compass and Atlas for DevOps and BI