Full-stack observability is a term you will hear used regularly at Cisco. So too during Cisco Live EMEA. But Cisco also has an announcement that should make this easier, ThousandEyes for OpenTelemetry.
It seems like everyone is working on observability these days. Not surprising in itself, because if you know what's going on with your applications, infrastructure and services in general, you know where you stand as an organization. However, these environments are becoming increasingly complex. It follows logically from this that more and more parties are offering their services to make things transparent. As a result, organizations are faced with a host of logs, metrics and traces (the basic components of observability).
ThousandEyes for OpenTelemetry
Gathering data is one thing, doing something meaningful with it is quite another. By themselves, individual tools like ThousandEyes can do this well, but there is always room for improvement. Hence, Cisco today announced support for OpenTelemetry. OpenTelemetry is a CNCF project (in its incubation phase) that aims to make libraries and APIs available in a vendor-agnostic manner. It is a framework (and by now pretty much a standard) that should ensure that the collection and transmission of observability data takes place in an standardized way. In this way, it doesn't matter what tooling organizations use, as long as they can handle OpenTelemetry.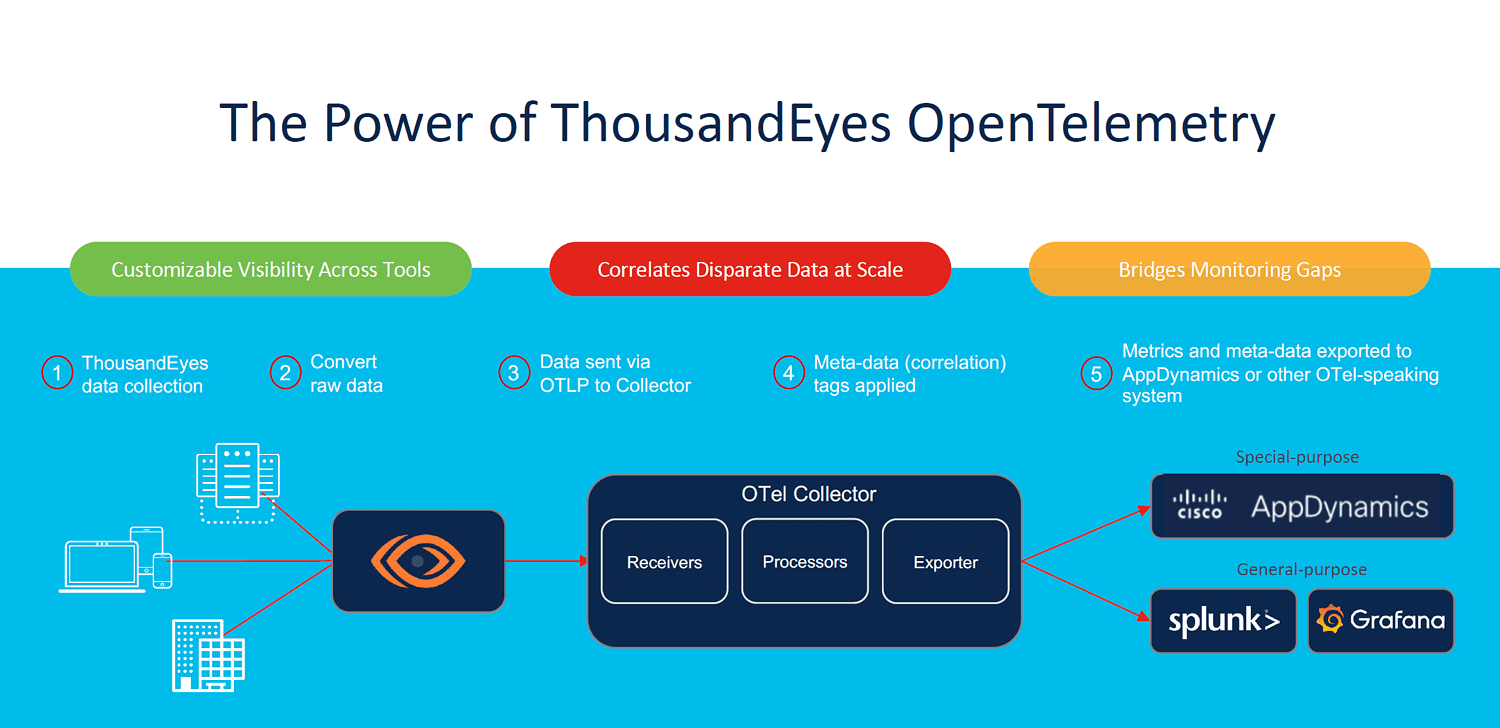 According to Cisco, ThousandEyes is the first solution of its kind in the network visibility market (of which there are not many in the WAN area, as far as we know), to support OpenTelemetry. However, it is definitely a good move by Cisco, as far as we are concerned. Supporting a standard such as OpenTelemetry makes it possible for customers to aggregate much more data within the WAN domain (connectivity and cloud) and beyond and extract relevant insights from it. This means that Cisco is a step closer to its vision of full-stack observability (also in conjunction with AppDynamics).
As already indicated, OpenTelemetry is currently still in the incubation phase within the CNCF. Thus, it is not yet a fully developed framework. Based on the list of contributors, however, it is here to stay. Cisco's Full-Stack Observability platform is in preview now, and will be generally available in June 2023.
Also read: Cisco has been working on an open and integrated security platform for some time. What the vision behind this platform is, we reveal in this article.