Huawei's new AI chips are integrated into four Atlas products for various applications. These include an AI acceleration module, an AI acceleration card, an integrated edge solution and a server rack for AI applications.
Huawei is heavily committed to AI during the Huawei Connect 2018 conference. Following the announcement of two new AI chips, today it releases more information about AI hardware in which the chips are integrated. The Atlas range comes in four flavors to serve different domains and has Ascend 310 AI chips on board.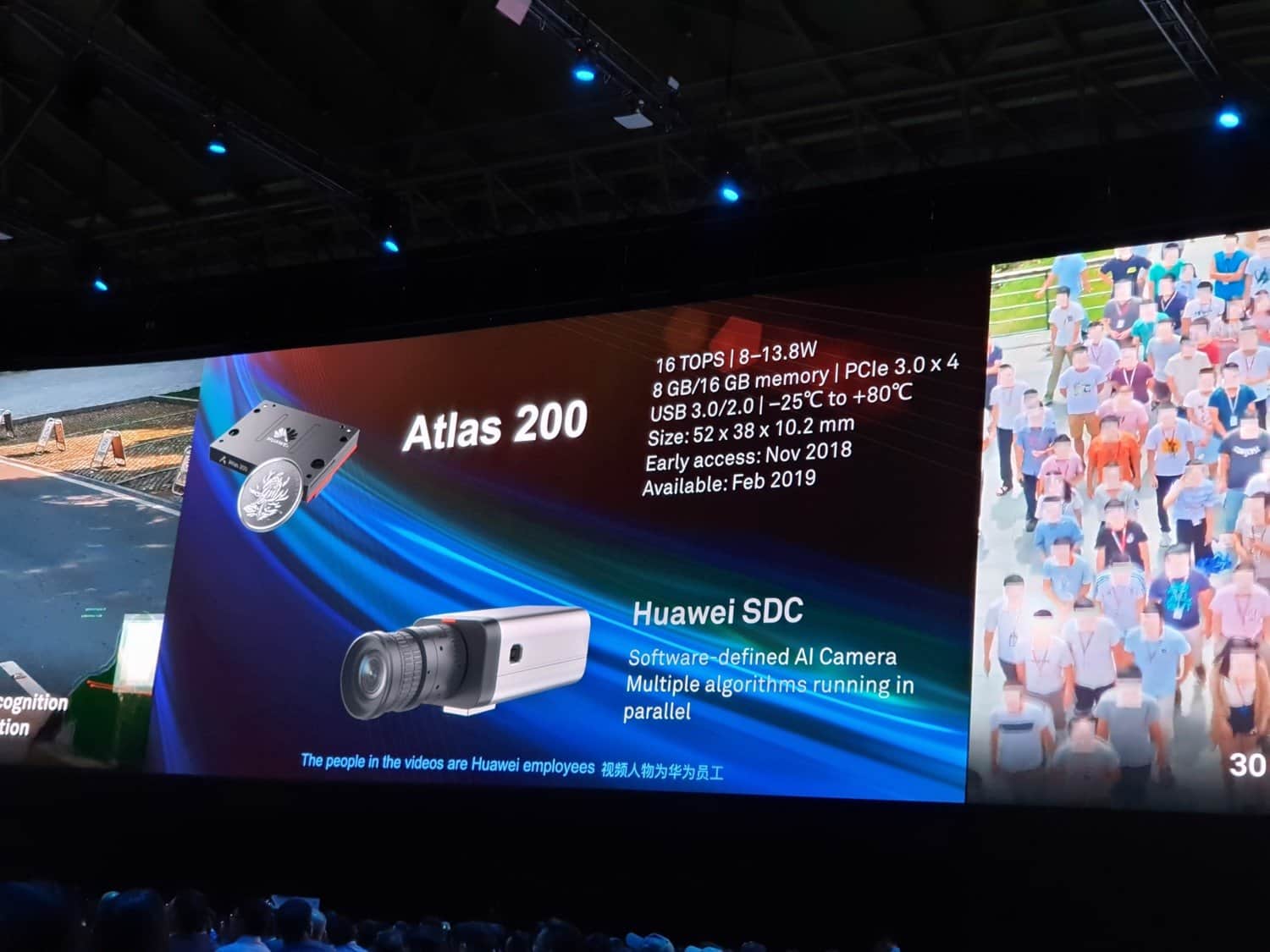 The Atlas 200 AI accelerator module measures just 52 x 38 x 10.2 mm and delivers 16 teraflops of AI computing power. The module requires between 8 and 13.8 watts, requires 8GB or 16GB of memory and runs on a PCIe 3.0 4x bus. The module will be available in early access from next month with a wide availability from February 2019.
AI acceleration card
Together with the Atlas 200, Huawei is launching a software-defined AI camera that uses multiple algorithms in parallel. In combination with Atlas 200, the software can recognize up to 200 faces per frame. Next year, Huawei targets 600 faces per frame thanks to further optimisations.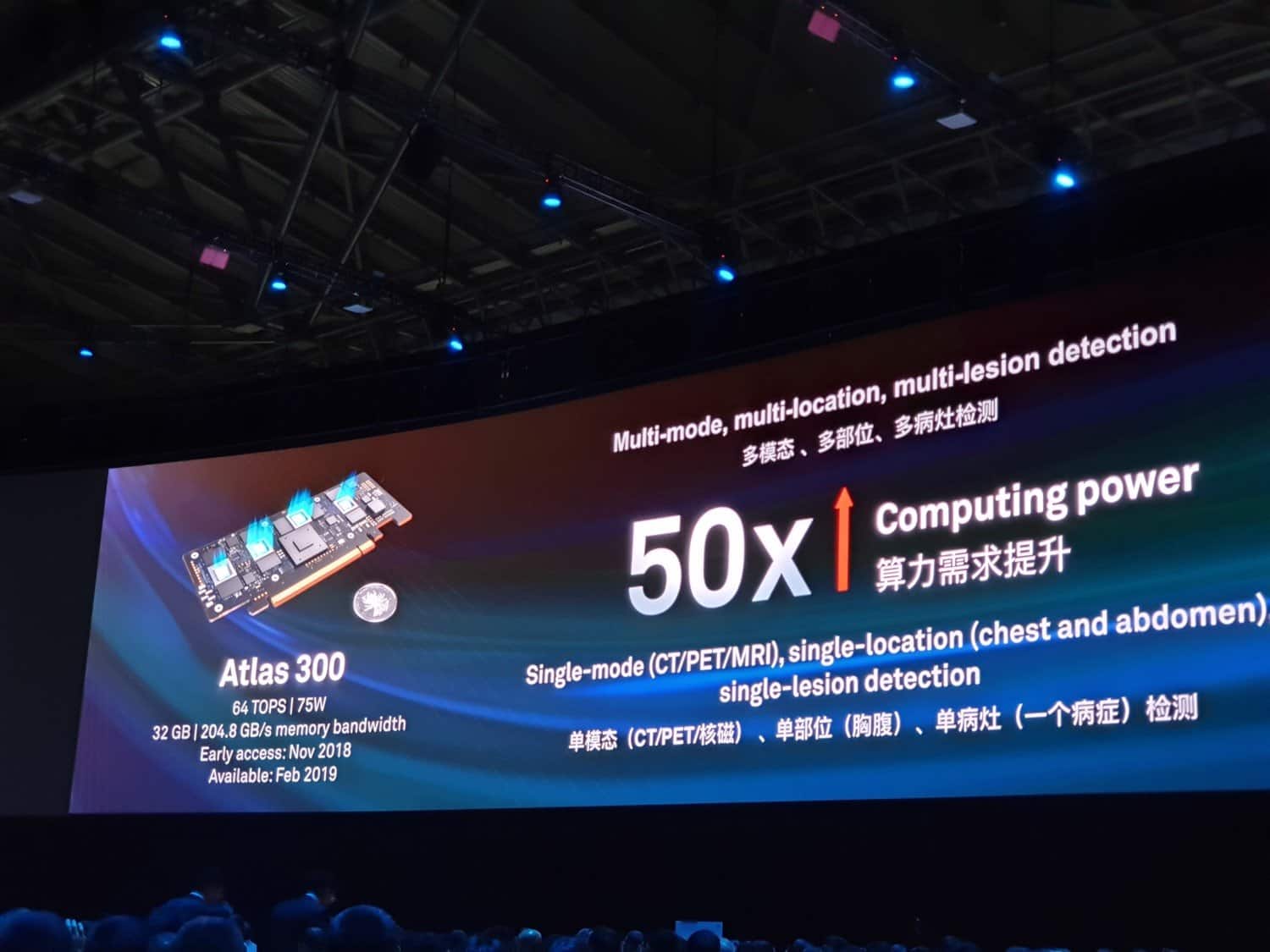 Huawei Atlas 300 is an AI acceleration card (PCIe 3.0 connection) with four Ascend 310 chips on board. The card delivers 64 teraflops with a maximum consumption of 75 watts. The card receives 32GB of DDR4 RAM with a memory bandwidth of 204.8GB/s. Like Atlas 200, Atlas 300 will be available early next month. Global availability is scheduled for February 2019.
Atlas 800 uses up to eight AI acceleration cards in one 4-unit server rack. The server has long been available in a Nvidia Tesla card configuration, but will also be available with Ascend 310 AI chips or a combination of both from February 2019.
Edge solution
During Huawei Connect 2018, the main focus will be on the Atlas 500 edge solution. This module delivers 16 teraflops (INT8) or 8 teraflops (FP16) with a power consumption between 25 and 40 watts. The module has a 1x video encoder on board together with a 16x video decoder to connect up to 16 HD-cameras. All processing takes place in real time on Atlas 500, which frees up extra bandwidth on the network. You can also choose to store data in the cloud, with or without encryption.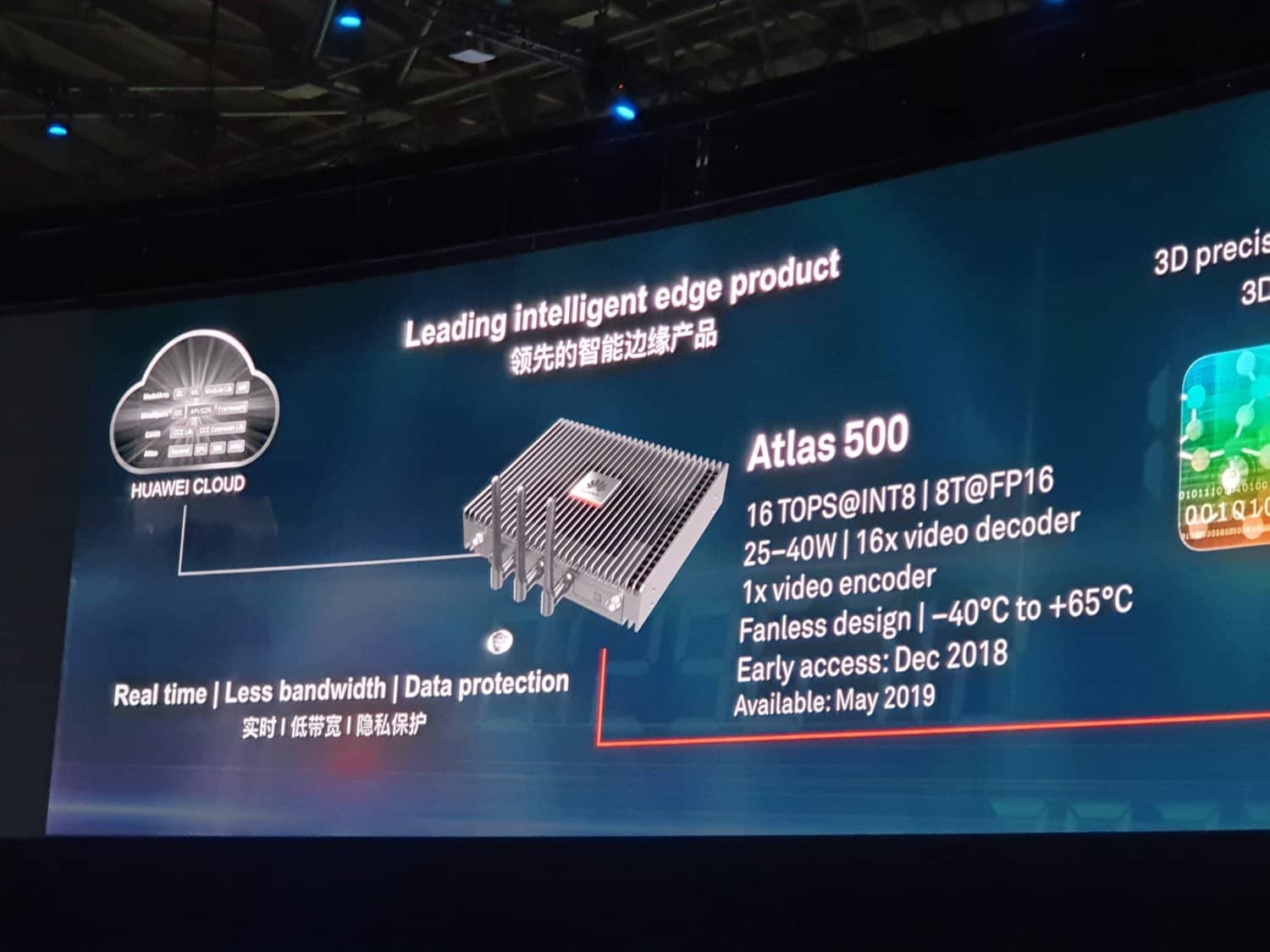 The Atlas 500 is passively cooled to make classic cameras smart with just a few mouse clicks. During the conference we get to see a demo of a video image with extra information (heart rate, name) on an overlay that shows in real time data of nursing home residents. A second demo shows an image of a busy intersection with about 30 cars where the overlay shows how fast each car drives and what type of car it is. It must ensure that everything is clear at a glance and must provide analytics software with extra data.
Huawei Atlas 500 will be available from December for those who want early access. From May 2019, Atlas 500 will be widely available to everyone.
This news article was automatically translated from Dutch to give Techzine.eu a head start. All news articles after September 1, 2019 are written in native English and NOT translated. All our background stories are written in native English as well. For more information read our launch article.