HPE is going to focus more on edge computing. The technology giant wants to position itself as an edge-computing player and has therefore simplified its business plans in order to benefit from the method that optimises cloud computing. HPE wants to relieve itself of the burden of IoT-cloud platforms and network infrastructure.
Edge computing means that millions of clouds will all be connected. Every edge to every cloud. That's the future and that's why I'm excited about the future of the company, says Antonio Neri, CEO of HPE at ZDNet. As a result, the company is investing in the management of edge-to-cloud data, a multi-cloud model and a consumption-based model, while continuing its own digital transformation.
Lifting production locations
Under the so-called HPE Next plan, for example, a large number of production sites will be closed down and, at the same time, the overall efficiency will be improved. HPE has announced that it wishes to have only seven of the seventeen production sites left and that it wishes to move from ten ERP systems to just one.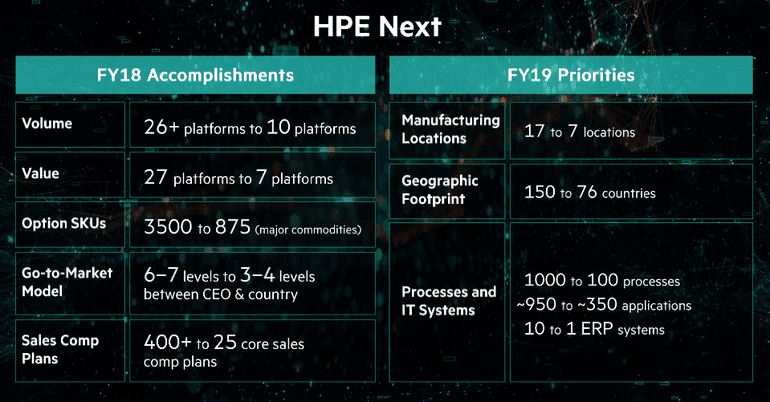 According to HPE, its growth strategy revolves largely around Aruba and edge computing, from where the company can build on hybrid IT and analytics in order to ultimately drive autonomous systems.
Doubling of free cash flow
HPE expects free cash flow to double in 2020. The company expects non-GAAP revenues for the fiscal year 2019 to be between $1.51 and $1.61 per share.
This news article was automatically translated from Dutch to give Techzine.eu a head start. All news articles after September 1, 2019 are written in native English and NOT translated. All our background stories are written in native English as well. For more information read our launch article.