Microsoft has announced PowerShell 7 for all platforms. A week ago, the company announced the general availability of version 6.2, but now decides to go straight to version 7.
The reason for the switch is that, according to the company, the use of PowerShell Core has increased considerably over the past two years. "The bulk of our growth came from Linux usage, an encouraging statistic since we invest a lot in the cross-platform to make it work," said the tech giant. On the other hand, the growth in use on Windows is not as significant. "Surprisingly, as PowerShell has become popular on the Windows platform."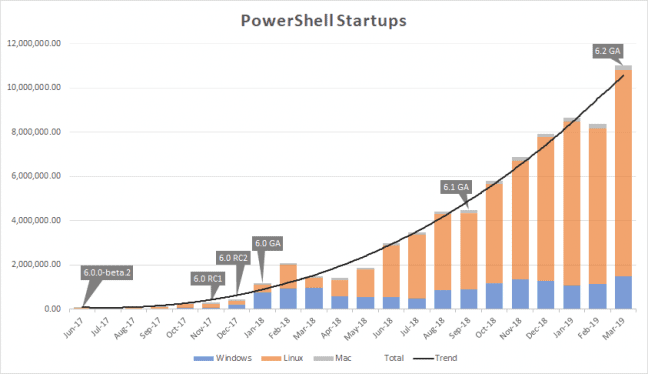 According to Microsoft itself, this may be because existing Windows PowerShell users have existing automation that does not work with PowerShell Core because of unsupported modules, assemblies and APIs. As a result, users will not be able to take advantage of the new features, improved performance and resolved errors. "To address this, we are renewing our efforts to completely replace Windows PowerShell 5.1 with its next release."
According to Microsoft, this means that users of Windows PowerShell and PowerShell Core can use the same version of PowerShell for automation on Windows, Linux and macOS. PowerShell 7 users get a high level of compatibility on Windows with the Windows PowerShell modules they now use.
Support Lifecycle
Microsoft is also making changes to PowerShell's Support Lifecycle. The company will release Long Term Servicing (LTS) and non-LTS versions of PowerShell 7, so that it is closely aligned with the .NET Core lifecycle. Windows users will also be able to switch between PowerShell 5.1 and PowerShell 7.
The intention is for PowerShell 7 to be released in May 2019. Its general availability will take a bit longer, as Microsoft wants to connect its release with .NET Core 3.0. It is not yet clear what other new features will be introduced in PowerShell 7. This should be announced soon.
This news article was automatically translated from Dutch to give Techzine.eu a head start. All news articles after September 1, 2019 are written in native English and NOT translated. All our background stories are written in native English as well. For more information read our launch article.