AWS now offers cheaper hard disk-based storage within its public cloud environment for the Amazon FSx for Windows File Services service. This allows customers to use this storage for a variety of performance requirements.
The new cheaper storage that the tech giant now offers for its Amazon FSx for Windows File Services is now based on hard disks (HDD) instead of the previously used standard flash memory storage.
Specifically, AWS offers a solution that delivers performance based on latency, troughput and I/O operations per second (IOPS). For this purpose Amazon FSx for Windows File Server uses a fast in-memory cache. This to get the lowest possible -AWS speaks of sub-milliseconds- latency for data that is actively used.
For data that is not in this in-memory cache, e.g. files that need to be controlled via I/O on the underlying storage layer, the now released solution provides – again sub-millisecond – file operations layouts for SSD storage and several millisecond latencies for HDD storage.
Architecture
The architecture of an Amazon FSx can be summarised as follows: The client compute instances – which can be in AWS or on-premises – search access to the file system via an elastic network interface (ENI). This network interface is located in the Amazon VPC that you assign to the file system. Behind the file system ENI is the Windows file server that provides the data via the network to the clients that access the file system. Amazon FSx provides a fast in-memory cache on this file server to improve performance for the most requested data. Behind the file server are the storage volumes, in this case the SSD or HDD drives, that host the file system.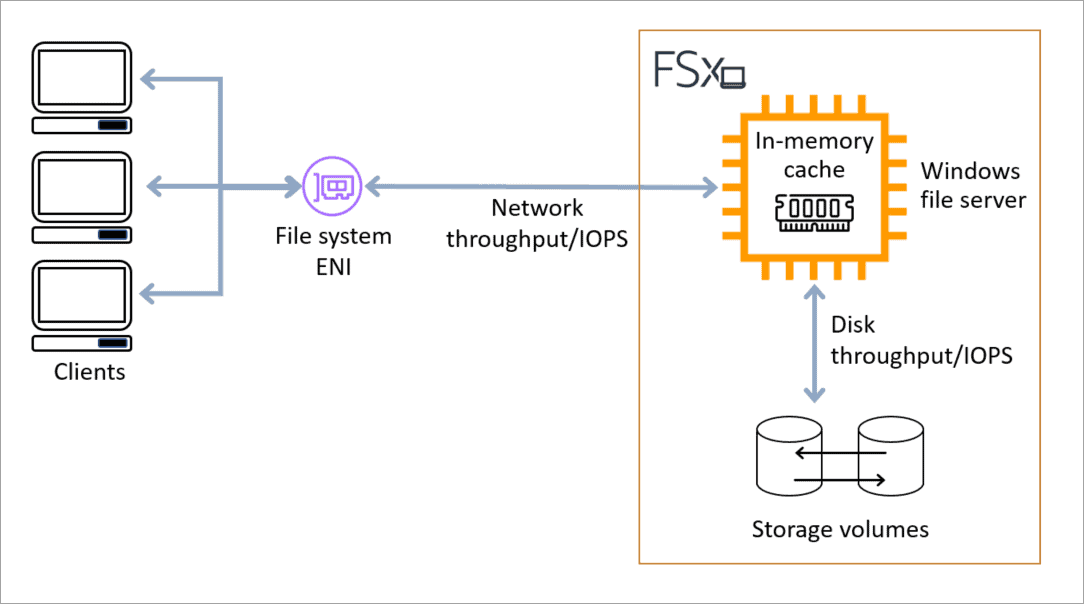 Troughput details
In terms of throughput and IOPS, Amazon FSx file systems now offers multiple GB/s and hundreds of thousands of IOPS. According to the tech giant, the specific amount of throughput and IOPS that workloads can run on a file system depends on the throughput capacity and storage capacity configuration of the file system in question. This also includes the workload and the active working set of this workload.
The HDD option offers up to 12Mbps throughput per TiB of capacity with peak speeds up to 80 Mbps FSx for Windows File Server is also provisioned for file system troughput as well as capacity from 8 Mbps up to 2,048 Mbps. The maximum throughput capacity is 3.135 Mbps. To achieve these throughput speeds, AWS uses FSx for Windows File Server SMB Multichannel. This means that multiple network connections are used.
Costs
The tech giant indicates that companies can save a lot of costs on their storage with this renewed functionality. According to AWS, single-availability Zone HDD storage now costs 0.013 dollar cents per GB/month. Multi-AZ HDD storage costs 0.025 cents per GB/month. According to AWS, these are the lowest public cloud storage costs for file storage for Windows applications and workloads.