VMware today unveiled several innovations, a new subscription-based payment model with VMware Cloud Universal. A new application, VMware Cloud Console, manages all your VMware environments, both on-premise and in the cloud. Finally, VMware delivers a new service with App Navigator.
The trend in which companies increasingly opt for pay-per-use models, subscription or on-demand basis, has also reached VMware. There were already some options through Dell Technologies, but now there is more flexibility at VMware too.
VMware Cloud Universal
VMware customers can buy VMware Cloud Universal credits and use them whenever they need a VMware solution. This can be on-premise or in the cloud. The credits are valid for the entire contract period.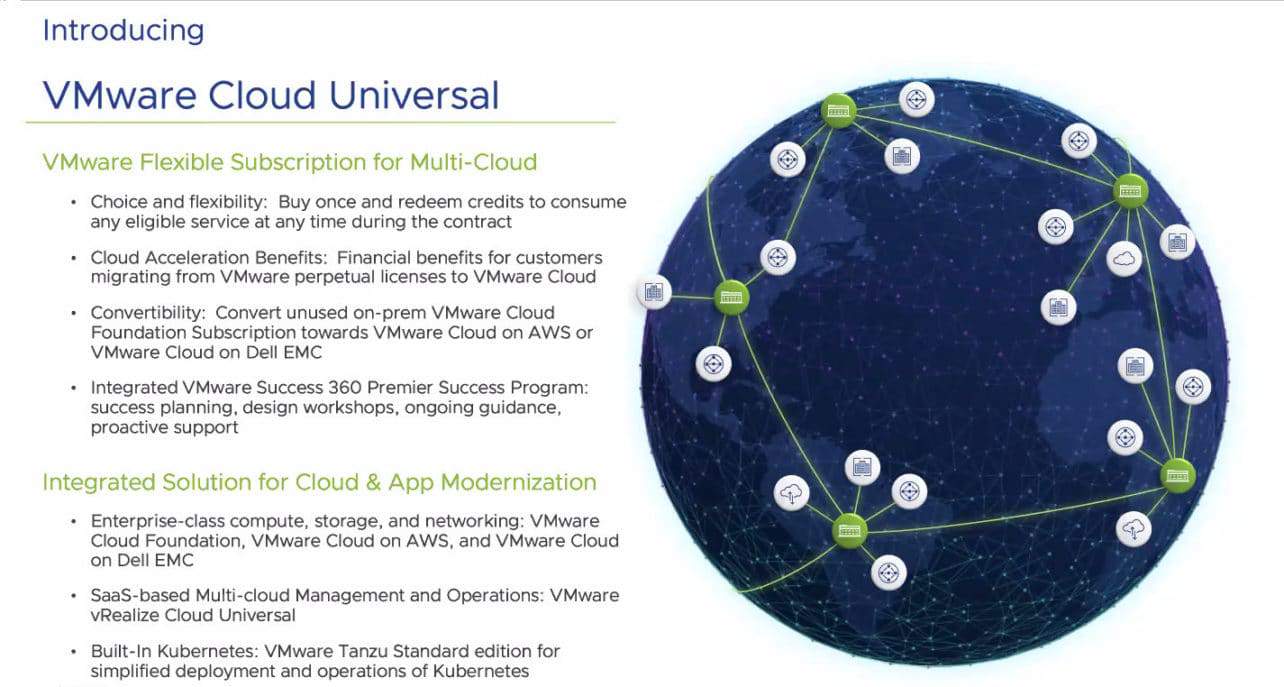 In addition, VMware offers customers with perpetual licences a substantial discount when they opt for a VMware cloud environment. It is also possible to convert unused VMware Cloud Foundation subscriptions to VMware Cloud on AWS or VMware Cloud on Dell EMC solutions.
VMware wants to offer customers flexibility so that they're not stuck with previous choices for on-premise or the cloud. In fact, they always offer the option to migrate to a VMware environment at a location of their choice. It should be noted, however, that VMware is primarily geared towards on-premise, VMware on AWS or VMware on Dell EMC. Of course, you can also purchase bare metal servers from one of the other hyperscalers to run VMware on top, but then VMware only offers a license. If you want a VMware ready infrastructure and service contract on other hyperscalers, you will have to use a VMware partner, which reduces the flexibility since they are not included in the program.
VMware Cloud Console
For some time now, VMware has been trying to merge different worlds. VMware is traditionally an on-premises solution, and a few years ago, VMware added VMware on AWS with a nice cloud control panel. The virtualisation specialist has now taken the step of bringing these worlds closer together with VMware Cloud Console. This offers insight into all your VMware Cloud infrastructure, whether it's running on-premise, in the cloud or on the Edge. The VMware Cloud Console provides an integrated and consistent experience, allowing you to manage all your VMware infrastructure through a single control panel. That's a big step forward for many administrators.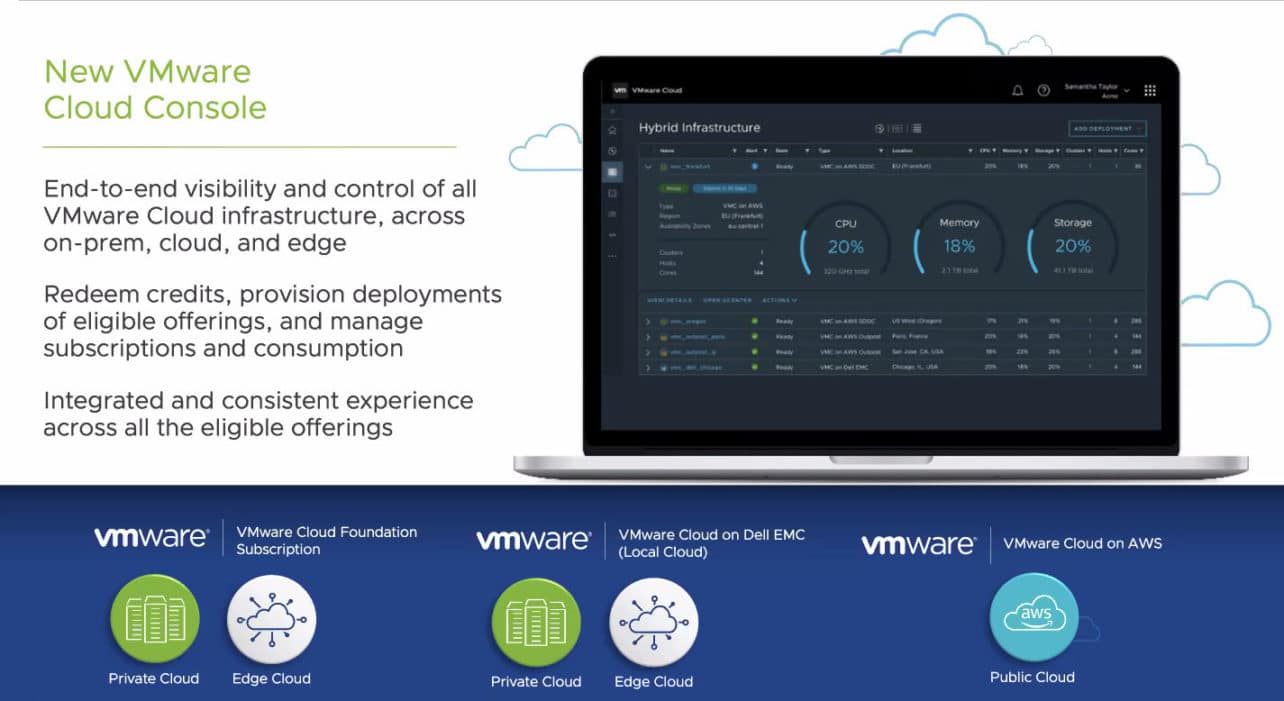 VMware Cloud console also brings together two worlds, VMware Cloud Foundation and VMware Tanzu. There is room for both worlds within VMware Cloud. Where the more traditional applications are often offered via Cloud Foundation and the modern applications are developed within the Tanzu platform. With VMware Cloud console you can now manage both worlds as one. The merge has thus begun.
VMware App Navigator
At the end of the day, VMware also presented App Navigator today. This is a new service by VMware, resulting from the acquisitions of Pivotal and Heptio. App Navigator helps companies with their cloud transformation. The managed services team responsible for App Navigator can provide insight into a company's application landscape and then help with a roadmap to bring the infrastructure to the cloud. While some business applications can be easily migrated, critical apps are closely examined to properly modernise for the cloud. For example, by splitting the application into containers. Other apps may need to be replaced by modern variants from the same or other vendors.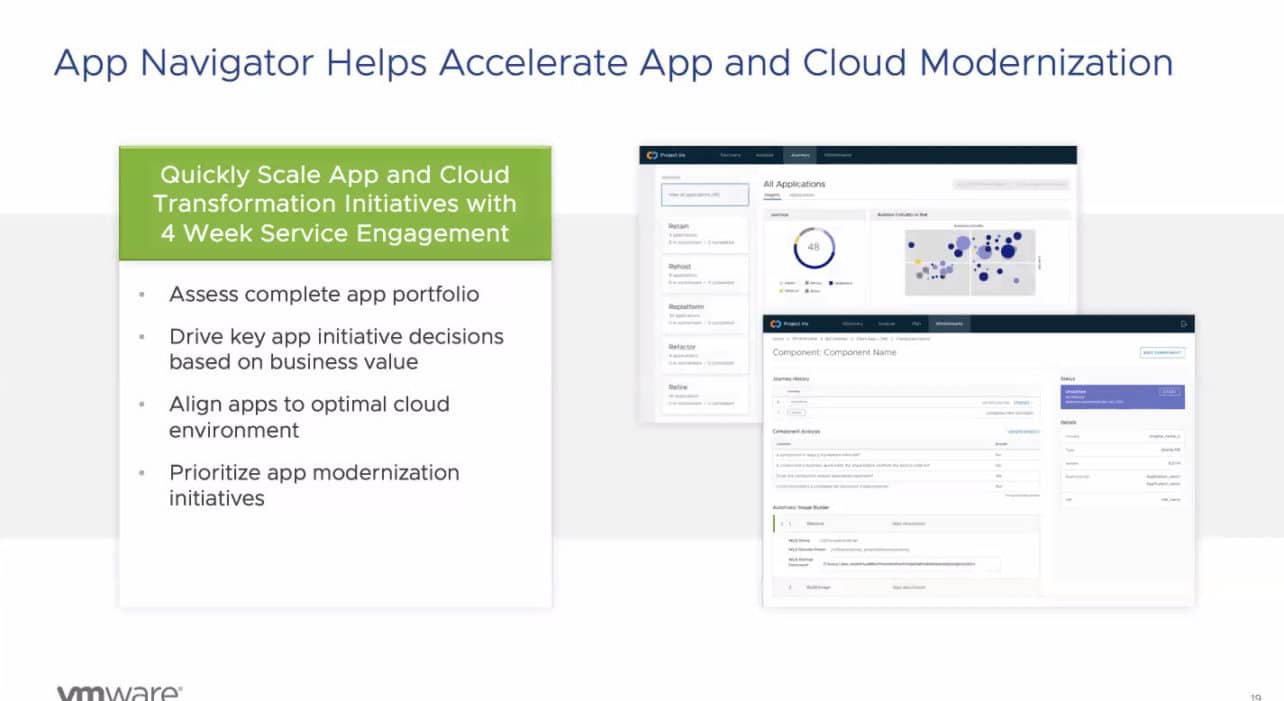 Many large companies have a huge application landscape, and for those IT divisions, it is an almost impossible task to gain insight into which applications are suitable for the cloud. How they work best in the cloud and how such a migration should look like. That's where App Navigator can help.