Juniper has announced a collaboration with Intel to enhance Open RAN (O-RAN) ecosystem. The move reflects ongoing efforts by Juniper to bring openness and innovation to a part of the network that is a bit closed off.
That way, it will be easier to find a faster route-to-market for service providers and enterprises to deliver 5G, edge computing, and artificial intelligence.
Juniper is an active member of the O-RAN Alliance, contributing to six groups serving as the chair and co-chair of the slicing and use-case groups. The stock has risen 26% in the past year, compared to overall industry growth of 30%.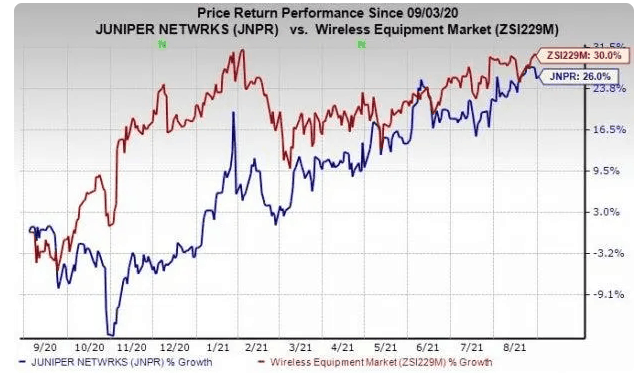 The goal of the collaboration
A significant slice of service providers' capital expenditure goes to RAN, primarily because of limited vendor choice and close architecture. Juniper plans to use automation and intelligent control to bring an experience-first network to customers.
According to the initiative, Juniper RAN Intelligent Controller (RIC) and Intel FlexRAN platform are pre-integrated to make a usable ORAN-compliant intelligent RAN system.
The collaboration includes research and development with Intel Labs for RIC platform-specific apps that improve customer experience, as well as joint customer testing with Intel to validate performance improvements.
Juniper's commitment to an open architecture
Juniper is also part of the team innovating joint customer solutions in the Intel 5G Lab. The validation of FlexRAN and RIC solutions will help service providers overcome integration issues and speed up time-to-market.
Juniper, which emphasizes open architecture, is supporting the work that Intel has been doing in its FlexRAN ecosystem.
This collaboration will enable it to deliver cloud-native routing, intelligence, automation, and assurance solutions and services optimized to cater to what customers need.